By Izunna Okafor, Awka
Anambra State Government has brought back to the State, the assaulted nine-year-old who was unauthorizedly smuggled out of the hospital where she was hospitalized in the State to another hospital outside the State.
It would be recalled that controversy trailed the transfer of the hospitalized victim, Idimmachukwu from Anambra State to the First Delta American Hospital, Asaba Delta State, on Monday, without the permission and knowledge of the stakeholders and institutions who facilitated her rescue and first hospitalization.
It was gathered that the transfer of the child to another hospital outside the State was masterminded by a skit maker, Lord Zeus. See details HERE.
The child was, however, rescued back to Anambra State today, Tuesday, by the State Ministry of Women Affairs, in collaboration with the Anambra State Police Command who went to the Asaba-based hospital to facilitate her return to the State.
Speaking after receiving the child in her office on Tuesday, the State Commissioner for Women Affairs, Mrs Ify Obinabo expressed her anger on why the skit maker, Zeus connived with the parents of the child to move her out of the hospital without proper authorisation and without following the due process.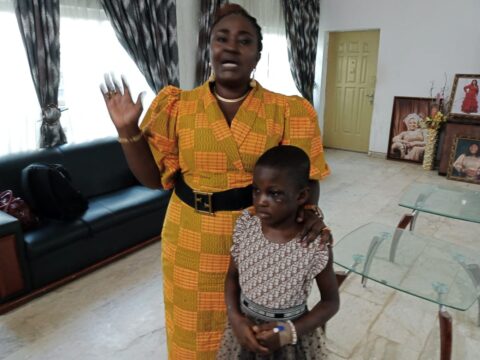 She reassured that the suspect who manhandled the child would be charged to court on Wednesday (tomorrow) after which the child would be transfered to the Nnamdi Azikiwe University Teaching Hospital (NAUTH), Nnewi, as was pre-planned before she was unauthorizedly smuggled out to Asaba.