The March 18, 2023 Governorship and State Assembly elections in Lagos State has started off on a bad foot. This is following attacks at the numerous polling stations inside communities dominated by non-Yoruba speaking people in areas that include – Ajegunle, Sangotedo, Fadeyi and other like communities.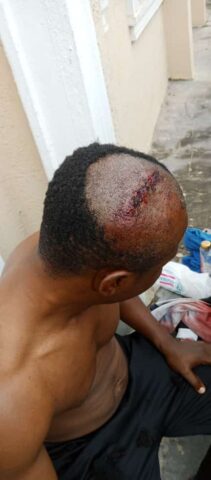 The attacks involved thugs armed with locally made pistols and shotguns, knives, bottles and other locally manufactured weapons. They arrived at some of the polling units which were already set up by staffs of the Independent National Electoral Commission [INEC] and proceeded to destroy the election materials and scattering the persons gathered to cast their votes. In some areas, the APC thugs patrolled the streets of non-Yoruba speaking neighbourhoods threatening the residents to stay home if they have no intentions of voting for the All Progressive Congress [APC] – which is the ruling party in Lagos State.
The APC thugs who spoke in Yoruba language told the residents that Lagos State belonged to Yoruba people and so most be governed by Yoruba people. In their assessment, the candidate pf the APC represents the Yoruba interest while the other candidate of the Labor party is believed to be the candidate of the general masses in Lagos.
See some video evidences below:
One of the political leaders in the APC in Lagos State – who also seconds as a Lagos State government official as the head of Lagos State Parks – in the person of MC Oluomo had issued blanket threats to all the non-Yoruba speaking community in Lagos to not "come out" on election day if they have any intention to vote for others parties aside from APC. He promised violence. He was caught on video tape making the statement.
The statement was presented to the police and the DSS – and a petition was raised and presented to the DSS and Police – requesting for MC Oluomo to be arrested and charged for subverting electoral laws. The police indicated they were investigating the "case". The DSS stayed silent.
Today, as the electoral exercise began, MC Oluomo made good on his threat. The police and the DSS remain silent and absent while thousands and possibly hundreds of thousands are disenfranchised. Numerous calls placed to the security officials appear not to be heeded.
Stay tuned