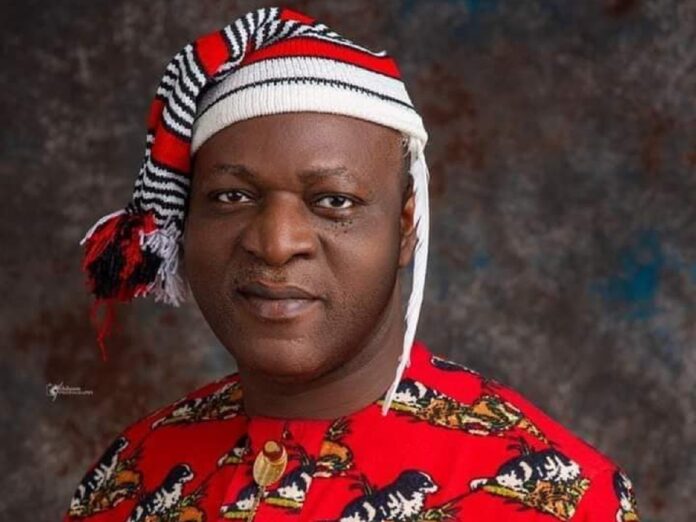 A socio-political group, Movement for Abia Unity and Progress, (MAUP) has called on the Abia State chapter of the Peoples Democratic Party, (PDP), to field the Commissioner for Trade and Investment, Chief John Okiyi Kalu, as the running mate to the party's governorship candidate, Prof. Uche Ikonne, in the 2023 election.
The group in a statement by its President, Comrade Chidiebere Nwachukwu and Mr. Onyemobi Michael, said Ikonne needs an energetic young man to pair him as running mate, stressing that Okiyi -Kalu perfectly fits the bill as he has garnered the necessary experience in governance.
The group further stated that it has assessed the profiles of people believed to be interested in the position and discovered that Okiyi-Kalu possesses the right qualities to emerge the deputy governorship candidate in the 2023 election.
 "The PDP candidate, Prof. Uche Ikonne, needs a youthful running mate who will work with him to develop and sustain the existing peace in the state. The PDP needs a deputy governorship candidate with experience, integrity, maturity and level headedness. Our group has assessed the profiles of politicians from Abia North zone believed to be interested in the deputy governorship position. Chief John Okiyi Kalu's name stands tall above his competitors. His integrity, wealth of experience, level headedness and maturity places him above other contenders. Chief Okiyi Kalu's popularity among the youths of the state is an added advantage.
"His stewardship as Commissioner for Information was outstanding. Since his redeployment to the Ministry of Trade and Investment, the Ministry of Information is still missing his midas touch with obvious loopholes. Chief Okiyi Kalu has added value to Governor Ikpeazu's administration. His loyalty and commitment to assist the Governor succeed has been a plus for the administration. Chief John Okiyi Kalu is an asset to the Ikpeazu administration. There is no doubt that he will add great value to the PDP governorship ticket if fielded as running mate for the 2023 election.
"To crown it all, Chief John Okiyi Kalu hails Ohafia LGA which is one of the highest voting blocs in Abia North senatorial District. So, it is traditional that the party picks its deputy governorship candidate from Ohafia LGA," the statement read.
 The group which has its membership across the 184 wards of the state disclosed that it has embarked on an intensive campaign to mobilize support for an Ikonne/Okiyi -Kalu ticket in the 2023 general elections.