Loading ...
In this interview, Barr Emmanuel Enoidem,  national legal adviser of the PDP conducts a post mortem on the just concluded General Elections in the country, and the way forward for his party at the state and national level: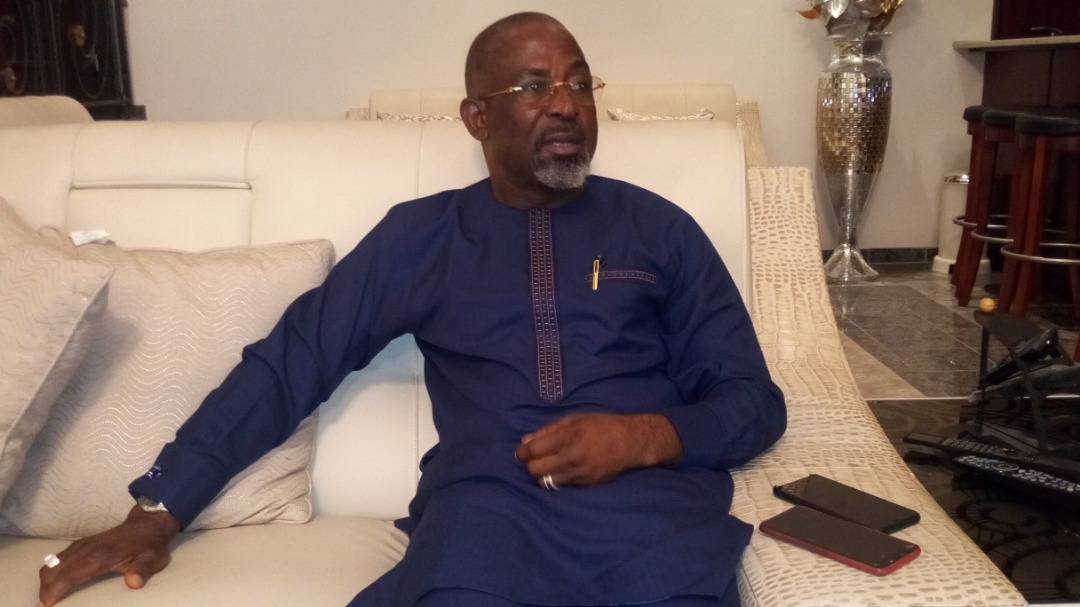 *The dream of the Peoples Democratic Party (PDP) to regain Akwa Ibom State in 2019 has materialized. How did this happen?
It was not a surprise because I knew there was nothing that could happen for PDP to be displaced in Akwa Ibom State. The events that happened between 2015 and 2019 did not change anything in any way despite the defection of Senator Godswill Akpabio to the All Progressives Congress (APC). The best outing for APC in terms of membership in any location, ward or local government in the state, is not more than 30%, including Essien Udim and Ikot Abasi Local Government Areas, and it is not possible for 30% to displace or overtake 70% and become winner in the state.
If the results of the recently concluded elections are put into consideration, it would be discovered that it is basically about 30% to 70% APC-PDP ratio. So, I was not surprised at the result.
*The defection of two PDP senators to the APC could have changed the arrangement considering the fact that they were serving National Assembly members…?*
The only person who left the party that had some impacts on the party is Senator Godswill Akpabio, because he was one of the foremost leaders of the party in the state, and former governor for two terms, as well as a former commissioner for six years, and he is a man who was freely loved by the people until his fall and decision to join the APC.
That was the only person who left that could have some impact on the party. Two members of the State House of Assembly – Nse Ntuen and Idongesit Ituen, and two members of the National Assembly – Emmanuel Ekon, and Emmanuel Akpan, left with him.
Emmanuel Ekon left for his selfish reason because PDP was not prepared to give him ticket for third term. It was not for the interest of the society but for their own personal interests. Nelson Effiong said that he left to where he was sure of a second term ticket.
You don't just leave a party because of second term ticket. There should be some other better reasons than being selfish. You don't join politics because of yourself but for the fact that it gives you the opportunity to serve your people. That is what should motivate anybody who joins politics. Service is not about you but the people. Anyone who defected did so for his own selfish interest including Godswill Akpabio, not for the interest of the state that is why their defections did not have any fortune to their new party.
I can say it categorically that if election was orderly conducted in Essien Udim, Senator Akpabio would have failed to deliver that local government. This is how massive the PDP is and how dogged the followers are in the state.
*Was it about the party itself or the leadership of the Governor of the state?*
It could definitely be the combination of the two. By 1999, Akwa Ibom was a glorified village. All the developments in Akwa Ibom today are the products of the PDP government from 1999 to date. The party is in tangent with its followers. It would be difficult to dissolve a successful marriage without the permission of the couples. That is exactly what the APC wants to do in Akwa Ibom State.
Apart from that, there is a strong sentiment about giving Governor Udom Emmanuel a chance for second term. That is strong enough on the side of God and humanity. People appreciate the need for justice, fairness and equity. Udom Emmanuel has tried as a Governor to deliver on the dividends of democracy under very tedious circumstances. Trying to stop his second term bid is something a typical Akwa Ibom person would not want to hear.
Victor Attah and Godwill Akpabio from Uyo and Ikot Ekpene Senatorial Districts respectively served two terms each. The exception in Governor Udom Emmanuel from Eket Senatorial District is what Akwa Ibom people did not want to hear because that was injustice driven, inequity and lack of conscience in operation. A typical Akwa Ibom person is very sincere, truthful and committed to the values of truth, and nobody can take that away from us, hence the massive resistance on the attempt to stop the Governor.
*The State APC agent complained about every result announced by the returning officer, and right now they have threatened to petition that result. What is the merit of their outcry?*
The attitude of the agent Archbishop Sam Akpan at the Collation centre was a reflection of the APC attitude even before the Election, instead of Campaigning they were only protesting, their complain alone was unprecedented, the attitude of Archbishop Samuel Akpan was prearranged so that no matter how transparent the election was as it were, his duty was just to complain and when it got to the hallmark, the last Local Government, which was Essien Udim he walked out, even when they won in Essien Udim he walked out because they didn't allow the vote Akpabio and his APC structure in Essien Udim allocated to themselves to be collated.
The wisdom in the Card reader was designed to check that kind of attitude; The overbearing attitude, vote allocation. The card reader was made to give value to each voter, so if that card reader was not deployed to check those excesses of Politicians then the foul votes of Essien Udim would have found their way to the coalition paper, in 2019 every votes had count and the card reader is the height of getting this done. His exit from that coalition didn't indict the coalition that we had.
*Senator Godswill Akpabio and other APC leaders in the state have come out to say that the results collated at the unit got manipulated once it got to various local government coalition centres because of connivance of the PDP with the Resident Electoral Commissioner (REC), Mike Igini…?*
I don't understand what they mean by connivance. I don't want to say much because if I do, some people will feel insulted, because this is the first time we have a truly reflective election in Akwa Ibom State, an election that reflects the will of the people. That was made possible because we had Igini as REC, and he was not prepared to compromise nor sale his conscience, that is why the APC are castigating him. If he had accepted all the money they offered, would they have been criticizing him?
Igini is a hero of democracy in Nigeria. His heroic fame did not start from Akwa Ibom State. He had been REC in about five states before he was posted to Akwa Ibom, and has had positive track records in those states. He said he did not come to count money in Akwa Ibom State but to count votes. He has been invited several times for a meeting outside the country but he turned down all the offers, insisting that any meeting should be held in his office. This is the first time they are not able to bribe electoral officers and RECs in the state that is why they are shouting.
If you win somebody in 30 out of 31 local government areas, that person does not have shame. These are the same people who boasted that election would be conducted in three hours. How can the entire electoral process be done in three hours if someone was not planning to rig it? My advice for them is, they should humble themselves,  it is the will of God that has been laid down to the path of Akwa Ibom State. Let them have a moment to reflect on their own lives and live a life that would encourage the younger generations.
*Do you wish to wave aside the sentiment that Akwa Ibom has lost the chance of being connected to the center?*
Connect what to which center? How much have we gained from the so-called center? We have not gotten anything from the center even when a Southerner was president and Godswill Akpabio was governor of the state. What was he able to bring from the center into the state in his eight years in office? Is it Buhari that will come and give us development in the state? Buhari that does not even believe in Nigeria. He does not believe that he is a leader for Nigeria. He is a leader for the North. What have we got in his last four years in office? Nothing.
We have Udoma Udo Udoma, Minister for Budget and National Planning; Nsima Ekere, the immediate past Managing Director of the Niger Delta Development Commission (NDDC); Managing Director of the Oil & Gas Free Zone, Umana Okon Umana; and the Senior Special Assistant to the President on National Assesmbly Matters (Senate), Ita Enang. What have they brought from the so-called center into the state?
It would be a waste of time to expect that the Federal Government will bring any development into the state. That is why we need a governor that will think about developing Akwa Ibom, not the type that will take the little money we have to go and spend in Abuja.
*Sir, you are penciled among those who have stood up to sacrifice a hero in Akwa Ibom State, that you were in the forefront to destroy a leader in the state by opposing Godswill Akpabio…?*
Anyone who paints me in such picture is not correct. I stood my grounds to give value to politics, honesty and discountenance selfishness in leadership. Before the defection of Godswill Akpabio, we had at least 20 different meetings between 25th December 2017 and 8th August 2018 where we tried to persuade him, using all manner of parameters, even kneeling down before him to get him understand that he does not have any place outside PDP where his honour lies, but all to no avail. He cannot accuse anybody of conspiracy. If anybody conspired, he was the one conspiring against the state. He betrayed the state and the entire people.
When we went to Ikot Ekpene Senatorial District, we all contributed money to the stadium and not less than 20,000 people were mobilized to the stadium to give him his second term mandate without any opposition in the party. Unfortunately, all he could say was that the people will go with him anywhere he goes no matter the platform. That was taking boastfulness to a high. The highest level of pride. So, he cannot accuse anybody to have undermined him. We were in love with Godswill Akpabio till 8th August 2018 when he made public his decision to jump the party. Anything that happens to him can only be placed on his personal altar.
*There were high expectations that the presidential candidate for PDP, Alhaji Atiku Abubakar, would win, but the margin for result recorded for the APC candidate, Muhammadu Buhari, was wide. What went wrong?*
What went wrong was because our party was rigged out of the election. We were rigged out of the election in the North with the help of the military and police. There were suppression of voters in the South-South/South-East including the Middle Belt. What happened in the last election was because it was a local election, and the sentiment of the people could not be suppressed like they did in the presidential election. The back servers of INEC shows that PDP won the election.
It would have been otherwise if anybody would think that Nigerians, in 2019, would still vote for Buhari after what we passed through in his last four years.
*How would the record in INEC server indicate what the voters followed whereas the server is supposed to record only the attendance and not who you vote for?*
Every unit was sending in results to the server. The reflection of those results from the unit is what we are talking about and they were sending in results of each candidate. I'm not talking about accreditation, I'm talking about Unit by Unit results, form EC8A, the summary from EC8A was sent from the unit to the back sever in Abuja and there were four severs in INEC. We have given details of those servers, if they like, let them go and change the records but that's what we got.
*The supplementary election was held and we had three states in favour of PDP, and you are applauding INEC…?*
(Cuts in)… We are not applauding INEC anywhere.
*Alhaji Atiku Abubakar has commended the governor of Sokoto State for emerging victorious…?*
They wanted to rig him out, they wanted  to use the supplementary election just as they did in Osun State. Exactly the same formula, the military and the police deployed in Osun State during the Supplementary election which have just been upturned by the Tribunal. Is it not a surprise that only states won by PDP were the States that Supplementary Elections were conducted except Plateau? Even in Plateau, we won the election but they went to three local government and hijacked the votes. They thought that they could draw us into an inconclusive election that's exactly what happened that's why we are heading to the tribunal in Plateau. So nobody should sit down and clap hands for INEC. This is the worst INEC that we have ever seen since the history of Nigeria in 1960. This is the worst electoral body under Yakubu, it has never been this bad.
*Is it not surprising that while you are applauding INEC in Akwa Ibom State, you are criticizing same at the center?*
I have said it that if Igini is the National Chairman of INEC, that will be the first time Nigeria will see election. Go and check history, his last place was Cross River State, Imo State and Edo State during Adams Oshiomhole's tenure.
He has this track record of integrity, credibility, sincerity and honesty, and nobody can take it away from him. One out of 36 RECs, what percentage is that? So you cannot sit and say that INEC at the National is doing well, when it is only one State out of 36 that is doing well in terms of credibility in the process.
*Sir, people are still wondering why the Director General of the Presidential Campaign Organization for PDP and the Senate President, Senator Bukola Saraki lost in his state and also lost his own sit in the National Assembly. Could that also have been the fault of INEC?*
INEC is in conspiracy with APC and the Federal Government, the military, and the police. So when you are talking about this election, INEC is the manager but uses the police, works with the Federal Government which is APC, and when you see all this unusual result, it's a product of that conspiracy. What happened in Kwara is unique in many ways but we also know that Kwara was singled out before the elections to be taken by Federal Government because of the position that the Senate President has taken, that APC had no business contesting in Benue State, but because of the position Ortom took, APC had no business in Sokoto State but because of the position that they took in defense of the country, they now want to wrestle those seats from them.
The same strategy was allegedly deployed in Akwa Ibom State, we saw the army, and incessant change of commissioner of police change in state. But because the people of Akwa Ibom stood their grounds. They didn't fall for their intimidation that's why they couldn't get their way through.
*What's the situation right now in Rivers State?*
I'm sure they would have surrendered by now. They have realized that they cannot take Rivers State from PDP. They have decided to collate the result of Rivers State from 2nd to 5th April.
*We still have the Essien Udim State Constituency outstanding in Akwa Ibom State…?*
We, as a party, wrote to INEC to tell us exactly what the official position of Essien Udim is. We are of the view that nobody can use two wards out of 11 to win election in the State House of Assembly. It is on record that the only ward that election was actually done were two (2) wards in Essien Udim. You can't use two wards to become the member of the House of Assembly.
*The returning officer for governorship election in Essien Udim said that before the obstruction, they had already concluded on Essien Udim State House of #Assembly collation?*
The collation of the Governorship and the House of Assembly was done in the Local Government headquarters, and there was no way they could have succeeded in doing one without doing the other. I'm surprised that someone who lost elections in three (3) Local Governments out of three (3) would go to the Tribunal. It is a surprise to me. For instance, my member in the House of Representatives lost the election 3/3 (Etim Ekpo, Abak and Ika). In a way, God wants to expose who they are. He exposed them at the ballot, He wants to expose them at the tribunal to see the degree of lies some people can fabricate.
*We have heard complaints by the APC that the issue of card reader is not constitutional and that it's not the duty of INEC to cancel an election once it's announced by the returning officer…?*
They don't understand the law. I'm sure a lot of them are dancing in their ignorance because of the result of the election Tribunal in Osun State. The Osun State cancellation was not based on over voting. Once over voting is established, a collation officer can cancel ana election. So the issue in Essien Udim in particular, Essien Udim was established to have over voted in the Senate election, because they waited for the results of 9 local Governments and they now saw the victory margin of Chris Ekpeyong. They used that to jack the result in Essien Udim, and when that was passed through the card reader, it showed that there was over voting and the total number of accredited voters were far less than the total number of voters that turned out in Essien Udim. That cannot stand in the eyes of the law. Anybody saying that the card reader is Illegal may not be talking about the 2019 election.
It is very clear that INEC has given instruction both orally, in Press Statements and in their manual guidelines that card reader is the only way through which accreditation can be done otherwise elections should be postponed in that unit. Anybody who opposes the credibility of the card reader is criminally minded, he has lost integrity because the card reader seeks to introduce sanity, credibility and integrity into our electoral process. This is what we have been looking for over the years.
*It is considered that possibly Senator Akpabio might get a ministerial appointment. This is obviously an advantage to the state?*
I'm not interested about the speculation. We've had ministers. What have been their benefits for the state? We have to look at all these things. I advised the man not to resign from NDDC if he loved Akwa Ibom, now we have lost the position. They were saying that once Nsima leaves, another Akwa Ibom person would take over as if that seat is meant for Akwa Ibom only. Don't forget that Nsima was supposed to complete Dan Abia's tenure, and was able to lobby and got a fresh mandate, but didn't serve 50% of that mandate before he was flushed out.
I told him if he wanted to make a mark as the NDDC MD, don't do mushroom roads because these were politically motivated. I told him that Akwa Ibom State Government has dualized the road from Ikot Ekpene to Abak, take it from that end and dualize to East-West Road in Ikot Abasi. But because he wanted to multiply the hands of his supporters all over the State for the purposes of politics, he asked them to go into the street and resurface them, most of those streets will be washed away in the next one year because they are politically motivated.
*It is also said that the presidential candidate for PDP, Alhaji Atiku Abubakar has never lost a case in court…?*
This won't be an exemption. Everybody knows that Atiku won the election, there is no reason why Buhari should be returned for a second term. To go and continue with what? What is his agenda for Nigeria? What project was he going to go and complete? If there is any project that has been commissioned by Buhari's administration, it was the project that was initiated by PDP Government. They have failed woefully on all the three (3) point agenda that was promised. Anybody who says Buhari was elected by Nigerians is insulting our collective integrity, because that's not what happened.
*What is your final word for the people of Akwa Ibom State and Nigerians?*
I want to thank them especially Akwa Ibom people for standing by God and returning Udom Emmanuel back to office and voting for our party massively, for maintaining the peace and harmony in the state and also standing on the side of justice, fairness and equity. I thank them for not being intimidated during the election. I also thank Nigerians for standing by our party. PDP is the only party that has national character. We won in the North-East, North-West, North Central, South-West, South-East and South-South. That's the only party that has won in all of this regions. APC doesn't have that quality. We will take Edo in the next election.