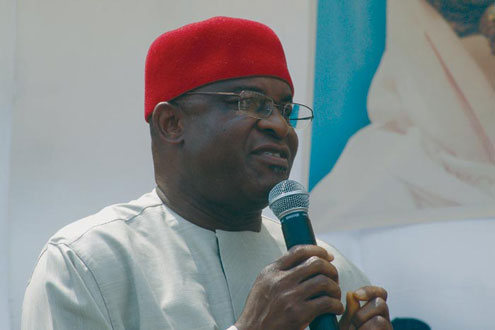 "I Will Remain The Last Man Standing In PDP" – David Mark
MESSAGE FROM SENATOR DAVID A. B. MARK PRESIDENTIAL CAMPAIGN ORGANIZATION TO PDP DELEGATES TO THE NATIONAL CONVENTION, PORT HARCOURT, RIVERS STATE.*
Loading ...
My Dear Delegates,
I welcome you all to the National convention of our great party, the Peoples Democratic Party (PDP) holding in Port-Harcourt, Rivers State from the 6th – 7th October 2018.
As you all are aware, the time has come to find a lasting solution to the challenges facing us as a nation. The 2019 presidential election presents us with a unique opportunity to effect this turn around.
The PDP as the largest political party having gone through its moments of self examination is now more than ever before well positioned to deliver to Nigerians on their yearnings and aspirations.
I have been with the party through thick and thin especially in our most trying moments after our defeat in 2015. Believing that we will overcome, I stood firm and committed myself to rebuilding and rebranding the party which to the glory of God is once more a very beautiful bride admired by all.
I present myself as a worthy servant and vehicle for achieving the rescue mission of our dear country.
My antecedent over the years both in the military and political engagements unarguably places me in a solid position to lead this effort. I also have enough experience in the Executive and Legislative Arms of Government to drive this mission for the wellbeing of our beloved nation.
I make bold to state that I am most prepared and ready to serve my fatherland. *"I WILL REMAIN THE LAST MAN STANDING FOR THE PARTY".* I have kept faith with the party, I have been tried and tested and I remain steadfast.
In the words of Martin Luther King Jnr, "the ultimate measure of a man is not where he stands in moments of comfort and convenience but where he stands in times of challenge and adversity". I am your true servant. I will not let you down.
My desire is to serve and be remembered as the agent that brought peace, unity and prosperity to all Nigerians.
A vote for me is a vote for the continuous corporate existence of Nigeria and the preservation of our brotherly heritage.
God bless PDP.
God bless Nigeria.
 
 *SENATOR (DR) DAVID A. B. MARK GCON, Fnim, Fnipr.*