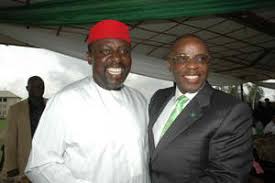 Government Of Imo State
Press Release
Former Governor, His Excellency, Chief Ikedi Ohakim Should Please Stop This Disgraceful Claim
(1)          The Former Governor of the State, His Excellency, Chief Ikedi Ohakim was reported to have announced his desire to contest the 2019 governorship election in the state at a Press Conference.
(2)          While doing that, he never deemed it necessary to tell his guests one achievement (if any) his administration recorded while he held sway as the governor of the state, from 2007 to 2011.
(3)          He also never told those in attendance what he would do this time if elected governor again in 2019 which perhaps he didn't have the time or resources to do when he was governor.
(4)          He accused the Governor, Owelle Rochas Okorocha of owing Judges in the State 16months salary arrears and then threatened to go on protest naked if the salary arrears are not cleared by March.
(5)          When we read that report, we withheld our response with the feeling that the former governor must have been misquoted, and might do a refutal. He didn't do that but rather maintained his position, occasioning this response.
(6)          We make hay to say this. If after being governor of the state for four years, the former governor didn't know that the state government does not pay Judges' Salary then something must have gone wrong somewhere and it is quite unfortunate.
(7)          The National Judicial Commission (NJC) pays Judges' Salaries.
(8)          If the NJC handles the salary of Judges, then, the former governor was either distributing falsehood or has become overwhelmed by Governor Okorocha's achievements that he didn't know what to say again against the governor and his administration than to resort to jokes.
(9)          We are always painstaking when handling issues concerning prominent citizens of the state like Chief Ohakim who had also governed the State, otherwise we would have made certain calls. And in any case, he didn't run an organized government and didn't therefore know who was paying who.
(10)     Let Chief Ohakim publish his achievements for the four years he was governor, with their locations, or publish all the achievements of the PDP governments in the State from 1999 to 2011, or publish the achievements of all those who had governed the state from 1976 when the state was created to 2011 when Rochas came on board and let Rochas publish his own achievements. Let there be issues and not petty lies.
(11)     Chief Ohakim also ran for the governorship Primary of his party in 2015 and came third, which means his party members still have reservations over his tenure as governor from 2007 to 2011.
(12)     If one good tenure deserves another, should Chief Ohakim's abysmal tenure also deserves another? The answer is NO.
(13)     We want to appeal to the former governor to look for another issue to talk about and not the issue of Judges' Salary because the State does not pay Judges' Salary.
–
Sam Onwuemeodo
Chief Press Secretary to the Governor