Advertisement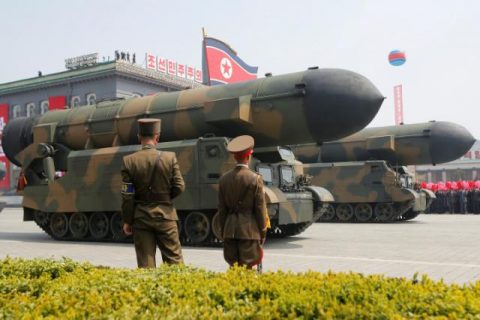 North Korea crisis: UN political chief in rare visit to Pyongyang
The United Nations political affairs chief begins a rare four-day visit to Pyongyang on Tuesday.
The trip by Jeffrey Feltman is the first by a senior UN official in six years.
North Korea had extended an invitation to the UN in September to visit for a "policy dialogue".
It comes after last week's launch of what North Korea called its "most powerful" intercontinental ballistic missile, claiming it could hit the US.
Advertisement
Mr Feltman, a former US diplomat and the highest ranking American in the UN, will be in Pyongyang until Friday. His visit comes as South Korea and the US conduct their largest ever round of aerial drills.
A UN spokesman told reporters that Mr Feltman will be meeting senior North Korean officials including foreign minister Ri Yong-ho, and will have a wide-ranging policy discussion on "issues of mutual interest and concern".
He is not scheduled to meet North Korean leader Kim Jong-un.
The invitation, first informally issued in September, was confirmed on 30 November – the day after North Korea launched its most recent missile.
The BBC's Paul Adams in Seoul says in the absence of any other meaningful diplomatic channels, the UN clearly believes it's important to pursue whatever opportunities exist for dialogue.
Mr Feltman was in Beijing on Monday. China is North Korea's main economic and diplomatic ally, and had sent a top-ranking diplomat to Pyongyang last month for talks with North Korean officials.
The UN has said there are no plans at present for UN chief Antonio Guterres, who has offered to mediate in the North Korean crisis, to visit Pyongyang.
The last visit by a senior UN official was when Valerie Amos, then the UN's aid chief, travelled there in October 2011. Mr Feltman's predecessor Lynn Pascoe also visited in 2010.
The UN operates six agencies with 50 international staff in North Korea which provide food, agricultural and health aid. Malnutrition is a significant problem in the country.
Mr Feltman's trip comes during a period of high tensions following North Korea's test launch of a missile which drew another round of international condemnation.
The US ambassador to the UN Nikki Haley had said last week that if war broke out, the North Korean regime would be "utterly destroyed".
On Monday, South Korea and the US began a five-day air combat exercise, their largest ever involving more than 200 aeroplanes and thousands of troops.
North Korea, which routinely condemns such drills, has called it a "provocation".