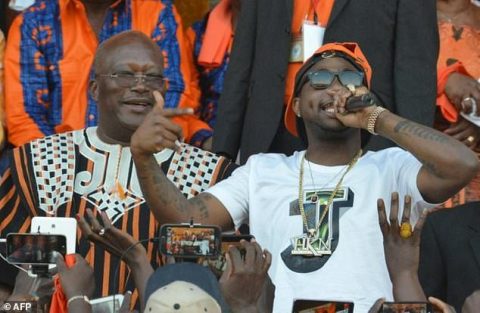 We don't want congratulations, here's what musicians truly want from the Government
Before their MOBO Awards win, Wizkid and Davido were already the current most celebrated artists on the African continent. But their double victories at the 2018 MOBOs in the Best African Act, and Best International Act categories took it to another level.
Of course, the fans made a meal of it, tweeting and singing praises all day long. The news carried it like wildfire, and everyone celebrated. Wizkid's win, in particular, was a big deal. It was the first time an African had bagged the trophy for Best International Act. He beat Drake (his collaborator), Cardi B, Hip-hop heavyweight JAY-Z and Kendrick Lamar to the trophy.
And then came our politicians. With the 2019 general elections on the radar, Nigerian politicians and government officials are on high alert right now. Like dogs on heat, they are chasing their next political points, which would enable them to ingratiate themselves with the public and ensure that they come through with enough votes to retain power. Nigeria is fundamentally a democratic government, and on paper, the people hold the power via the ballot system.
Wizkid and Davido are the men of the people. Just like a number of Nigerian entertainers, these young stars have done enough to improve the life of the masses than many elected and appointed people in governance. They provide a means of escape, via their music, to millions of aching souls and frustrated citizens. A fan once told me that the only reason why Nigeria has not disintegrated is partly that we have amazing music which helps calm the nerves of the agitators in the country. I mean, who would want to destroy a country that gave us 'Jaiye jaiye' or 'Aye'.
Who is that sadist?
Former President Jonathan wrote, "When Nigeria does well, I cannot help but feel well. My happiness is tied to the happiness of Nigeria and when Nigerians break records and take the name of Nigeria to greater heights it exhilarates me. Thank you Wizkid for raising Nigeria's flag high for the positive, not the negative. Your emergence as the Best International Act at the #MOBOAwards is a proud moment for Nigeria. And the fact that you emerged over JAY-Z and Drake makes it even more celebratory. WELL DONE. GEJ."
Senator Ben-Murray Bruce joined in too, with his own words on marble, delivered via Twitter. "Dear @wizkidayo, I've been in the entertainment business as an investor since 1980 and one of my proudest moments for Nigerian music is the day you defeated both Jayz and @Drake, two of the biggest stars in the world, to win the Best International Act at the #MOBOAwards well done."
Former vice president Atiku Abubakar also felicitated with Wizkid via social media. "My young friend, WizKid @wizkidayo beat other big international artists to win one of the world's biggest music awards," tweeted Atiku. "Congratulations."
Vice President Yemi Osinbajo also applauded Wizzy and OBO. "Once again the talents, hard work, and enterprise of our youth have been celebrated on the world stage," Osinbajo said.  "Congratulations to @wizkidayo and @iam_Davido. "You make us proud!"
While these messages of congratulations appear great on social media, it is disgusting when you consider the state of the music industry. Nigeria's music industry is fragmented and unstructured, with much of it coming from the lack of proper laws and government support. This has existed for years, with no lawmaker or person of influence working to improve the system. Wizkid and Davido are surviving in spite of this system. The system isn't enabling them, but via hard work and talent, they are rising above it and achieving the unimaginable.
With these congratulatory messages, these people of influence remind me of those terrible uncles who never contribute to your education but find a way to demand for a place of honour at your graduation ceremony. It's a Nigerian thing, and it is disgusting to behold.
What we need from people of influence and the corridors of power is a total overhaul of the laws guiding the music industry, its copyright and the tackling of piracy. We need to properly restructure the music industry to create opportunities for more Wizkids and Davidos to emerge. We have the numbers, what's left is the law to back us up.
Ben Murray Bruce is an entertainment veteran with business interests in the media. He understands what needs to be done, and he can sponsor bills in the Senate to enable this become a reality. He hasn't done that, neither has he made any effort to fix that. Instead, he throws in a 'congratulations'.
Wizkid and Davido frankly don't need these plaudits. It is useless to their business, and does nothing other get them back into the news. To really show support, they know the needful. They can do the needful.
Until they show true concern and help fix the music industry, they should keep it. Our musicians have done it without them. Why do they need to join in the celebrations?