The Indigenous People of Biafra (IPOB) and it's leadership worldwide under the command and leadership of Mazi Nnamdi Kanu reiterate for record purposes that the ongoing state sponsored genocide in Abia and Rivers states by the exclusively Islamic Hausa-Fulani dominated Nigerian Army must be halted. That history is replete with occasional but consistent episodes of pogrom, genocide and mass killings of Biafrans and Christian communities, especially in Northern Nigeria, is nothing new. What is more troubling this time is that certain political office holders in the South-East are comfortable with the idea of inviting Hausa-Fulani Islamic army to come into Abia State to execute hundreds of young menand women in cold blood simply for asking for their right to self determination.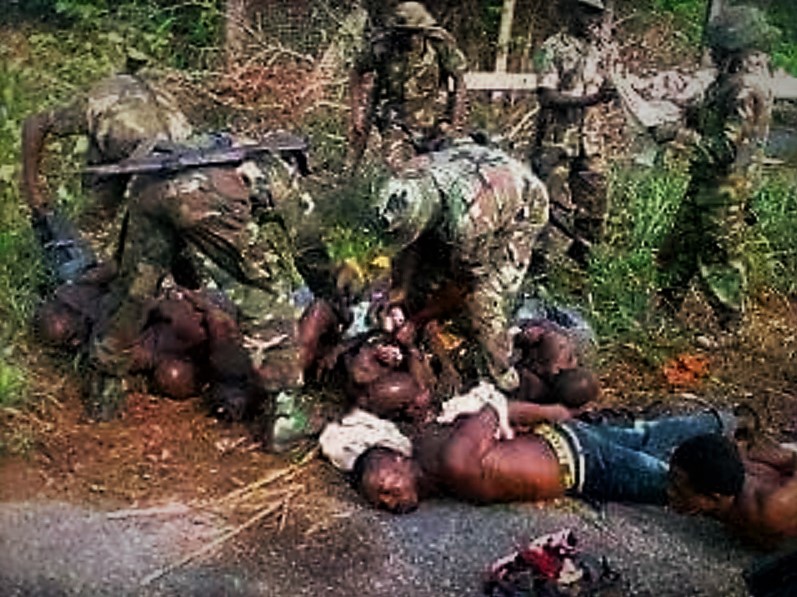 We hold Major-General Muhammadu Buhari, Brig-General Tukur Buratai and Gov. Okezie Ikepeazu majorly responsible for the cold blooded executions going on now in and around Abia State at this trying time. Humanity must as a duty, take cognisance of the raw incontrovertible evidence of these atrocities already in public domain. In particular is the video footage of men of the Nigerian Army stationed at Isiala Ngwa junction dragging people out of their vehicles and executing them in cold blood in broad daylight. Hundreds of Biafran youths are still missing presumed dead at the time of this press statement. The few survivors of the Isiala Ngwa massacre taken to secret detention centres in army barracks in and around Abia and Rivers State are still unaccounted for.
What the world is witnessing in  Abia State is a full scale Islamic military invasion designed to murder as many people as possible with the blessing of a few Igbo leaders who are in effect mere errand boys for the Caliphate but occupying exalted political offices in Biafraland. That Gov. Okezie Ikepeazu saw it fit to invite the Nigerian military with their deplorable human rights record, to his state to kill civilians, is indicative of the moral decay at the core of the politics of servitude to Sokoto Caliphate played by the few men imposed on us as leaders across Biafraland. What the world must know is that the so-called Operation Python 2 was meant to start on Friday 15 of September 2017. Why then did the Nigerian Army in collaboration with Gov. Okezie Ikepeazu commence the siege of our leader's house and entire Abia State on the 10th of September, 5 clear days before the official date.
With the congratulatory messages pouring in to Gov. Okezie Ikpeazu from Arewa and other Islamic groups- the same people their soldiers are murdering Biafrans in their hundreds in cold blood, any doubt his duplicity or involvement has been quickly dispelled. This murderous pythonic dance and mayhem will last a full month, at which time it is hoped that the very unarmed peaceful non-violentIPOB would have been militarily subdued. The Nigerian government led by Major General Muhammadu Buhari with the supervision of Btig. General Tukur Buratai have stationed army and police check points, which in effect killing zones, along every road leading to Umuahia in Abia State to prevent free movement of people coming to visit our leader Mazi Nnamdi Kanu.
Loading ...
In similar vein, the murderous impunity visited on journalists at the NUJ centre in Umuahia, when their offices were ransacked and presemen beaten up confirms the inmate brutal instinct of the Nigeria Army. The entire IPOB family members worldwide under the leadership of Mazi Nnamdi Kanu sympathize with the entire Nigeria Union of Journalists in general and those brutally assaulted in particular. They should not allow themselves to be cowered or dissuaded from accurate reporting of news events.
It is quite understandable that the right for self determination is an inalienable right for all peoples, recognized by international law and enshrined in the United Nations chatter, which Nigeria is a signatory to, as well as international covenant on civil and political rights.
It is purely undemocratic and primitive for Nigerian government led by Major General Muhammadu Buhari and Nigerian Army under the supervision of chief of staff Brig. General Tukur Buratai with the active connivance of the likes of Okezie Ikpeazu to shoot and kill anyone suspected to be an IPOB member.
We are putting the world on notice about these barbaric attacks and ongoing jihad in Biafranland which in effect is a pogrom designed to eliminate peaceful Biafran populations and Christian faithfuls across Nigeria and enthronmemt of Isilam. IPOB will remain at the forefront of this almighty fight against injustice visited upon every ethnic nationality in Nigeria without exception. It is unpardonably criminal, unjustifiable and morally reprehensible for people to keep quiet in the face of this calculated efforts to wipe away the people of God which Biafra people are, from the face of this earth. We would all rather die than allow ourselves and generations unborn to be enslaved in our own land.
–
COMRADE EMMA POWERFUL MEDIA AND PUBLICITY SECRETARY FOR IPOB.