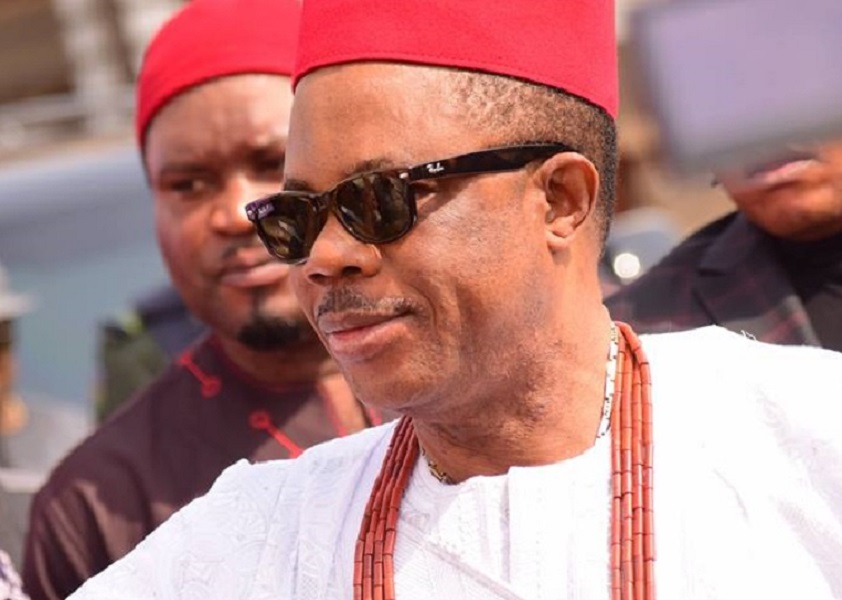 An Address by the Governor of Anambra State, His Excellency, Chief Willie Obiano at the High Level Segment of the 72nd Session of the UN General Assembly in September, 2017
Protocol
With a great sense of humility, I stand before you today to share the story of Anambra State. I bring you greetings from the beautiful city of Awka, the capital city of Anambra State in South East Nigeria. Awka is famous for its black-smiths. Interestingly; since I assumed office as governor three and a half years ago, my Team and I have become blacksmiths of a different kind … hammering a hundred dreams of a gifted people into shape!
Ladies and gentlemen, as I stand here, I stand in the shadow of all my fellow citizens who were here before me. As we all know, in a blacksmith's toolbox, there are many tools. But the anvil is an important tool to every blacksmith. Like blacksmiths, my Team and I also came with a toolbox. Our toolbox is an Economic Blueprint known as the "Anambra Wheel of Development." The Wheel revolves around Four Pillars. The pillars are Agriculture, Industrialization, Trade & Commerce and Oil and Gas. Agriculture is the number one pillar of my Blueprint. It is like the Anvil in a Blacksmith's toolbox. It is a very important tool indeed and it is for this reason that I would like to start this address proper with a hard look at Agriculture.
Here are some Basic Agricultural Facts on Nigeria

We strongly believe that Hunger and malnutrition are very much still a great threat to public health especially the marginalized groups. Persons with disabilities are the frontline of hunger. Persons with disabilities have special needs but can easily and are often marginalized and in some cases overlooked in development. I again believe and support that development should be equitable, inclusive and accessible for all in order to benefit all of society.

Including persons with disabilities in the agricultural development will in many ways boost food production can improve employment opportunity and income generation.
Nigeria has 91 million hectares of land.  84 million hectares of this are arable. But only 40% of this land has been cultivated so far. Nigeria is blessed with 230 billion cubic meters of water. Two of Africa's largest rivers run through the vast geography of Nigeria. She has abundant rainfall in over two thirds of her territory. This makes Nigeria a perfect setting for agriculture. Indeed, before crude oil was discovered, Nigeria was the world's largest producer of palm oil and groundnuts and the second largest exporter of cocoa.
Ladies and gentlemen, from the brief sketch I have outlined here, Nigeria has everything it takes to change her economic narrative and change her future! And that is what we have set out to do in Anambra State today.
Developing Agriculture with SDG in Mind
Ladies and gentlemen, I wish to quickly observe here that my administration's strategic approach to governance loudly echoes some of the key components of the United Nations Sustainable Development Goals. We started with the development of institutions and followed by rebranding various ministries to help focus and sustain our activities in the various key development areas. Institutions include Agency's and Sub units within various sectors like, LAC (land acquisition , ANSIPPA, ACTDA, AGRICULTURE, EXPORT UNIT, ASBA etc.
For instance, the Goal Number 1 of the Sustainable Development Goals seeks an End to Poverty. My administration shares the same deep concerns about poverty as the United Nations. We were the first and perhaps the only state in Nigeria that rolled out a comprehensive and timely Economic Stimulus Package in September last year to checkmate the impact of Nigeria's current recession on our people.  We also intervened to save businesses from collapse and to build a buffer against the poverty would have resulted from it. But what exactly did we do?
We suspended taxes for the low income segment of the population and disbursed the sum of N1.9bn in micro credit to our businessmen and women through the Anambra Small Business Agency (ASBA). We also rolled out a bottom-up development programme known as the "Choose-your-Project Initiative." Under this initiative we asked the 181 communities in our State to choose a project that was important to them that the government would build at a cost not exceeding N20m. Ladies and gentlemen, by asking every community to select a project and to supply the workers that would build each project in their communities, we bring government closer to the people and lend deep roots to our democracy. But beyond these considerations, the initiative puts money directly into the hands of many breadwinners across the state and restores the delicate balance of power in our families. This is how we are helping the UN to attain its Goal Number 1 in our little corner of the world.
Similarly, Goal Number 2 focuses on Ending Hunger by achieving food security and improved nutrition through Sustainable Agriculture. My administration shares a common sensibility with the UN in this regard. We are intensely focused on changing the story of our people through agriculture. The interesting story is that before my administration, Anambra was known only as the commercial melting pot of South East region. No one ever imagined that Anambra could be a viable state for agriculture. However, three years after I took-over, we have placed our dear state on the Agricultural map of Africa.
We have successfully integrated modern technology into our Agricultural Planning and today, we have an E-Platform that enables us to monitor and manage all agricultural activities in Anambra State from a single control room. We have also organised our farmers into structures ranging from the big mechanized farmers to individual small holders. We also have over 2000 farmers' cooperatives in Anambra State at the moment. Indeed, as at today, our Farmers Information Management System confirms that we have 106,000 registered farmers in our database. Interestingly, 24% of this  are youths below the age of 40 years whilst those aged 40 – 80 occupy about 75% of the list. This is a clear evidence that we have made farming attractive to the youths.
Again, because of our focus on Agriculture, Anambra has attracted investments valued at $1.2bn US dollars into the sector alone. The big investors in our Agricultural Sector are Coscharis Farms, JOSAN Integrated Rice Farm and Mills, Lynden Integrated Farms, and Delfarm/Songhai Farms. The arrival of these investors has transformed the agricultural landscape of Anambra State and boosted our self-sufficiency in many areas.
Facts on Rice Production
It may be interesting to note for instance that when we took over the leadership of this great state, Anambra was producing only 80,000 metric tonnes of rice per annum. But the story is different today. We have since tripled that production volume. From a yield of 244,235.25 metric tons of rice that we achieved in 2016, we have increased our production output to 322,000 metric tons per annum.  With this achievement, we have effectively surpassed our annual consumption figure of 320,000 metric tons in the state. We are not relenting. We are waiting for more investors. The Committee on Land Acquisition has earmarked 67,000 hectares of land that will be given out to big farmers who want to set up large mechanized farms in Anambra State.
Export Activities
We have also opened an Agricultural Export Desk with a mandate to explore and exploit export windows for our farm produce in Europe and America. This has produced heart-warming results. Anambra made headlines when vegetables from Onono, Ogbaru and Oraukwu were exported to the United Kingdom two years ago. We have also opened a new window that will ensure the export of 5 million yam tubers to the US. On the home front, we have continued to standardize and popularise the offerings from our farms. Anambra Rice has become one of the preferred brands of rice in Nigeria. We have also registered Anambra Honey, Anambra Garri and Anambra Fufu Brands with direct links to our out-growers made up of mostly women and the youths. That is a brief summary of what we have done in Agriculture.
Goal Number 3 the Sustainable Development Goals emphasizes Healthy Lives and Well-being for all Ages. Again, our reforms in the Health sector reflect this in abundance. The reform focuses on the three major segments – namely, Primary Healthcare, Secondary Healthcare and Tertiary Healthcare. Our target in Primary Healthcare is to provide one functional Primary Healthcare Centre per ward. To ensure the realization of this target, we have provided 7 Water-ambulances to offer a wider access to quality healthcare to the riverine communities. We have provided 72 Direct Drive Solar Refrigerators to preserve vaccines. The Bill we sponsored for the establishment of the Anambra State Primary Healthcare Development Agency has been passed into law. But I am more personally happy that the Anamabra State Universal Health Insurance Bill has been passed into law. The objective of the Health Insurance Scheme is to ensure that my compatriots have access to quality healthcare, regardless of whether one is rich or poor. This is one instrument that will speed up the realization of the Goal 3 of the SDG in Anambra State.
Special Attention to People Living with Disability – Anambra State pays a great deal of attention to physically challenged people and people living with disability. My administration has made education free from Primary to Tertiary levels for everyone living with disability and automatic employment awaits them after graduation. I appointed a Senior Special Assistant to advise me on issues affecting the physically challenged people in the state. Similarly, people living with disability are exempted from paying fares on our mass buses.
Meanwhile, my administration has successfully fitted 700 physically challenged people with Prosthetic Limbs. We have also provided wheelchairs to 350 people and successfully performed free corrective surgeries on the cleft palate of 35 children. Indeed, the well-being of physically challenged people means a lot to us in Anambra State.
Inter-Ministerial/MDA collaborative development.
Collaboration between ministry of Agriculture and other ministries such as ministry of women affairs, Education, youths and sports has provided opportunities to develop vocational training and opportunities that is adaptable for the disable individuals.
Training on utilising agricultural products for craft and creativity ie. Basket making using palm fronts, making cloths, soap etc.
Goal 4 is to Ensure Inclusive and Equitable Quality Education and Promote Life-long Learning Opportunities for all
Anambra State is well-known for showing a great deal of promise in Education. Over the years, our school children have proven to be among the best; producing excellent results in national examinations and representing Nigeria at World Schools Debate Championships. My administration has continued to nurture the educational sector in three broad areas – Students Welfare, Teachers' Motivation and Infrastructural Advancement. In Teachers' Motivation, we have sent 23 vocational education teachers on offshore training in Singapore. We have also increased teachers' salaries as an incentive for greater performance. In Students Welfare, we have awarded scholarships valued at over N30m to 200 students. We have invested heavily in the Girl-Child Education Awareness Campaign as well as the No-Child-Left-Behind Campaign.
In terms of Infrastructure; we have renovated over 1,400 classroom blocks and upgraded 60 state-of-the-art laboratories.
Goal Number 5 of the Sustainable Development Goals seeks to achieve Gender Equality and Empower women and girls. Anambra State has always given priority attention to gender issues. A breakdown of the micro-credit we have disbursed so far indicates that women went home with a sizeable chunk. 58% of the beneficiaries were females while 45% were males. This same distribution formula will be applied in distributing the planned N500m Intervention Fund and subsequent disbursements in the future to ensure that our women are given a fair chance at success.
Goal Number 8 of the Sustainable Development Goals draws special attention to Decent Work and Economic Growth. Again, like the UN, we see Agriculture as the largest employer of labour. With 106,000 farmers in our databank, it is very clear that Agriculture is heavy in the employment market of Anambra State. Similarly, the mechanized and modern agricultural farms in Anambra State have created 725 direct jobs and 5200 indirect jobs so far. At the same time, the efficient disbursement of micro credit loans has created a level of buoyancy in the local economy that has helped our people to cope with the raging recession in the economy. We are stretching our capacity to do more in this area with the newly earmarked Special Intervention Fund of N500m that will also be effectively disbursed to verified beneficiaries. All these aggregate to a sustainable economic growth.
Goal Number 17 of the SDGs emphasizes the imperatives of Partnerships in Ensuring Sustainable Development. Ladies and gentlemen, we are determined to nurture profitable and enduring partnerships that will enable us attain our development goals. In fact, whatever success we have achieved in the past three and a half years came from the creative extraction of maximum values from our partners. Every major investor that we have attracted to Anambra State so far is in partnership with the state government. We are usually prompt in the payment of counterpart funds and we have continued to take advantage of the enormous opportunities offered by the Development Agencies that have come to assist us in our search for rapid development. In fact, the UN agencies deserve applause for their immense help to Anambra State. Two months ago, we took bold steps to deepen our partnership with development agencies when we hosted the first Development Partners Summit in Awka. We shall continue to nurture our relationship with IFAD, UNIDO, UNDP, World Bank, EU and other development agencies for the benefit of our people. At the same time, we hope that our requests for more assistance will continue to elicit the favourable consideration of our partners.
Our Most Pressing Needs
Ladies and gentlemen, my administration has a great plan for my beloved state. But we have been seriously constrained by lack of funds and expertise.
As a result, we are looking for organizations and individuals that will go into a partnership with us in the following areas –
Partners in Mechanisation which include Irrigation and capacity development for all-season-farming.
Partners in Agricultural Machinery and capacity training on Best Practices across the various agricultural value chain
Facilitation of research into farmers healthcare and mortality leading to reduced productivity, these include Basic Personal Medical Attributes, Family & Social History and Community Diagnosis among occupational farmers, such as
Blood Pressure and Pulse rate
Common and recurring ailments
Common preventable ailments, hazards and allergies
Life Style and Work Practices (work/life balance, nutrition, stress)
Access and proximity to healthcare and healthcare facilities (clinics, hospitals, pharmacies etc.)
Assists with policy advice and technical expertise in agriculture involving economic and social development and many interrelated activities in support of food security, rural poverty alleviation, and institutional and human capacity building mainly through provision of funding facilities, investment support and promotion of technical cooperation as a main thrust of its activities.
Partners on the provision of medical facilities for our farmers.
Partners for funding and training of start-up ventures
Partners on capacity training for our teachers
Partners on power generation and alternative sources of electricity
Assist with regular Regional activities and Workshops on "Disability-Inclusive Agribusiness Development
Ladies and gentlemen, this is our story. This is our pride. It is a story of focus and determination. But it is also a story of ordinary people taking extraordinary steps to change their single story.
God bless Anambra State
God bless Nigeria
Thank you
–
Willie Obiano
Governor