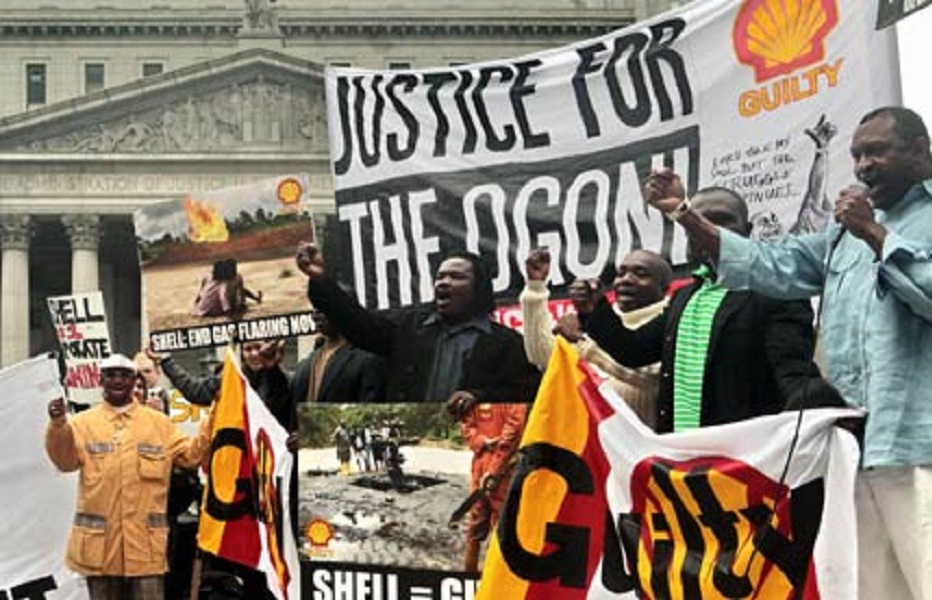 The Nigerian state pretends not to know the truth about  the pains of the Ogoni people and the discrimination against the minorities of the Niger Delta whose resources have funded our federal budgets and supports our predominantly poor states which cannot survive without federal subventions.
Shell and Nigeria has consciously and completely destroyed the Niger Delta and particularly Ogoniland. Today, one Nigerian Petroleum Development Company (NPDC) is shamelessly making moves to re-enter Ogoniland for oil. It is ridiculous to imagine that despite repeated warnings and a rejection of this pest-like company, the NPDC continuous its corrupt traits for which it is widely known and want to get the Ogoni oil through the back-door.
The NPDC is Nigeria's oil drilling company, it epitomizes the true attitude of the Nigerian state towards the Ogoni people. Shamelessly and callously looking at the face of a dying population and telling them "we will kill you and take your oil". And as usual, Nigeria will certainly be willing to provide its security forces to shoot and kill any resistance just as they have always done.
It is quite disturbing to see our country not bother about its mighty army showing its strength against a small and peaceful struggle like that of the Ogoni while the government offers amnesty to Niger Delta civilians who managed to gain access to arms and will perpetually look for negotiators with the Boko Haram insurgents. I see it as a national shame to send our well trained army against a peaceful and civil protest.
All Nigeria care about is the Ogoni oil. They want it at all cost and will kill for it like we saw in 1995 with the hanging of Ken Saro-Wiwa and 8 others. For over 50 years, they have shown this brutal attitude towards the oil producing Niger Delta and that attitude has not changed.
On Sunday, July 16, 2017, I was in Biara in Gokana local government area where reports of pipe laying activities had surfaced. One Kagbara (full name withheld) came with the complaint. We confirmed the massive land grading in parts of Biara in Gokana local government area. In Nigeria, I see a government that should promote human dignity, care and protect becoming so oppressive acting in utter disregard to the sensitivities of its own people.
But Nigeria, Shell or the NPDC can be sure that Ogoni will not surrender to this harassment and intimidation. We will all match down to the oil fields to protest this unending abuse and disregard for our rejection of all forms of oil production in Ogoniland for now.
Unfortunately, our leaders do not seem to bother about our dignity and the need to protect the integrity of our armed forces. They continue to abuse and ridicule our soldiers.
As the struggle for a better society continues, the current moves regarding the un-permitted invasion of parts of Ogoniland should be seen as an invitation for the people to fight for what belongs to them. As a people, we cannot be silent in the face of this affront.
Shell and her ally, the NPDC are at it again and let it be known that another round of bloodshed is about to take place in Ogoniland because as a people, we are bound to say "NO" to any form of oil production activity in Ogoniland.
The writer, Fegalo Nsuke is the Publicity Secretary of The Movement for the Survival of the Ogoni People (MOSOP) He wrote from Port Harcourt, Nigeria.