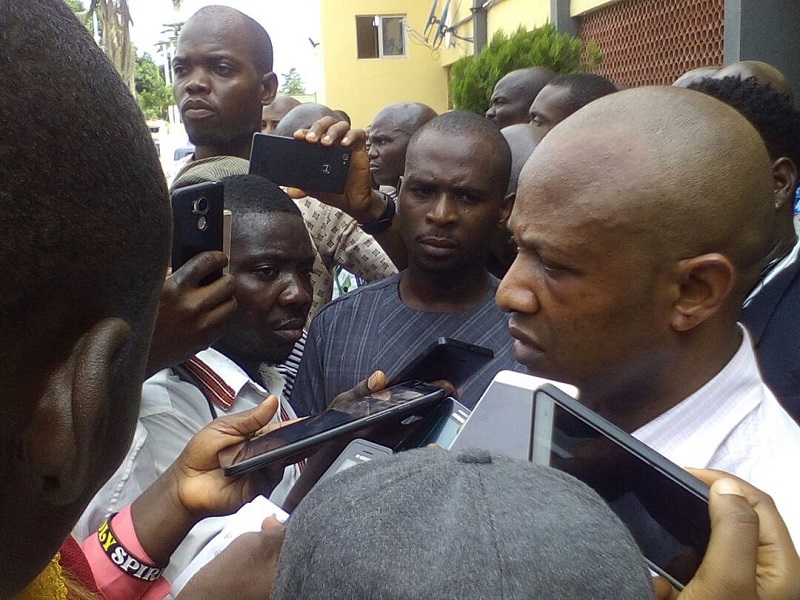 By Uchechukwu Ugboaja
–
With over 10years of service to Imo state as the Chairman of Police Community Relations Committee (PCRC), Mr. Chima Chukwunyere the Mbaise born Social Conscience Crusader and Managing Director Domino Hotels Owerri, speaks exclusively to UCHECHUKWU UGBOAJA on why security has remained Gov. Rochas Okorocha's achilles heel in governance. Despite the kidnapping of his father and wife in recent times, his service to the people of Imo doesn't seem to waver as he reveals why and how cultism remains the top incubator for crime and criminality in Imo State.
Excerpts
QUESTION: Sir can you tell us how see security in Imo State especially as the goverment in a recent report admitted to its low performance in security, with response to a midterm scorecard released by Thisday newspapers. What is your perspective on this as a stakeholder?
RESPONSE: Well if you ask me I will always speak very frankly as I have always even when I spoke sometimes to Newsbearer Magazine and it sent serious waves amongst traditional rulers when I told them that there are criminals and bandits amongst them, so I won't mince words now whether anyone likes it or not that is my person. Thank God I am not a politician and I will not be a politician tomorrow, so it puts me in a position to always speak the truth at all times.
As for the state of security in Imo State, I will tell you categorically that it is in its worst situation right now under this administration. What I am saying is that we have never had it this bad when armed cultism, robbery, kidnapping, have become the order of the day here in Imo where we all grew up. My Father built Domino Hotels and it was one of the first hotels in Imo State so when I am speaking it is from the point of history of a state that used to be the hospitality hub of the South-east/South-south in those days, but today what we have now is and shadow of its past. Where even cultism reigns supreme in our Schools which has turned into a breeding ground or what I call an incubator for crime and criminality in society… (Reporter cuts in)
QUESTION: Sir do you mean that the kind of criminals of the likes of Evans the Billionaire Kidnapper we are having today are currently being bred in Secondary schools?
RESPONSE: You are talking of secondary school when I am telling you of a primary school here in Imo that has already produced the youngest armed robber in the world, and this boy is just 8 year old. According to investigations he began operating weapons at the age of 5 successfully where he robs in the town and villages and retreats into the bush to hide. My brother it is because of these kind of developments that we in the PCRC decided to take our anti-cultism awareness campaign to the primary schools basically to sensitive these kids under 10 years on the dangers of cultism and crime in society. The truth is that we have almost lost the opportunity of preventing those already in the secondary schools and so we see the primary schools as our reasonable chance to rescue an entire generation from the clutches of cultism which is an incubator to crime the world over.
QUESTION: Sir this news about an 8years old Armed Robber will certainly shock the world as the young armed robber is only a kid, how did he get here and has he been apprehended yet by the authorities?
RESPONSE: I have just told you something that is like public knowledge here in Imo State if you go around you can ask I won't reveal his name because he is still considered a minor despite his alleged crimes, but he is from somewhere around Mbaitolu in Imo State. I believe the authorities are aware of his nefarious activities and I'm sure they are working on getting him early before he becomes another Evans in our society.
But speaking generally about the crime rate in Imo, my brother it is a very big sore point for this administration as it appears that everyday news of robbery attacks and kidnappings emanate daily and almost unabated. You will recall the infamous bank robbery attack and how it was luckily captured on cctv camera. Even though some of them were said to be not from Imo State, it is clear that Imo state has that capacity to harbour notoriety of such magnitude if not for anything.
QUESTION: Sir aren't there areas where the government could be commended?
RESPONSE: Well yes there are areas where we will commend the government and there are areas where they deserved to be blamed. For us in the PCRC we have already flagged off our campaign against crime, criminality and cultism so as promote the advocacy in these areas amongst schools and youth groups. Like I told the DIG in charge of South-east when he came here that these criminals we in the communities know them and we want their activities brought to a halt, but because they are being sponsored and armed by politicians it becomes very difficult to curtail them. Now can any of these jobless youths purchase a pump action fun which costs over N300,000 or can they afford to buy an AK 47 rifle? No, it I this politicians that buy them for the purpose of chasing and intimidating their political enemies but at the end of the day after politics is over they never bother to get them back from the boys.
QUESTION: But Sir we are always quick to put the blame of these arms proliferation in the door steps of the politicians, are there no traditional rulers in the various communities to checkmate these activities?
RESPONSE: Very good question, but do you know that even the traditional rulers have not also helped the situation too. I can give you an example of how cultism came up just by the single activity of one traditional ruler in Ohaji-egbema local govt and since then it is very difficult for people to sleep in the community. So the traditional rulers have also not helped matters in anyway. As I speak to you the PCRC leadership have written several times to pay some of them a courtesy call to enable us share ideas and ways we can bring this menace to a halt but I can tell you about two of them who refused to receive us and this is what breeds this generation of violent teenagers and youths.
Whenever the IG's visit Imo state, they have had the opportunity of hearing from me what the security problem of the state is from a community point of view, and it is basically the political class and the traditional rulers that have held the state hostage, and I make bold to say this any day anytime because I am not a politician and I will not be a politician tomorrow so I can say things as they are without minding whose ox is gored. So if it has to do with the security situation in Imo State I can speak to you authoritatively on that.
QUESTION: But will you admit that Imo state is more developed and the lives of Imo lives have improved under this administration, considering the level of infrastructural development scattered across the state?
RESPONSE: Speaking on the level of development in the state and its impact on the average Imolite, areas the government has done well include expansion of road networks across the state even the quality of these roads are very much questionable. Rochas' govt has failed to touch the lives of Imolites directly in terms of meeting their basic needs especially state workers and pensioners who we see everyday protesting on TV over unpaid salaries,  wages or entitlements. The people are being owed, workers are not well paid, money is not circulating, so what are people going to do with ring roads and artificial monuments he is busy building up and down, is it for visitors passing through the state or for the citizens who can't afford to maintain their cars?
Yes he is uplifting some notable infrastructures like the Imo International Convention Centre, Ahjiokwu Centre, the Trade and Investment Centre are all built by him but what is the connection of these so called infrastructure on the average person on the street. It is important to note that the first time Owelle Rochas called for the first security meeting in concord he invited all of us including the various transport leaders as well. When I spoke from the legislators to even the traditional leaders gave me a standing ovation because of the points I had articulated at that forum. I reminded them the reason when Udenwa was in government and he gave a directive to all hotels whether you like it or not you must acquire the physical image of your guests and in fact the image of everyone that comes into your premises must be captured. But because of the lack of enforcing compliance that directive failed to take full effect. But the larger perspective we should look at is how we got to this point in Imo State, which takes us back to cultism. I can tell you confidently that cultism is an incubator to major crimes and criminality in society, and unfortunately in Imo State anything that comes in here never leaves, once it has come to Imo state it has come to stay for good, be it fraud, armed robbery, kidnapping, prostitution, election violence any form of vice you may want to name it.
QUESTION: So Chairman what can be done now to bring this ugly trend of crime to a halt in Imo?
RESPONSE: I have told you earlier of how arms were given to youths for election purposes to intimidate one another ahead of political tussle and the aftermath was a proliferation of these arms in the hands of jobless and poor young boys who have now go about robbing innocent Nigerians of their money, a typical example is the infamous Owerri bank robbery that took place sometime in February 2017, that left no fewer than 5 people killed.
These issues need to be addressed because thee is no one who is exempted from the impact of this issue, in fact my family have also suffered its fair share of being victims to these horrific crimes as my father and my wife had been kidnapped on different occasions. So I am speaking from he perspective of a concerned citizen and not because I enjoy criticising.
How many politicians can beat their chest anywhere today in Nigeria to say that after mobilizing the boys for election have subsequently succeeded in demobilizing them. That is how all the terrible crimes began in different parts of the state and even the state government know these group of persons even though they find it almost impossible to control them. So that is the meaning of what I mean when I say cultism is an incubator for crime and criminality. So one of the ways I would recommend is for the government take community policing serious and beyond the issue of rhetoric by supporting local policing of communities to assist the conventional police and other authorities to prevent and fight crime. One of our major objectives in PCRC is prevention and that I why we have taken our drive to almost all the local governments in Imo State.
QUESTION: Sir you speak so confidently well about what the PCRC can do. Can you share with us any of your notable efforts at assisting the police to resolve crime or prevent crime since your inception?
RESPONSE: Oh that is great because I have been involved in several alternative dispute resolution issues there are even cases where some police men where alleged to have conived with influential persons to avert justice. Just as the case of a certain man here in Owerri who framed his friend simply because his friend caught him having an affair with his wife and then his friend confronted him, then he asked his friend if he wanted to die. Subsequently this same man conived with some officers to eliminate the friend but as God will have it unfortunately for them the leader of that police team was changed over night and it prevented them from executing their well hatched plan to kill the man and so they only ended up framing him to be an armed robber by leaving an undersized police uniform and a locally made rifle inside his room by the window where it was dropped. They moved in and arrested the man with a view to coerce him to confess to owning the weapon and the police uniform, but the man stood his ground.
After arresting the young man who had only protested over the immoral relationship between his friend and his wife, I was informed of the case and I visited the investigating officer who incidentally was the leader of the police team that framed the man up and we made very good and critical observations over the incident, beacuse ongoing investigation revealed that the police uniform they claimed he uses to rob was an undersized one for a man who was very big and secondly what manner of criminal will carelessly leave his operational tool (locally made pistol) exposed and sleep off?
Meanwhile the family of the man had been asked by the corrupt police officers to raise some huge amount of money over N700,000 for the man to be granted bail over a crime he didn't commit which I ensured that they didn't pay.
So as I eventually went to the Commissioner of Police and told him about the case and he infact instituted a fresh investigation into the case which revealed that the man was simply being framed up for standing up to his right. So what the commissioner did was to immediately redeploy the 9 officers away from Imo State to some very critical locations including Maiduguri, Sokoto and Yola. The complainant who instigated the false pettition himself was also charged to court for his role and he greatly suffered for his evil deeds as he was knocked down by a car on one occasion when he attempted to plead with me in the market square where I came. In fact he was coming to the court practically in crutches.
In some other cases like I told you traditional rulers have also been found flirting with crime as well, there was an instance where one was apprehended and charged accordingly and this is purely a civil dispute that could be resolved within a family as the matter pertains to land. Where the traditional rules has been envious of his brothers land since after his death leaving it to the wife and only son who is yet to become a full man. Eze Dr. Emmanuel Nwaimo a traditional ruler framed this young boy up that he is one of notorious criminals and robbers in their community and the was one certain occasion where the young boy was accused of stealing a brand new keke. The traditional ruler was shocked that the vigilante boys didn't do anything to the boy after he had framed him up.
Following the accusations against the young man the traditional council constituted a body to investigate the matter in which the keke man was brought to testify how he was actually robbed of his vehicle. Surprisingly when he was asked what happened he kept quiet for more than 5 minutes and took a deep breathe before he confessed the truth that if he lies against this young man God will kill him that he was never robbed. I just parked my keke as usual and slept off and as I woke up in the morning I didn't find it, nobody she me I didn't see anybody. Then the vigilante who conived with the traditional ruler after hearing this jumped off and ran away. The traditional rulers who were around were shocked and amazed at the revelation.
At this point I had to personally take the matter to the Commissioner of Police which he quickly invited Eze to come before him to establish how the young boy is an armed Robber, this is considering the fact that the boy had been in police detention for over 4weeks. Do you know that Eze refused to come straight to respond to the CP but went to submit a petition in Zone 9 to prevent the CP from entertaining the case directly but he was unlucky because the CP had to insist that he come to prove this matter or be arrested within 48hrs. Doesn't this amaze you that a traditional ruler who is supposed to be the custodian of our culture and traditions is involved in such a criminal act? He took someone's land forcefully and then plotted to eliminate the only surviving son of the widow.
The same young man who didn't know the extent his uncle wanted him dead went to another village and was stopped by the local vigilante there at night after returning from an event with his friends. Do you know that when the vigilante called his village to confirm his identity his uncle the same Eze asked them to kill him that he is a wanted criminal who has been terrorising their community. When I heard of the incident, although I was angry with the boy for not listening to advice to stay away from th village because of the desperate intention of his uncle to eliminate him at all cost, I however spoke to the local DPO to transfer the case quickly to State Command since he had no business handling robbery cases. The boy was eventually freed but this is to reveal the kind of security we have in Imo state under Owelle Rochas Okorocha, where traditional rulers who are to assist in governance and ensuring that lives and properties are secured are cultists, drug peddlers, armed robbers, bandits, 419 and criminals. So these are the kind of criminal cases that characterise Imo state and a PCRC Chairman I have been able to assist the police get to the bottom of it. 
I must also add that just recently we in the PCRC have just donated a mobile transit camp to the Nigeria Police Imo state where the CP Chris Ezike received the items and appreciated the efforts of the members of the state PCRC. Just as he inspected one of the completed projects, the ABC male transit camp, he was also presented with the second car manufactured by honorary member of PCRC. Some of our Patrons were in the meeting. We also donated two brand new tyres to the office of the state PPRO for his hilux truck. So with these moves we are believing that things will get better very soon in security in Imo state again. 
Thank you.