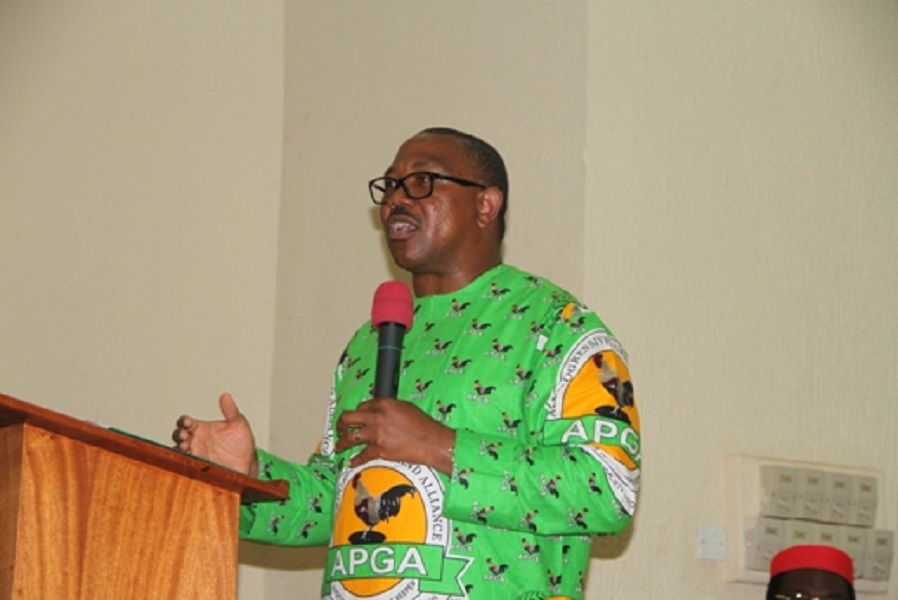 Speaking during the presentation of the keynote address at the 5th Prof. Celestine Onwuliri Memorial lecture at Chris VI Hotel at Ahiara, Imo State, the former governor of Anambra State, Mr. Peter Obi traced the problem of Nigeria to both the leaders and the followers.
In a report made out of the event and published on a national tabloid, Sun newspaper of June 17, 2017, it noted, "Disagreeing with him on the problem of leadership, the former governor of Imo State, Chief Ikedi Ohakim, said that lack of structure and not problem of leadership or followership was the problem of the country. Using Obi as an example, he said that Nigeria had been able to produce fantastic leaders in the past."
Like every other reader would ask, what is the difference between passionate and structural leadership? These are two traits in leadership. Anyway, you don't blame the writer's view having written from a political perspective. That's why it's important to note that a few journalists understand politics, but do not care much when it comes to highlighting leadership values.
It's laughable when writers limit the role of leadership to the business of motivational speakers and not politicians. Structure in politics is not for electoral thuggery, but for leadership mentoring. Meanwhile let me clear your doubts by saying that leadership is what you get from genuine political venture. Meaning, there is no good politics without effective leadership structuring.
When one hears of structure in our local settings, what comes to mind is political structure for reelection and campaigns. This is not in any way relational to the kind of structure we have in leadership. This is indeed why I felt the need to highlight and retrace the basics; not to respond or make rejoinder on behalf of the two speakers: Peter Obi and Ikedi Ohakim.
They all made laudable statement as it affects leadership in Nigeria. For Obi, he took time to explain, maybe as keynote speaker. Reading through his buttressed point, it consolidated his inclusion by the editorial board of Most Influential Nigerians – MIN, who ranked him among public service luminaries alongside Ngozi Okonjo-Iweala for League 17. Expect the hand copy this August.
To ask, can a society that relied heavily on one strong charismatic leader maintain sustainability when that leader moves on? This indeed begs for an answer. Leaders who master the art of building a structure in leadership have far more power than those in the conventional hierarchical mode because they position themselves and others to better sense and act on information, to develop more possibilities, and thus find it far easier to execute.
However, we need to understand what made the writer feel that there is some sort of disagreement between Obi talking about passion in leadership, and that of Ohakim reiterating on structure for effective leadership. Where then is the disagreement? These are two vital leadership traits. The idea of seeing politics in everything has never helped Nigeria. Politically, the two issues raised are incoherent because of the need to have a selling caption, but in real sense, it's never incoherent.
The word structure concerns responsibility, orderliness and due process. The young people coming into politics are not seeing the affairs of their activities from the basis of responsibility and orderliness. Maybe, the disruption came from the fact that the lecture held in Imo, and that's why when structure got mentioned, it was misconstrued. Already, we know the story of Imo under the present administration when it comes to orderliness and due process. If the current administrator is getting it right with his sort of leadership trait, I take exception for the people to fix on.
Obi in actuality made a strong point when he relished his words as it concerns the need for passionate leadership. Obi said that the leaders of Nigeria, all of them inclusive, had not shown passionate concern for the country. He also indicted the followers for not telling the leaders the truth, even when they are on the wrong path.
"Once somebody becomes a local government chairman, in six months, he would dedicate his new house and even bishops will preside at his thanksgiving, praying to God to bless him, even when it is obvious he has stolen the people's money when the proper attitude would have been to shout, thief, thief!", Obi said.
Lamenting the growing of the debt profile of the country, leading to the use of over 50 per cent of the budgeted money for debt services and lack of savings culture, Obi called for the total re-examination and overhauling of the country's financial architecture. Using the savings of many countries as an example, he submitted that if the country had saved, that it would not have experienced inflation.
Well said, as it's relational to leaders and their followers. The time when followers should start being bold to truthfully confront leaders when error is being made should be on a speedy emergence. We all have to see the growth of this country as a collective responsibility. We should not because of the fear of sack or elimination hold words back when it's necessarily expected of us to reel out to them the need for amendment.
In a move to reassess our country's leadership competences, it's high time we started empowerment of the young and emerging leaders. And whose job will it be to empower the young people?  Of course, it falls on the opportune leader, the one who currently enjoys power. Through what means? Structure! If you find yourself in an office, it's important you start structuring for succession.
The leader in power should be able to build a sustainable structure through Obi's passionate leadership by applying Ohakim's structural steps of motivating the young people or his followers to goal generation. Address issues disrupting team functioning. Listen and encourage them (the young people) to share their views for growth. Encourage them to involve in decision making. Tolerate conditions of uncertainty and a few others that could spur change.
–
Ugochukwu Favour-Mayor (@UgochukwuFM) is the Lead writer, Most Influential Nigerians – MIN (@MINigerians | www.mostinfluentialnigerians.com)