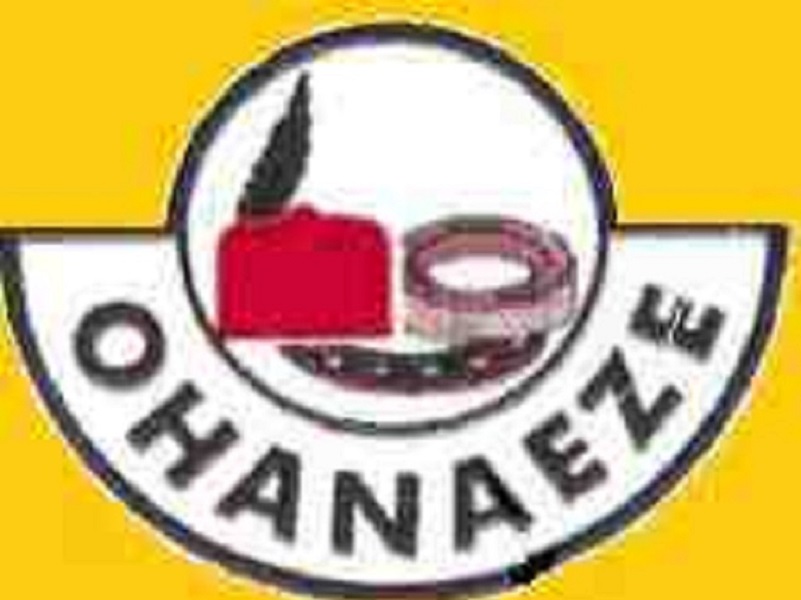 PRESS STATEMENT BY OHANAEZE NDIGBO PRESIDENT GENERAL CHIEF JOHN NNIA NWODO AT THE END OF THE NEC MEETING OF OHANAEZE NDIGBO ON TUESDAY, 2ND MAY , 2017.
PROTOCOLS
Since our election in January this year we have had opportunity to hold this kind of press conference only once. Four months down the road, we consider it necessary to meet with the press and using the instrumentality of your estate , reach our people on the numerous tasks and challenges before us.
Since January , we are happy to report that our South East Governors have resumed their monthly meetings. They have established a secretariate in Government House Enugu and elected a chairman. They declared an integrative economic agenda. They have initiated diplomatic effort  to secure the release of Nnamdi Kanu. These efforts have yielded appreciable results but a lot more needs to be done. We salute them.
Commendable development efforts are noticeable in our states. Anambra state has launched a new joint venture in building an International Cargo and passenger airport with proximate new city. Ebonyi and Enugu states have had useful meetings with the federal ministry of Mines with a view to reactivating Nkalagu Cement company and Enugu Coal Corporation. Imo state is building a gas plant at Egbema . Abia state is partnering with an International gas consortium in developing a new sea port at Obeaku. Rivers state is developing a new Port-Harcout city with industrial layout.
Delta has embarked on a massive urban infrastructural renewal scheme. There is in our view a rekindling of the determination to take our destiny into our hands.
On the part of Ohanaeze , we have set up two important working committees namely the Planning and Strategy Committee and the Constitution Review Committee.
The planning and Strategy Committee is to design an economic road map for Ndigbo .It is a rapid response to our new call on our people to develop a spirit of self reliance. It will be our own home grown effort to develop practical development models , powered by the private sector and specifically directed in the first place to production, commerce, and education. This committee is headed by Prof Charles Soludo, a development economists and former Central Bank Governor. The Deputy Chairman is Mazi Sam Ohuabunwa and the Secretary is Mr Ferdinand Agu.
The Constitutional Review Committee has been set up to look at the present Ohanaeze Constitution and review it with a view to making necessary amendments that will reflect the new challenges confronting Ndigbo and Ohanaeze. They will soon publish an invitation for memorandum from all concerned. The committee is headed by Barr James Ikeyi, SAN, , Ndu Agumagu as Deputy Chairman and Barr Okeagu Ogadah as its Secretary. The National legal Adviser , Barr Chuks Muomah SAN will co ordinate their work.
TO BE CONTINUED .
BY CHUKS IBEGBU
NATIONAL DEPUTY PUBLICITY SECRETARY
OHANAEZE NDIGBO