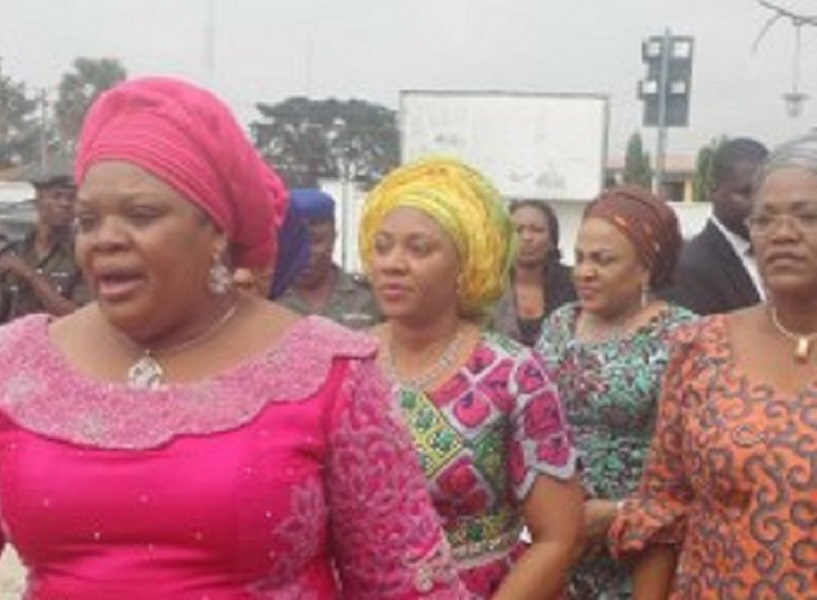 Wife of the Imo State Governor, Nneoma Nkechi Rochas Okorocha has been attacked by angry youths of Ohaji/Egbema local government area of the state.
The incident happened when Mrs. Okorocha, who is the chairman of the Imo State Amnesty Committee, led members of the committee and the leaders of the area to an on-the-spot assessment of the level of devastation caused by militancy and cultism in the area.
Confirming the attack to our reporter, a senior police officer attached to the Imo State Police command revealed that the Imo First Lady's convoy was attacked in Awara Court area of Ohaji Egbema local government area of the state, by some angry youths, the officer described as hoodlums.
According to officer, it was the last vehicle in the convoy of the governor's wife that was touched by the protesting youths.
The officer said the police was able to bring the situation under control and that no arrest has been made yet.
Eye witnesses gathered that the youth ambushed the governor's wife's convoy on her way to Awara, one of the war-ravaged communities in the area, but on getting to the community, dozens of the youth who blocked the road, emerged from the forests and started pelting the convoy with stones, breaking windshields and windows on about three vehicles while seriously denting some others.
The action forced the First Lady to halt her movement and the convoy to make a U-turn back immediately by speeding away with the police and other security agents in the convoy having to shoot repeatedly into the air to clear the way.
It was gathered that some of the vehicles smashed by the rampaging youths belonged to Hon. Iyke Uwakwe and one Hon. Henry, the managing director and a member of the board of the Imo State Oil Producing Areas Development Commission (ISOPADEC) respectively.
247ureports
.com gathered that the spontaneous reaction of the youth was based on non-fulfillment of the several promises made to the people of the area by Governor Rochas Okorocha since 2011. Some of the failed promises included the building of Egbema Industrial Park; absence of electricity; conversion of ISOPADEC allocation to the governor's personal use; non-development of the area and the governor's tricking of the oil communities with Maritime University which has been a pipe dream amongst others.
This was not the first time the youths in the area had shown their distaste to the Okorocha administration over the underdevelopment of the area despite being oil bearing local government area, the proverbial goose that lays the golden egg.
It will recalled that in February 2015, angry youths attacked the governor in Mmahu Egbema, the headquarters of Ohaji Egbema council area of the state, when he visited the area for his re-election campaign.