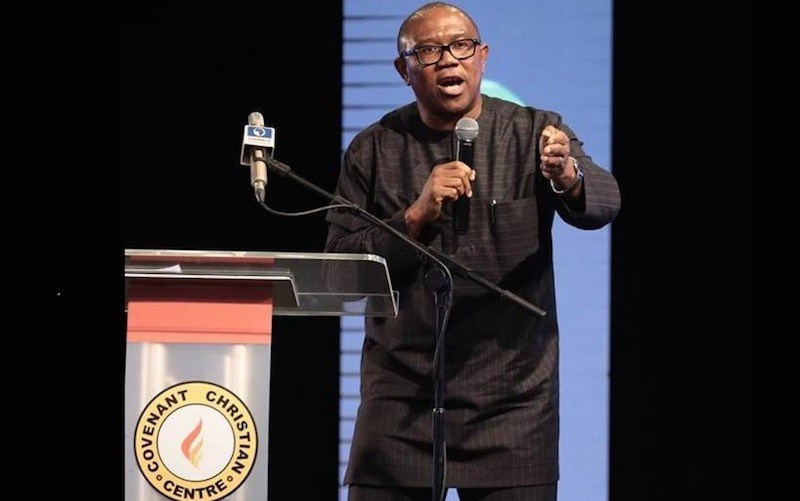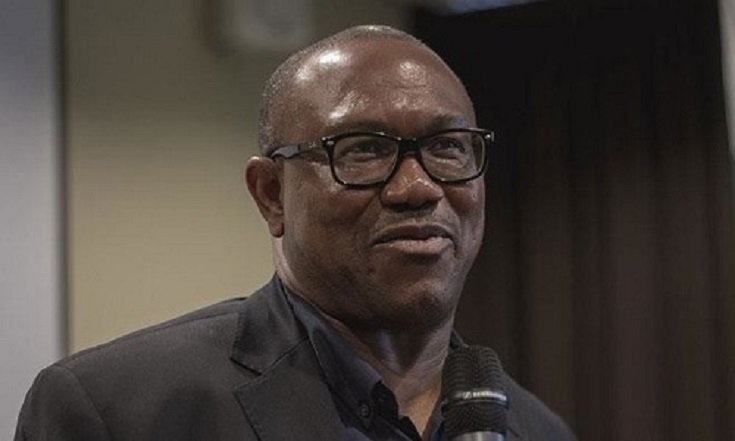 A former Governor of Anambra State has been trending in the light of the October 1, 2016 lecture he delivered at The Platform, a programme of the Lagos-based Covenant Christian Center. On account of that speech which, for his close watchers, has been his changeless theme since he strayed into partisan politics in the run-up to the Fourth Republic, many voices have risen in confounding hysteria, screaming that Nigeria has finally found its next president. 
I decided to let the hoopla peter out, before disagreeing with the inventors our newest national leader. For, whereas Chief Peter Obi may well be endowed with a political physique to fit into the country's presidential toga, a note of caution cannot be out of place. Well before he is garbed in the paraphernalia of Nigeria's highest office, it will serve the cause of commonsense for people to step well away from the cesspool of gullibility, while Chief Obi recalls a few details of the recent past, or is forcefully reminded of them. After all, a people who pay scant regard to the lessons of history invariably repeat past mistakes.
Since the vaunted next president of Nigeria premised his Independence Day speech on probity in public office, he may wish to remember Sunday June 1, 2009. Otherwise, he deserves to be reminded that, on that fateful day, an Anambra State Government convoy laden with no less than N250 million in raw cash sped from Awka to Mr. Obi's warehouse at No 7 Aerodrome Road, Apapa, Lagos. Tipped-off, security men apprehended it, seized the money and detained those that rode the convoy. The Governor-owner of the seized convoy claimed that the money was for the purchase of vehicles! The critically minded wondered why a former Bank chairman required to shift hundreds of millions of Naira across many states just to buy cars when monetary transfers and bank drafts had not gone out of fashion.
His audience cheered when Peter Obi announced that he made a money-saving deal with Peugeot Automobile in Kaduna for 406 cars. Yet, he should remember that his preferred mode of vehicular travel during his governorship was not Peugeot cars. Nor was it his wife's. None of his brothers drove through Anambra's streets in Kaduna-assembled vehicles. This point is deserves close attention because this next president of Nigeria, this instant saint, disdains the fact that what is good for the goose should also be good for the gander. Surely, this man is a composite study in Self and Otherness. His family cruised around in SUVs, and it was splendid. Others, the flotsam and jetsam of society, were entitled only to the management of Footwagen and Legedis Benz.
His preachment on fiscal prudence went down well on his listeners but Peter Obi must have heaved with guffaws because he got them on the cheap. If he does not remember, he must be reminded that, while it is commendable for a Governor to travel alone and save costs, it is a repugnant detail that little was really saved in the end because the Governor invariably raided Government House Accounts Department, to claim for himself the travel allowances of those he had debarred from travelling.
The platitude of "do as I say but not as I do" is trite today. But practitioners of such hypocrisy hardly deserve to be clapped into presidential mansions. Peter Obi will not forget that he paid the lowest salaries and wages across Nigeria in order to "save" money. After all,  "money is meant to be saved and not to be spent." But he certainly needs to be reminded that his saving modalities didn't prevent him from pocketing each month a hefty N500 million in the name of "Security Vote" which he conveniently described as controversial in his Platform lecture. He wears the profit motive everywhere like a garment. Which makes it imperative for him to remember the Governor that patriotically built a brewery to boost his state's economy but heroically cornered most of the company's shares. Without being reminded, he will readily recall that Anambra State used to have an Ikenga Hotel in Awka. It was reduced to rubbles during the mayhem that attended the infamous abduction of Governor Chris Ngige on July 19, 2003. Peter Obi will remember also that Ngige's successor did not rebuild Ikenga Hotel but rather appropriated the prime land on which today is rapidly rising a replica of the bigger than Shoprite mall he had built in Abuja. Yes, indeed, people must be frugal, they must tighten their belts because things are very hard and the economy is in a tailspin. But the philosophy of "do as I say and not as I do" precludes superhuman beings like our sanctimonious Platform lecturer from wearing midriff-slashing belts and partaking in starvation diets. 
The same logic applies to the specifics of the high security measures that go with sensitive public offices. Peter Obi wants armour-plated cars scrapped. He swore before The Platform audience that he never used such vehicles during his eight-year governorship stint. Well, that happens to be untrue. As Governor, he had not one but two armour-plated cars. When his tenure ended, he did not scrap the bullet cum bombproof vehicles. He did not leave them for his successor. He took them away, and still uses them in perambulating Anambra State.
There is an area of his famous lecture the full implication of which has yet to dawn on his cheerleaders, especially the womenfolk. When Peter Obi insisted that the only confusion issues out of a First Lady's office, was that a compliment to Nigerian women? Is it not true that, so far, no woman has run Nigeria, and hardly any woman has run any of its 36 states? Yet, confusion abounds in the country. But Chief Obi denigrates our women and discredits them as embodiments of confusion. Does this not situate him in the epicenter of the apostles of gender inequity who insist that a woman's place is inside the hot kitchen and some other obscure rooms?
The Office of the First Lady may not be in the letters of the Nigerian Constitution. But that does not make it unconstitutional or illegal. The Office of Chief of Staff is not in our Constitution. But the President has one. Does it mean that Mr. Buhari is currently in offence of Nigerian statutes? Peter Obi had a Chief of Staff throughout his governorship. Was that down to culpable criminality on his part? The point is that, in the ambience of sound bytes, applause and cheers tend to obfuscate ideals and truisms while the pedestrian is celebrated.
Through history, famous First Ladies have the world over employed the influence of their husband's positions to impact society positively. Two examples will suffice here. Betty Ford, First Lady of the United States from 1974 to 1977 underwent a mastectomy in 1974. Following this, she undertook it as a responsibility to raise breast cancer awareness throughout America, saving lives by the thousands. She further championed causes like gun control and equal rights. After her husband left office, she established the Betty Ford Center for substance abuse and addiction. She died in 2011 but the Center still operates.
Rosalynn Carter was US First Lady between 1977 and 1981. She chaired the president's Commission on Mental Health. She was the Honorary chairperson of Friendship Force International, a cultural exchange programme. Neither Mrs. Ford nor Mrs. Carter spent $2 billion dollars annually to assist society. But Peter Obi, without substantiation, claimed that each Nigerian First Lady consumed some N2 billion every twelve months. And people cheered. They did not ask how he came by the figure. They did not question the wisdom of his suggestion that the First Lady's office should be nullified. Was this because neither a President's nor a Governor's wife could do any good? If the office of a First Lady were a conduit for dissipation of public funds, would it not be better to staunch the hemorrhage than throw the baby away with the bath water?
What is Peter Obi's enduring legacy in Anambra State? He did not build a befitting stadium for Anambra, a leading sporting state. He did not build a single institution of higher learning. He did not institute a credible infrastructure for mechanized agriculture. In fairness to him, he constructed roads. He also built the Jerome Udoji State Secretariat and the Ministry of Lands' headquarters. But he needs to explain why the roads constructed under his watch are in pieces while the ones built much earlier by his predecessor remain in good conditions. Was it to save money that he littered the state with substandard roads? Is it also the reason why the Lands Ministry headquarters he constructed has been evacuated, liable as it is to topple almost anytime soon? Was it in the name of financial prudence that a crony of his was awarded the contract for the construction of the State Secretariat that now exhibits monumental cracks? How long before the secretariat is abandoned to prevent it from crashing to the death of innocent civil servants?
There is a saying that if you dug deep into any anus, you encountered faeces. But Saint Obi is lucky to have as successor a peace-loving man who, even in the face of endless and misplaced media pummeling by Peter Obi's errand boys, has refrained from letting the wind blow so that the public will see the fowl's rear. That aside, let's now address what appears like the most fundamental of Peter Obi's entertaining story. He repeated his old claim that he "saved over N75 billion for Anambra State before he exited office." As a retired civil servant who served through three governorships, I qualify for the Igbo saying that, "a polygamist or a woman twice married is in an excellent position to determine which of their spouses was the most adorable. I can say without fear of contradiction that Mr. Peter Obi has inflicted so much needless hurt on Governor Obiano. Mr. Obi claimed that he had spent billions of his own money to make Obiano governor, meaning that his government had made scant preparations for his successor. He demanded a refund of the said billions, this advocate of cost cutting. Had Governor Obiano acceded to his demands, it would have been left to conjecture the vast sums usable for social services that would have ended up in the unfathomable pockets of our apostle of financial prudence.
Even though Governor Obiano has continued to endure Peter Obi's nuisance and provocations with equanimity, Obi and his hack writers have continued with the story that he saved up N75 billion for Anambra State before leaving office, and that Governor Obiano had misappropriated the money and put Anambra in debt peonage. Nothing can be farther from the truth. Given my exposure, I was stunned from the first day I started hearing this falsification of facts. I, therefore, decided to subject Peter Obi's claims to forensic scrutiny. Last November I had to postpone a trip to India for a live-saving surgery, just to listen as Professor Solo Chukwulobelu, the Secretary to the Anambra State Government, debunked Obi's N75 billion claims. The document the SSG distributed on that occasion remains extant. I proceed with its contents to re-present the arguments. At the end of the exercise people should determine for themselves, which, between two tortoises, is male and which, female.
Peter Obi claimed to have saved the sum of $155 million in various Nigerian banks for Anambra State. This so-called saving was in Eurobonds. According to Prof Chukwulobelu, "During the final months of the last [Obi's) administration, the State invested a total of US$155m (N26.5bn) in Eurobonds and other foreign denominated securities held with Access Bank, Fidelity Bank and Diamond Bank. These funds are still intact and have not been liquidated. Given the current decline in Nigerian capital markets, this portfolio of Eurobonds had a market value of approximately US$132m (N26.4bn), reflective of prices dated September 21, 2015. If ANSG were to liquidate the portfolio, the State would incur a US$ loss of $32 million (14.8 percent) and a Naira loss of N100 million, respectively. The current administration has appointed a reputable investment banking firm named Afrinvest West Africa Limited to optimally manage the investment portfolio."
Based on the above, does it make sense to claim as Obi's crew has been doing that the money has been frittered away by the Obiano administration? Let's look at Obi's local currency investments. There are 19 different listings in this category termed "Investments", and totaling N27 billion. However, four of these – (1) Investment with Bank of Industry to Support SMEs in Anambra State (N500m), (2) Investment to Support Micro Credit Bank in Anambra State (N500m), Counterpart funds (with BOI) for SME facility, (3) Investment with Bank of Agriculture to Support credit to Anambra Farmers (N480m), and (4) Commercial Agriculture Scheme (N1 billion), Funds borrowed from the Federal Government for on-lending to farmers in the State via the Ministry of Agriculture and All Farmers Association of Nigeria (ALFAN), Anambra Chapter – were no investments.
The real investments included the Nigeria Independent Power Projects (N9 billion), Orient Petroleum Resources Plc (N4 billion) invested at specific periods by Governors Ngige, Virgy Etiaba and Obi. Onitsha Hotel, Onitsha (N1 billion). What to note here is that not a single one of these investments has been liquidated by the Obiano administration. Not one of them has been cancelled. Not a single one of them has been sold off. Work continues at each of them at various stages. For instance, on the Agulu Lake Hotel in which the last administration invested N1 billion, the Obiano government has settled certificates totaling N891 million, while management agreement is being finalized with an internationally renowned reputable hotelier. Again, on the Awka Shopping Mall, the Obi administration invested N900 million. Under Governor Obiano's watch, a further N1 billion has so far been paid to the contractors on the project. Indeed, the Project design has been amended to include a cinema in the shopping mall while agreement is being finalized with Genesis Deluxe Cinemas and Spar to serve as anchor tenants. For the Nnewi Shopping Mall, the previous government paid some N600 million as initial mobilization fee to the contractor. Since then the Obiano administration has settled contract certificates to the tune of N700 million, while discussing with Spar and Dubai-based entertainment arenas as anchor tenants. It should be noted that not a single one of these contracts awarded by Peter Obi was revoked. Not a single one of the projects has been abandoned.
Nothing in all these suggests the embezzlement of any funds or the abandonment of any inherited projects by the Obiano administration. But, every so often, Peter Obi claims that he bequeathed N75 billion to his successor, while his amplifiers take up the chorus, magnifying the lies that the N75 billion had been embezzled. This is neither politics nor patriotism. It is deceit, pure and simple.
It is important to read from Professor Chukwulobelu again: "… to provide a true and fair picture of the State's net position on March 17, 2014, (ex-Governor Obi's) Investments Handover Notes ought to have captured current liabilities and contingent liabilities also borne by the previous administration as at the time of handover. To put this in context, the total portfolio of inherited projects valued at approximately N185bn was however not captured in the breakdown of the Handover Notes. Nonetheless, given the fact that the true test of Good Governance lies in a Government's ability to ensure policy continuity and consistency irrespective of perceived political differences, the current administration created a strategic plan titled "the 4Cs strategy" to achieve this. Key components of this Strategy are 1) Continue, 2) Complete, 3) Commission all inherited projects and 4) Commence the implementation of a comprehensive Economic Blueprint centered around achieving sustainable and inclusive economic development.
"To this end, since March, 2014, Governor Obiano has paid a total sum of N46.8bn to contractors on inherited projects; this figure represents over 50% of total FAAC revenues received between March, 2014 and August (2015). It is also pertinent to note that the foreign currency investments totaling US$155m have not been liquidated to fund any payments of certificates arising from inherited projects. Indeed these investments are presently showing an unrealized (book or notional) loss of -14.8% in US$ or 0.003% in Naira."
One more point. Peter Obi's handover notes state that the sum of N10 billion was listed as the total Federal approved refunds due to Anambra State for reconstructed Federal roads. Well, the figure since jumped to N44 billion, as Federal Works Minister Babatunde Fashola will testify. The extra N33 billion was expended by the Obiano administration to keep vehicular locomotion unimpeded in Anambra State. The man deserves every praise for diligence. Hypocrites should be prevented from further calumniating him. He has continued to meet government obligations. His government has constructed 1500 classrooms since its inception. He has increased subventions to Chukwuemeka Odumegwu Ojukwu University and Nwafor Orizu College of Education. He has built three new hospitals, one for each Senatorial District, and he has upgraded 63 Primary Health Centres to meet Health Care Insurance standards. His agricultural revolution is on course, encouraging a mass return to the farms, fishing and livestock production. Rice production in Anambra before the inauguration of the Obiano administration stood at 80,000 metric tons a year. It has jumped to 200,000 metric tons, with the expectation that, in another two years, production will match the 320,000 metric tons of Anambra's annual rice consumption. Thereafter rice supply to other states will commence. It all says one thing: Willie IsWorking is no cliché!
Amalunweze, a retired civil servant wrote via  amaluagunanya@gmail.com