Does Buhari Have A Plan To Improve Nigerian Economy?
No (70%, 1,107 Votes)
Yes (30%, 465 Votes)
Total Voters: 1,572
Loading ...
Rev. Fr. Ejike Mbaka of an Adoration Ministry in Enugu visited General Muhammadu Buhari at Aso Rock a fortnight. However, why the Catholic leader has a right of association as an individual, he might have a rethink as a religious priest, owing to the fact that Judges of the court of law are restricted from socializing.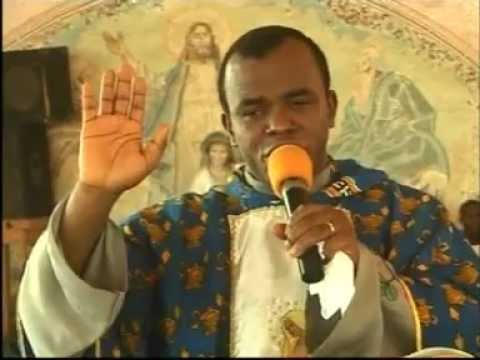 It is no longer hidden that Mbaka delves into politics just as any politician from any political parties would, for the sake of hijacking power. Sometimes he would like to somersault to please who pleases him and displease whom he displeases, all in the name of 'God said'.
Mbaka was the man who 'blessed' Patience Jonathan to continue as Nigerian's First Lady after the 2015 general elections, and just in a minute, made a u-turn to cast aspersion on the woman and her husband for the extolment of General Muhammadu Buhari in the "two birds" prophecy that Mbaka said that he later saw.
Notwithstanding, there is an admonition! Pope Benedict XVI in 2006 warned Catholic Church Priests against such practice of romancing with politicians during an address in War­saw. Benedict warned Catholic Church leaders in Poland to keep-away-from getting too close to government officials.
Will priests like Mbaka listen? Benedict told his audience at St. John's Cathedral, "The priest is not asked to be an expert in economics, construction or politics. He is expected to be an expert in the spiritual life."
Just as the alien religions of Islam and Christianity have been made to become the bedrocks of everything in Nigeria through the Constitution, Polish President Lech Kaczynski in the year in quote, had used a powerful Catholic network, Radio Maryja, to promote his candidacy. The same way political rulers use clerics in Nigeria, the ilk of Mbaka, to promote their shenanigansm? Conversely, it could be recalled that in 1993, Pope John Paul II, a native of Poland, urged church leaders to stay out of partisan politics; the Pope was then coming from Poland where 96 percent is Catholic.
The truth of the matter is that these 'political priests or pastors' are keen to vomiting all sorts of prophecies for politicians in order to gain recognition; but this habit is not certainly the way of traditional priests.
Just recently an Ifa Priest, the Araba of Osogboland, Chief Ifayemi Elebuibon was asked in an interview to describe 2014, and he said, "There was not much difference between 2014 and previous years in that regard bearing in mind that we are not here to impress anyone or compete with another faith. We are here doing what we are known with right from childhood. So, each year will come and go, and we remain here on the track without going all out to do what Ifa does not recommend."
When he was asked to say the things that Ifa does not recommend, the Ifa Priest said, "Ifa is a moral guidance on earth, and its adherents are morally upright group of people on earth. No hypocrisy here. No infidelity here. No corruption here. No intrigues here. That is why we are always at peace with ourselves at all time. You cannot find us engaging in immoral acts because they are against the tenets of Ifa."
The Ifa Priest like every person with a belief in any of the African aboriginal belief-systems would not say much, because spirituality, not religion, is their way of life. No traditional-initiate would demean himself or herself the way Priests of Islam and Christianity in Nigeria do before politicians – all for monetary gain.
Remember that it was widespread early this year that a traditional ruler in Enugu was reported to have told Mbaka to resign and join partisan politics due to his loquacious tendencies in political matters.
An online media platform had in January this year reported that when Mbaka told the then President Goodluck Jonathan in his New Year message that Jonathan should forget re-election for lack of performance, the traditional ruler said, "It is better for Mbaka to join politics, contest election to have a taste of power other than calling people names, asking the president to resign. Who actually made Fr. Mbaka a Judge that determines who should be entrusted with power. Rev. Fr. Mbaka should resign as a priest and join politics since he has shifted from God's vineyard to politics."
Like Pope Benedict warned Catholic Priests to face issues that matter to spirituality, the traditional ruler had added, "The name Mbaka is an identity and not the human as there is nothing so special, simply because he is a priest in Catholic. Let him face the Catholic faithful, evangelize to win souls for God rather than tongue-lashing the president as being corrupt. The Catholic preacher ought to have devoted more time, fasting and praying for the release of the Chibok girls than apportioning blames for insecurity."
The likes of Mbaka are in the trade with the name of 'God' just because the constitution recognises the two religions of Islam and Christianity. This is the reason, like the Ifa Priest would say that when those who are supposed to make policies that would promote culture and tradition are not publicly identifying with the culture, the culture will suffer.
Our once well known upright ways of life are dying and foreign cultures and the religions of the Mbakas are having a field day. According to the Ifa Priest, and our children will be swept away by the wave unfortunately. The moral lesson is now left for parents to teach their children their culture.
"But are the parents themselves not part of the problem? Every parent wants his children to speak English language. They have ignorantly reduced our language to vernacular, unfortunately. They are promoting other people's languages to be seen as being educated," the Ifa Priest said.
He continued, saying, "They forget or rather don't know that a child assimilate studies better with his own language. In China, for example, the Chinese language is so dear to them, and they are better for it. Are Chinese not growing in the world? Is China not a powerful country today? This is what we are missing. But I must say that there is hope. Last year, there were a lot of awareness programmes on the need to protect our language from extinction. I attended some of these programmes and saw some seriousness on the part of the organisers. I think, this is the type of effort we need to seriously save our language."
 –
Odimegwu Onwumere writes from Rivers State, Nigeria. (apoet_25@yahoo.com). Tel: +2348057778358.