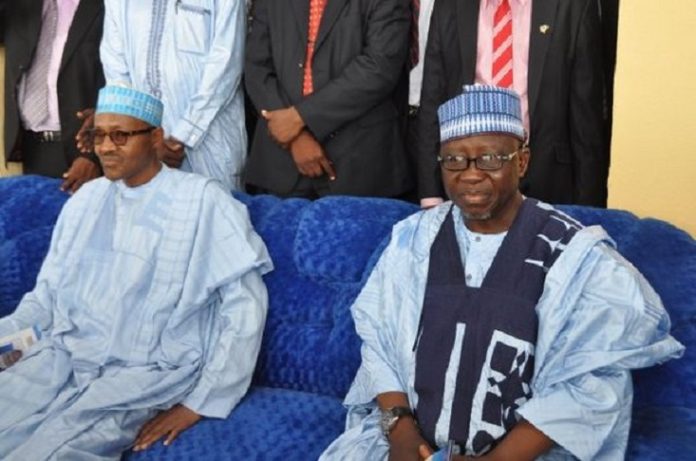 In a futile attempt to divert attention from the mismanagement, rampant corruption and the insecurity that plague Nasarawa State since his emergence as governor, embattled Governor Tanko Al-Makura has chosen to play the sectionaland religious card against Labaran Maku, who has consistently criticized his regime for promoting violence and destruction in the state since he assumed power four years ago.
Loading ...
Over the weekend Governor Tanko Al-Makura who rigged himself back to office after he was massively rejected by voters on April 11 because of the violence and massive mismanagement of the state under his tenure, issued a laughable statement in a vain attempt to attack the solid records of service of former Minister of Information, His Excellency Labaran Maku, CON. Mr. Maku, the APGA governorship candidate overwhelmingly defeated Almakura at the polls on April 11 and is challenging Almakura's fraudulent declaration as governor at the Governorship Election tribunal sitting in Lafia.
In a childish attempt to defend himself from the widespread violence, destruction and killings by hired mercenaries and insurgents across Nasarawa State that have been associated with his tenure as governor, Almakura left the issues at stake and instead issued a statement attacking Maku's records of service which are well known to the people of Nasarawa State and Nigerians at home and abroad.  Governor Al-Makura also attacked former President Goodluck Jonathan whom he claimed Maku instigated against the north.
Contrary to Governor Al-Makura's vituperations, Goodluck Jonathan remains the most north-friendly president in the recent history of Nigeria. This has been demonstrated through the unprecedented projects executed in the North and the top-ranking appointments Jonathan gave to the people of the Northern Region while Maku served as Minister.
Jonathan is the only leader of Nigeria who virtually handed over the security structure of the country to northerners. He appointed his Minister of Defence from Zamfara, National Security Adviser from Sokoto, Chiefs of Defence Staff from Kwara and Adamawa, Chief of Naval Staff from Kogi, Inspectors General of Police from Zamfara and Jigawa, Comptroller General of Customs from Katsina, Comptroller General of Immigration from Plateau, and the Comptroller General of Prisonsfrom Nasarawa State.
The heads of EFCC remained Northerners throughout Jonathan's tenure.  The FCT remained under northerners throughout President Jonathan's tenure!
His Principal Private Secretary was from Adamawa State while northerners from Kogi, Kaduna and Borno headed the Nigerian National Petroleum Corporation (NNPC) throughout his tenure.
He backed Bamanga Tukur and Adamu Muazu from Adamawa and Bauchi State as National Chairmen of the Peoples Democratic Party (PDP).
In all these, how did Maku instigate Jonathan against the north?
In terms of Federal projects, President Jonathan did much more for the North than any region in Nigeria: He established 10 universities for the North in four years located in Kebbi, Zamfara, Katsina, Kano, Jigawa, Gombe, Yobe, Taraba, Kano, Kogi and Nasarawa States. How do these amount to instigating Jonathan against the North when Maku was Minister?
President Jonathan restored railways services from Kano to Maiduguri after decades of destruction; he began Zungeru Hydro PowerDam, which was planned since the First Republic.  He completed the Kashimbila Dam in Taraba and started the Otukpo and Ganye Dams in Benue and Adamawa States. He extended Maiduguri-Kano Expressway from Kano to Katsina; completed Daura-Katsina Road; completed Abuja-Lokoja Expressway; introduced Loko-Oweto Bridge on River Benue linking Benue and Nasarawa to Abuja and South-East; built over 125 Almajiri schools to take northern children from the streets to school. Are these the actions of an anti-north president instigated by Maku?
In Nasarawa State: President Jonathan during Maku's tenure as Minister initiated the Federal Secretariat Project in Lafia; constructed the Central Bank Branch in Lafia; established the Court of Appeal in Lafia; started and completed the Lafia-Awe Road; started and completed Lafia-Doma Road; awarded contract to build power sub-station for Lafia; placed federal computers in several state and community schools in the state! Are these the actions of a President instigated by Maku against the North?
What has Al-Makura and his fellow travelers done for the North within the period? What is Al-Makura's contribution to the North all his life and in the last four years other than presiding over violence, killings and destruction in Nasarawa State and promoting hatred between North and South to keep Nigeria permanently divided for selfish political gains to the detriment of Nigeria's development?
As for Maku's record of service, unlike Al-Makura who was smuggled from the market to Government House with destructive consequences for our state, Maku has a long track record of credible public service spanning 30 years from teaching, student activism to journalism, civil society and development and pro-democracy work; Commissioner, Deputy Governor to Federal Minister across Ministries of Information, Communication and Defence.
In fact during the National Good Governance Tour of Nasarawa State initiated by Maku, we have Governor Al-Makura on tape describing Maku as one of the best public servants from Nasarawa State.  Al-Makura even confessed that Maku was the best person who was denied from being Governor of Nasarawa State in 2007.
The sudden change and attacks on Maku is because Maku defeated Al-Makura in the April 11 election and is challenging the fraudulent declaration of Al-Makura as governor at the Tribunal in Lafia.
By calling Maku anti-North, Al-Makura hopes to curry favour from President Buhari who he could not deliver in the state during the last presidential election.  By instigating northern and religious sentiments, he hopes to also influence members of the Governorship Tribunal in his favour.  For the likes of Al-Makura, the north does not include Maku because he is a Christian.  This is the source of crisis and divisions that continues to destroy the north while governors like Al-Makura mismanage billions of Naira as security votes and preside over the destruction of the North!
When President Jonathan was campaigning for re-election, they quickly put up an advert claiming that Maku had accused President Jonathan ofsponsoring Boko Haram.  Now that Maku is seeking the restoration of his stolen mandate by Al-Makura, they now say he (Maku) instigated Jonathan against the North!
With people like Governor Al-Makura who think the North is a label for politics and division in order to curry favour from godfathers based on regional and religious sentiments, you can see why the Northern Region and majority of Northerners sinks into deeper crisis and poverty.
No amount of ethnic, regional and religious blackmail will save Al-Makura from the issues of violence, insurgency, killings, raping of women and destruction of towns and communities across Nasarawa State while he looks the another way,exploiting the ugly situation to siphon N4.8 billion in four years allegedly as security votes! Is this the way to be pro-north?
Al-Makura does not believe a Northerner should support a southerner to govern Nigeria!  He sees everything through religious and ethnicspectacles!  This is very sad for the integration of our country into a united, virile and leading nation in Africa and the world!
Signed: Emma Yaro
APGA Secretary
Nasarawa State