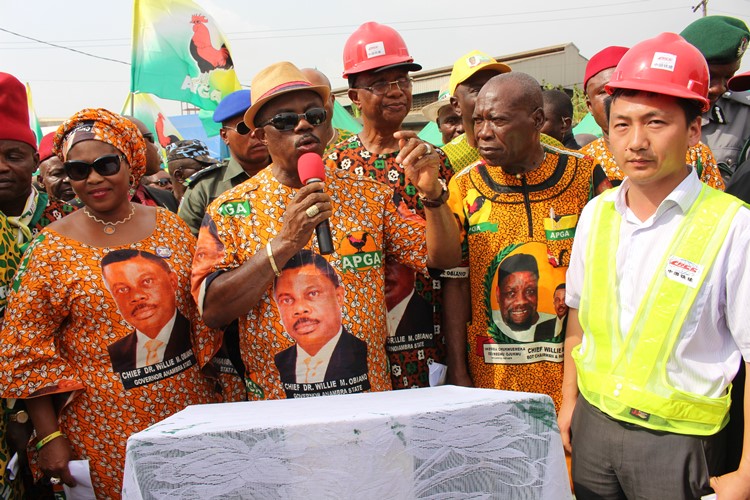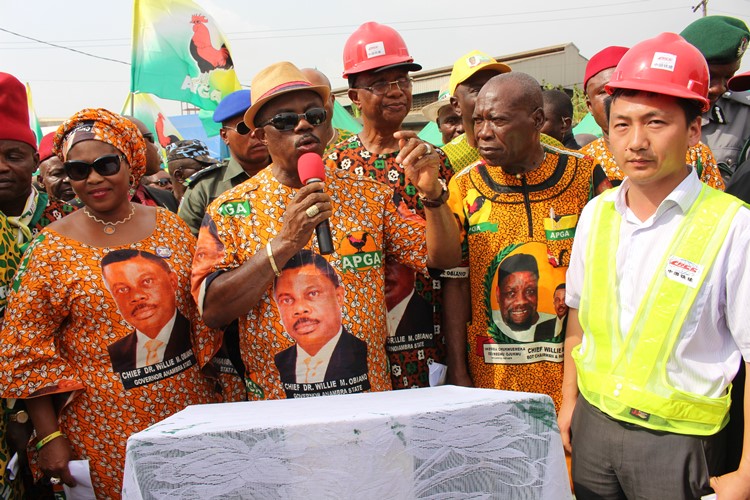 In line with his government's programme for the development of major cities and adjoining neighborhoods, the Anambra State governor, Chief Willie Obiano last Friday told residents of Okpoko, a sprawling and densely populated suburb near Upper Iweka Onitsha but in Ogbaru Local government Area, that the state will pursue the gradual transformation of the area into a clean, safe community with modern amenities. Governor Obiano made the pledge during the flag-off of 4.1 kilometre Ogbuagu-Mgbuka-Amazu-Onitsha-Owerri dual carriage road which cuts through the Okpoko community.
Governor Obiano said that contract for the road awarded at the cost of N1.6nb includes the installation of all components of road infrastructure like drainages, street lights, road markings and signs etc. with a completion period of twelve months. Also in a move seen as strengthening the security of lives and property in the area, the governor announced to admiration and applause from the residents, "apart from improving your environments, we have set up a special squad of the Operation Kpochapu to rid Okpoko and environs of hoodlums and miscreants. They have an initial mandate of six months for the implementation of the crime control measures in this area."Obiano stated.
The governor charged the landlords and the residents to report people of questionable character to the law enforcement agencies, assuring that those who are engaged in legitimate ventures have nothing to fear. He assured that the government will sustain the tempo of development across the state and urged Okpoko residents to cooperate with the contractors to do a good job.
Earlier the Commissioner of Works, Sir Callistus Ilozumba, told the people that the APGA led administration has given the Okpoko community as sense of belonging through the contracture of strategic access roads in the area and the Ogbaru LGA up to the tune of N41bn. He said the new road is going through a difficult terrain and being constructed through massive excavation before sharp sand will be applied with stone base for it to withstand the challenges of the topography. He called on the Okpoko community to reciprocate the government programmes for them with support for APGA in the elections.
Also speaking, Member Representing Ogbaru 1 Constituency in Anambra State House of Assembly, Sir Benson Nwawulu thanked the governor for the actualization of the dream of the community through the award of the very important road which had been neglected by previous administrations. He assured that the people will stand by his government and APGA candidates.