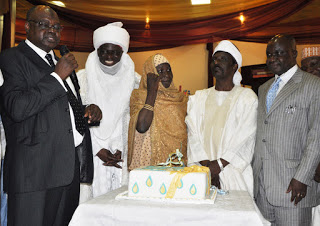 By Ahmed Mahmud Usman
The former chief Judge of Nigeria, Justice Dahiru Mustapha blamed the
Nigerian elites, including Emirs and politicians for the failure in
developing a domestic standard law in tandem with the citizens way of
Justice Mustapha stated this while delivering his paper at
the 3rd Anniversary of the Federal University Dutse (FUD), titled "Law
Reform".
According to him, a lot of money is being spent and wasted by
government on issues that are less importance such as politics instead
of developing the nation's educational system that can give Nigeria a
wide range of issues cut across all nationalities in the country.
He maintained that, for any law reform in the country it should
reflect the culture, religion, way of life and thinking aspiration of
its citizens.
"Therefore people should start thinking now in order to change their
way of life and attitudes"he said.
The former Chief Judge lamented that before the coming of British
colonial masters there was Islamic law in practice in the North which
was in lined with the Islamic injunction.
"But when they came, they set aside both the Islamic and the customary
laws and upgraded English law above all. So we have to forget about
the British way of thinking and develop our own".
He also frowned at the rate at which cases or proceedings are being
delayed by Judges, especially at the Shariah courts and Magistrates.
"Shariah courts and Magistrates cannot be absolved of these blames".