PRESS RELEASE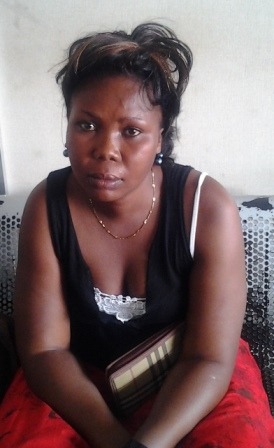 The National Drug Law Enforcement Agency (NDLEA) at the Murtala Muhammed International Airport (MMIA) Lagos has commenced investigation into the arrest of a 32 year-old Kenyan with 2.560kg of substance that tested positive for heroin. The suspect who left Bujumbura, Burundi under the pretext of pilgrimage to Nigeria was arrested following the discovery of heroin hidden inside two pairs of female sandals and under her luggage. The seizure took place during inward screening of passengers on an Ethiopian Airline flight from Addis Ababa.
Preliminary investigation revealed that she planned to smuggle the drugs into the country under the pretext of pilgrimage. This is her third visit to Nigeria in two years. It was also gathered that she left Nairobi, Kenya to Bujumbura where she collected the luggage containing the drugs before proceeding to Nigeria through Addis Ababa.
NDLEA Airport commander, Mr. Hamza Umar while confirming the arrest gave the name of the suspect as Imeloah Awino Noah. The commander stated that "operatives of the NDLEA arrested a Kenyan by name Imeloah Awino Noah with 2.560kg of heroin. The drug was found inside the soles of two pairs of female sandals as well as in a false bottom of her luggage. She is cooperating with our investigating team".
According to the Kenyan, her involvement was masterminded by her best friend. "My best friend masterminded my involvement in drug trafficking. I am a diploma holder in Community Health and Development at the African Institute of Development Studies in Western Kenyan town of Kisumu, Nyanza Province. After my one year volunteer service, I have been searching for employment. My best friend introduced me to her Nigerian boyfriend who offered to assist me by sponsoring my trip to Nigeria. Initially I was reluctant but my friend persuaded me. They bought my ticket and gave me the bag containing clothes where the heroin was hidden. On arrival at the Lagos airport, the drug was detected" Imeloah told investigators. She added that she loves coming to Nigeria to receive blessings from her spiritual father.
Chairman/Chief Executive of the NDLEA, Ahmadu Giade has called on members of the public not to be ignorant of the devices of drug trafficking syndicates. "Drug barons sometimes present themselves as philanthropists. They will offer you free tickets and make all travel arrangements but the ultimate objective is to get you to smuggle their drugs from one point to another. Members of the public should be on the alert and report suspected drug barons to the Agency" Giade urged.
The suspect will soon be charged to court.
Ofoyeju Mitchell
Head, Public Affairs