51 students collapsed in the Tema Metropolis on Thursday morning during a parade to mark Ghana's 57th independence anniversary celebration.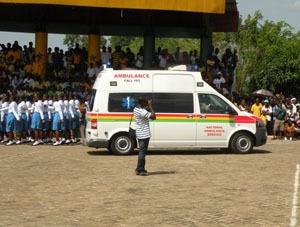 Out of the number, 49 were students drawn from various schools in the Ashaiman Municipality who had converged at the Mandela Park for the parade.
The remaining two were from the Tema Metropolis, and the incident occurred while on parade at the Tema Sports Stadium.
The student, together with some security personnel who also fainted, were immediately given medical attention by the Ghana Red Cross Society on standby.
The parade was fast-tracked to avoid the previous year's calamity and the celebrants of the 57th milestone of the country's independence at the parade grounds defied the heavy downpour that nearly marred the beauty of the exercise.
Last year, 50 students collapsed at the Mandela Park, because "most of the students stood in the sun for too long on empty bellies" according to Mrs. Chris­tian Amedume-Atiso of the Mother Love Club of the Ghana Red Cross Society. She further explained that some were as a result of the heavy boots they wore, which made it difficult for their blood to circulate.
This time around, a Red Cross leader at Ashaiman has explained, the children collapsed as a result of excessive coldness and long hours of standing, which he said prevented the circulation of blood.
Mr. Ibrahim Baidoo, the Municipal Chief Executive (MCE) for Ashaiman, in his address, called on parents to inculcate in their children, the values that would transform their mindsets to contribute towards the development of the country.
Touching on the theme for the occasion, "Building a Better and Pros­perous Ghana through Patriotism and National Unity," the MCE called for total mobilization of available human resources, irrespective of political and ethnic affiliation, to contribute towards building a better Ghana.
He lamented the proliferation of gaming centres within the Ashaiman Municipality and disclosed that the assembly was putting measures in place to clamp down on most of them so as to prevent possible criminal activities, and called on landlord and landladies to assist in that direction.