By Uzo Ugwunze
The Chief Executive Officer, CEO, Innoson Motors, Nnewi, Anambra State, Chief Innocent Chukwuma, Monday, commended Governor Charles Chukwuma Soludo, for his agricultural revolution in the state adding that it would result in bumper harvest and more food on the table of the people in the state.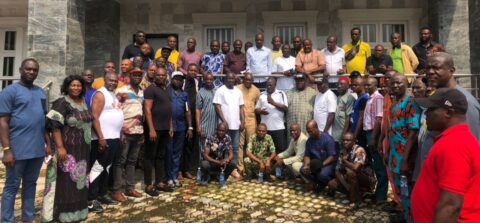 He made the commendation when traders in Anambra State, under the platform of Anambra State Amalgamated Traders Association, ASMATA, led by its President, Chief Humphrey Anuna, paid him a courtesy call in his Nnewi residence.
The industrialist who attributed the peace in the State to the ruling party, All Progressive Grand Alliance, APGA, said the governor's commencement of the agricultural revolution with the planting and distribution of palm and Coco nut seeds, was a welcome development pointing out that the duo seeds were among those that could easily germinate, produce seeds and make money for the people.
He stressed the need for all hands to be on desk in this agricultural revolution of the governor recalling that in the time of Michael Okpala, palm oil, was the main source of revenue in the then Eastern Nigeria.
On trade and commerce in the State he said that he has been in business for over 40 years adding that he started with Igba Boi scheme, (apprentice trader), and grew to become a master trader.
He urged the master traders to see their apprentices as their children and settle them as agreed on completion of their apprenticeship tenure as such settlement would lure them into commencing their own business immediately stating that delay may be dangerous as it may lead them to crime and criminality.
"Those of us in business want progress of all, I have been in business for over 40 years, having started with Igba Boi scheme. Our children will grow to be like us. In business it is a gradual process until you grow to the peak, you can not grow over night.
"We should encourage our apprentice traders like your children on the need for hard work that pays so that they don't abandon their trading business and get to crime by entering the bush. If you train him like your children he will remember you in your old age, future.
"Rome was not built in a day, settle the apprentice trader once he completes his tenure and the youths on their own part should abstain from hard drug, methamphetamine, (mkpurummiri) consumption. It does harm instead of good to their health," he advised.
Earlier in his speech, the ASMATA President, Chief Anuna, said they resolved to pay the unscheduled visit to their grand patron, Chukwuma, for fatherly advice on way forward for the swift infrastructural development of the State as the State houses the largest market in West Africa.
Chief Anuno who described Chief Chukwuma as President of West Africa, said that, "We are here to spread the good news because now you have manufactured motor gas, and youths believe in making quick money which leads to nowhere but untimely death sometimes," he stated.
He told the industrialist that ASMATA was working in senergy with Governor Soludo for a better trading environment that would attract investors to the state and increase the revenue base of the State Government.
Highlight of the visit was presentation of ASMATA clothes to Chief Chukwuma