From Nasir Shuaibu BAUCHI
The member representing Darazo/Ganjuwa Federal Constituency Hon Mansur Manu Soro has flagged off distribution of 2,500 bags of assorted fertilizer to farmers in his constituency.
Speaking during the distribution held in Sade town, Darazo Local Government, Manu Soro explained that the fertilizer are given out free of charge to the people, adding that a standing committee is going from ward to ward to ensure that all the selected beneficiaries from the 22 Electoral Wards in the Darazo/Ganjuwa federal constituency received the commodity.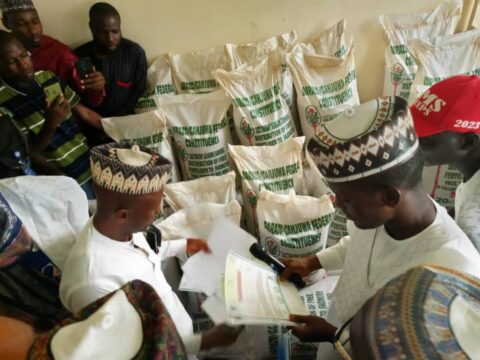 The lawmaker said that the intervention is to support food production and economic development adding that Darazo and Ganjuwa is rural constituency where 95 percent of the it's population are farmers, "It becomes imperative upon us to take deliberate steps to intervene in this most critical sector of the economy."
Beneficiaries of the free fertilizer include farmers drawn from traditional rulers, religious leaders, women and youth groups, road transport workers and motorcycle group as well as politicians.
Manu Soro noted that the intervention would be a continues process because his constituents were predominantly farmers in agrarian community which deserve support to boost food production not only in the area but the country at large.
"We started this intervention in 2021 with the provision of tractor, 2,500 bags of fertiliser, 1,000 pumping machines and spraying machines.
We have subsequently done it in 2022 and current year 2023. Insha Allah we shall do it again, perhaps in a very bigger way, in 2024. it has become incumbent upon us to sustain this," he said
In his remarks,, District Head of Sade, Malam Musa Isah Ibrahim described the gesture as timely and crutial particularly with the current austere economic hardship associated with the hike of pump price of fuel that placed ordinary people in a difficult condition which prevent many farmers the opportunity to buy the fertilizer in the market.
The traditional ruler thanked the lawmaker for the intervention and other continues support to the people in his domain, adding that the free fertilizer is a saving grace not only to the farmers but also the 25 village heads under the district that benefited from the gesture.