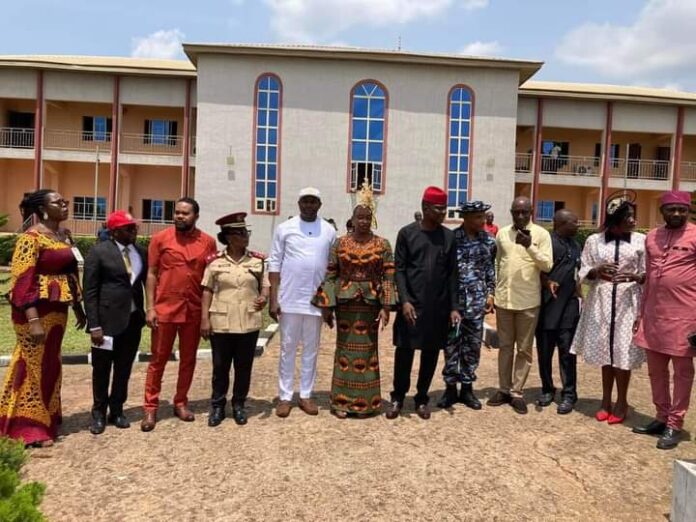 By Izunna Okafor, Awka
The leadership of the National Youth Service Corps (NYSC) in Anambra State has solicited financial assistance for the completion of the ongoing construction of a mosque at the Nnamdi Azikiwe Unity Orientation Camp at Mbaukwu/Umuawulu, Awka South Local Government Area of the State.
The State Coordinator of NYSC in the state, Mrs Blessing Ekene Iruma, made the call when she led the Management team of the scheme to visit the Muslim community in the state during Friday's Juma Service, shortly after the delivery of the 50th-year Anniversary Lecture to mark the Golden Jubilee celebration of NYSC.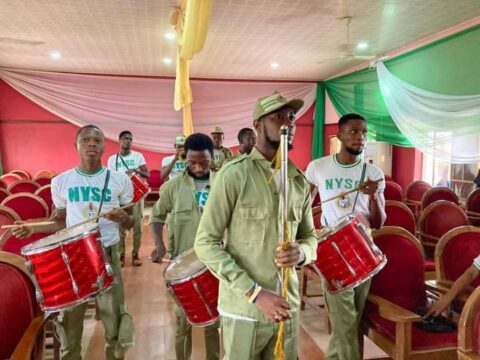 The team were received by the Muslim Community leaders, led by Serika-Awka, and Alahaji Garuba Haruna, and also prayed with the Muslim Ummah.
Speaking on the significance of the 50th anniversary, Mrs Iruma noted that the Golden Jubilee was not a festivity but a moment for stock-taking for the journey so far and the future of the scheme.
According to her, NYSC is a training ground where most Nigerian youths discover their God-given talents through the scheme's skills acquisition and entrepreneurship programmes.
The NYSC Coordinator commended the State Governor, Chukwuma Soludo, for his continued support of the welfare of Corps members serving in the state.
Earlier in his lecture at the Golden Jubilee celebration which held at Archbishop Obiefuna Retreat, Pastoral and Conference Center, Okpuno, Awka, the Youth Chairman of the Anambra State Association of Town Unions (ASATU), Comrade Ken Okoli highlighted some of the giant strides of the Scheme in the last five decades and concluded that the NYSC has come to stay in view of its relevance in the task of national development.
Comrade Okoli, who spoke on the topic "NYSC: Five Decades of Fostering National Unity and Development", appealed to Nigerians, irrespective of tribe, ethnic and religious affiliations, to always be of assistance to Corps members posted to their various communities across the country.
He thanked Nigeria's founding fathers for establishing NYSC for the sake of peace and unity among youths in the country, while also calling for its sustainability.
In their separate remarks, the State Deputy Commandant, Federal Road Safety Corps (FRSC), Mrs Christy Obasi; Public Relations Officer, Nigeria Psychological Association (NPA), Dr Casmir Nnaemeka; and the Assistant Commissioner of Police in the state, Ajah Chukwu, advises corps members to be security conscious, while also urging them to mind the kind of friends and associations they keep in their various places of primary assignment amidst insecurity.