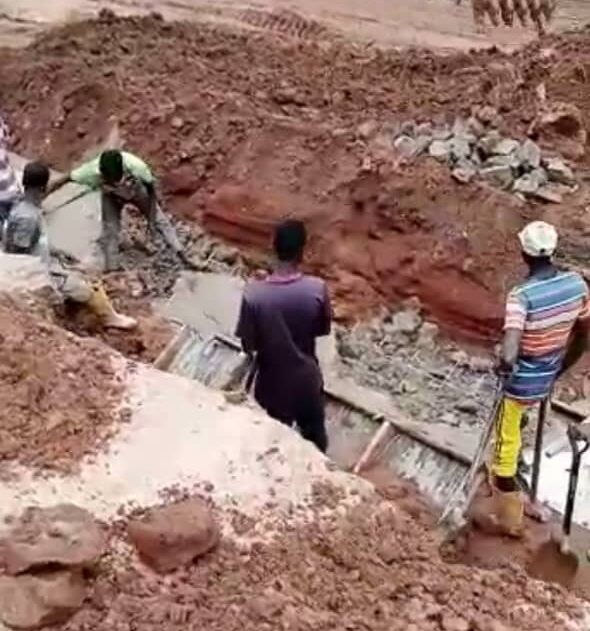 The Anambra State Commissioner for Works, Engr. Ifeanyi Okoma has declined to pick calls or respond to messages of inquiry sent to him by journalists concerning the collapse of newly-constructed drainage channel built by his principal, Prof. Chukwuma Soludo.
Recall that the social media was awashed on Friday with the video of a drainage channel newly constructed by Governor Soludo, and which was shattered beyond recognition, following a heavy rainfall that badgered Thursday evening.
As was shown in the video, sizable parts of the drainage channel, located at the Niger Street in Onitsha, were washed off by the rain, while some other parts cracked beyond repair.
It was also observed from the video, that construction work is still ongoing on the road for which the drainage channel was created, as caterpillar and some site workers were seen at the site attempting to evacuate some of the rubbles.
In a voiceover that accompanies the video, a concerned citizen, who bemoaned and expressed disappointment on the quality of the work done on the drainage channel, described it as substandard. He further alleged that the drainage was built only by sand and gravel, with little or no cement.
He mocked Governor Soludo's promise to give the people of the state quality roads and transform Anambra State to Dubai and Taiwan of Africa, even as he also taunted him for the long epistle he recently penned on the presidential candidate of the Labour Party (LP), Mr. Peter Obi, in which he (Soludo) said "History beckons, and I will keep quite".
He also jeered Soludo's professorship as an Economist as well as his dulcet grammar and high-sounding vocabularies in the viral letter he penned against Obi's presidential aspiration.
However, the State Commissioner for Works, Engr. Okoma, turned deaf ears to journalists, as he did not take his calls nor respond to the messages of enquiry sent to him for clarification and his reaction on the collapsed drainage.
Same was the case with the State Commissioner for Information, Sir Paul Nwosu, and his Transport counterpart, Barr. Part Igwebuike, who both snubbed the journalist's efforts to elicit their opinions and reactions on the matter as concerned stakeholders.