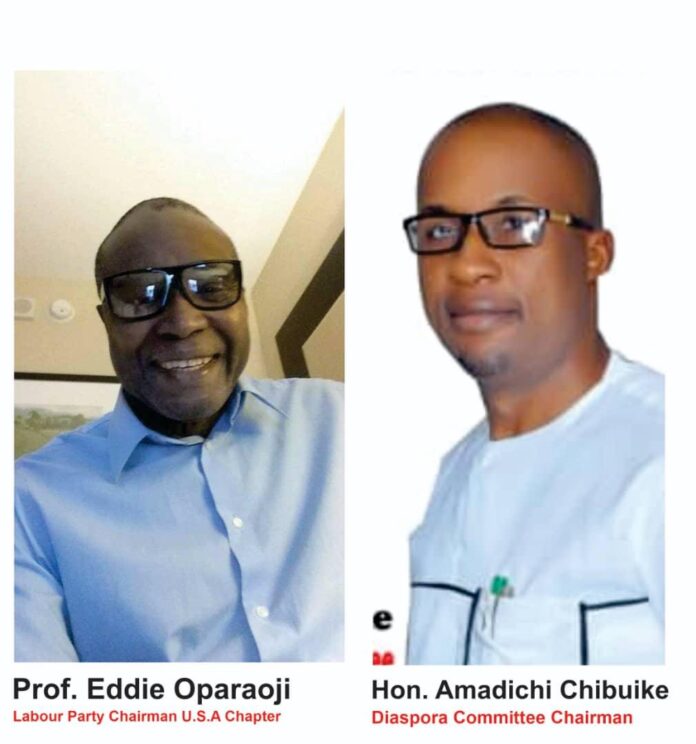 The Labour Party (LP) recently approved a historic and innovative proposal by the LP Diaspora Committee to convene the first of its kind in Nigeria, a diaspora convened retreat for over 100 LP newly elected officials (governor, senators, house and states assembly members. The theme of the program is. "Harnessing the Gains of the Obedient Movement" and to cover topics such as Impactful leadership and good governance, building synergies for the new Nigeria of our dreams, people oriented programs in the parliamentary representation, and lawmaking, constitution and democracy'
To implement this program a 50-man planning committee has been inaugurated and will be Chaired and Co-Chaired by the Chairman of the Labour Party Diaspora Committee, Hon Chibuike  Amadichi and the Chairman Labour Party USA Chapter, Professor Eddie Oparaoji respectively, and the secretary of the committee is Mr Marcel Ngogbehei.
In furtherance of this initiative subcommittees such as the Finance committee (Chairman, Prof Eddie Oparaoji), Programs (Chairman. Gabriel Inya-Agha), Logistics (Chairman, Njoku Cecelia) and Media (Chairman, Chief Patrick Eholor) were also constituted.
Hon Amadichi during his welcoming remarks to the planning committee said, "this initiative is aimed at imparting the ideals of our principal Mr Peter Obi and the policies of Labour Party in our elected officials at various levels of governance as well as create a conduit for long term relationship and collaboration between our elected officials, the diaspora and Obidients"..
This program which is expected to be heralded with the presence of the Labour Party Presidential and Vice Presidential candidates Mr Peter Obi and Dr Baba Ahmed Datti respectively, will hold at the Transcorp Hilton Hotel Abuja, on May 22nd & 23rd.
More resourceful individuals  interested in joining the Planning committee are encouraged to reachout to any of the committee members.