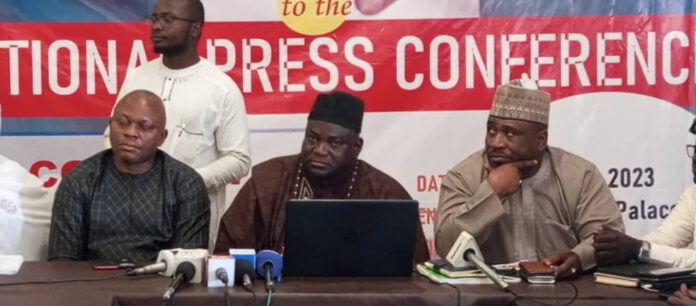 Joint Conference of Northern States Civil Society Networks says, despite many assurances from the Independent National Electoral Commission before the conduct of the elections, on its preparedness to conduct free, fair, credible and transparent elections, what was witnessed during the last presidential elections on the 25th Feb. fell below the expectations of Nigerians.
The organization stated during it's press conference held in Kano, says the conduct was a disappointment to Nigerians who have high hope more than before, to witness a historic elections in the country
The coalition said, this could be evidently justified by the number of Nigerians that registered as voters numbering to more than eighty five million, all as eligible voters who could participate in the elections.
"It is however unfortunate that, the number of Nigerians that participated in the last elections of 25th Feb. were apparently not happy with the outcome of the elections especially as the elections were massively characterized with irregularities. Although some of the shortcomings that marred the conduct of the elections, could be summarized into pre, during and post elections"
Addressing the press conference, head of secretariat, Kano peace committee Comrade Ibrahim Waiya said the undemocratic tendencies played out during the pre-election phase, which bordered on lack of internal democracy in the political parties processes that produced the candidates of major parties, had an over spelling effects on the conduct of the general election.
"For instance, the commercialization of the party elections that produced candidates at the primaries, had institutionalized vote-buying which eventually translated and resurfaced in the general election. In addition to the above, the violence that also accompanied the campaign activities which were turned bloody in some states, such as Kano, and some other parts of the country. These ugly practices therefore transcended into mass electoral violence in a number of places during the presidential election.Polarization of the general campaign activities by both politicians and other stakeholders along religion and ethnicity, this had further overheated the polity, and created more division amongst Nigerians.
The group called on authorities concerned to punish electoral offenders of any kind to discourage others from perpetrating electoral offences again in Nigeria.
The Coalition also said those found in the act of intimidating and suppressing voters at polling units must be made to face the full wrath of the law no matter how highly placed they are.
The Coalation also reeled out the observation in the just concluded Presidential and National Assembly elections conducted across the country on February, 25th.
Waiya noted that the elections conducted fell short of the standard of all elections practices and ethics.
"That, INEC has raised so much credibility question on its name and created doubt on the minds of Nigerians regarding INEC preparedness to conduct free, fair, credible and acceptable elections in Nigeria,''
The CSOs said that the timely distribution of electoral materials especially to LGAs offices were really commendable, with the quick responses to BVAS issues on the election day were also impressive
According to the CSOs: 'The Nigerian security agencies like EFCC, DSS, NDLEA, NSCDC, Nigeria Police Force had performed wonderfully well in ensuring peaceful polls during presidential and national Assembly elections, and that they would continue with the work in the next elections