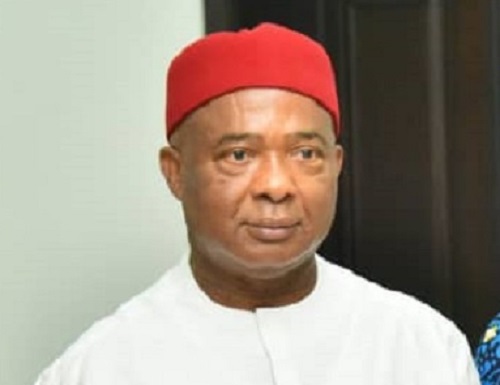 The Imo State Government has described the spokesman of Conference of United Political Parties Ikenga Ugochinyere, as a perennial attention seeker who is destroying himself politically by consistently attacking the state government.
Reacting to his press conference in Abuja where he Ugochinyere again exposed plans by the Imo state government to eliminate him, the state commissioner of information Declan Emelumba said Ugochinyere shot himself in the foot by exposing his own lies and confirming that he is unfit to occupy an electable public office, particularly that of representing Ideato federal constituency in the National Assembly.
Emelumba said Ugochinyere failed all through  the over one hour of his conference to either acknowledge the brutal murder and butchering of his own local government sole administrator or to commiserate with his family, or even to include him among those he observed one minute silence for.
The statement adds that "Ideato North where the late Sole Administrator came from, is one of the two local governments that Ugochinyere is seeking to represent in the Federal House. It is also his local government area. By this callous act of condoning the brutal murder of his own local government chairman, whilst shouting at the rooftops about the murder of his uncle and associates,  has Ugochinyere  presented himself as a man capable of representing Ideato people without prejudice? No. He has rather presented himself as highly unfit for the political office he seeks."
The commissioner further recalled that the same Ugochinyere had earlier announced that there were at least 14 APC states he found involved in his allegations of voter registration fraud and added,  "Now he claims that it is those he exposed in that regard that were after his life. Assuming without conceding that to be correct, the big question then is why single out Governor Hope Uzodimma? This shows that he is a liar who is irredeemably enmeshed in self contradictions."
He disclosed that most of the allegations levelled against the government and its officials during the press conference by Ugochinyere on Wednesday were defamatory and actionable and therefore being studied by the Ministry of Justice for appropriate response.
The commissioner said since it was obvious that Ugochinyere has taken over the job of the police and DSS by claiming to have evidence from his investigation and intelligence on those after him, he should now approach the courts with his evidence.
On the allegation that the governor's SA threatened his life on phone, the statement said it was clear from even the audio he played at the press conference that the said Chinasa Nwaneri, never threatened him." Rather what he said was that he will imprison Ugochinyere for maligning his person and that was what Nwaneri tried to do by going to court."
"Our position is clear that Government has no hands in the ordeals of the man. Let him look inwards. As far as we are concerned Ugochinyere neither poses a threat to the Government nor does he worth anything politically," he declared.
He told Ugochinyere to leave the media showmanship alone and face his campaign at the grassroots because elections are not won by press conferences."