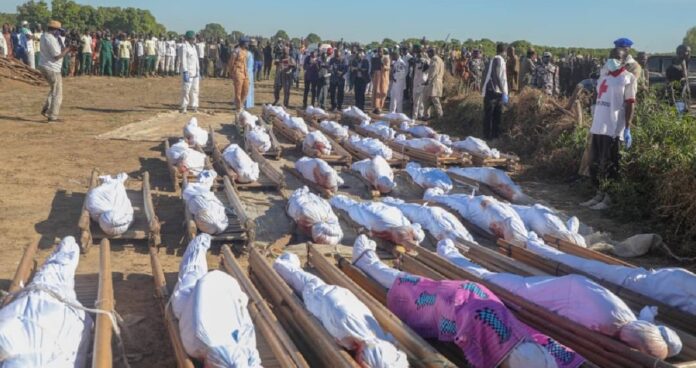 I felt compelled to write in order to join my fellow Nigerians in condemning the recent senseless killings of innocent people in Zabarmi area of Maiduguri. Human lives are no longer sacred and safe in the northern part of Nigeria and yet we remain silent because our own is the president.
Over 40 innocent farmers were brutally slaughtered like goats on their farmland while harvesting what they(farmers) planted by the dreaded BOKO HARAM militants in a cold-blood Massacre. This is the most deadliest and disastrous attack made on civilians this year so far
In recent weeks, suspected  bandits and kidnappers launched multiple attacks in kaduna State, killing more than 10 civilians and many were kidnapped, also inflicted injuries on some. Similarly, On October 21, unidentified armed  bandits  attacked the village of Tugar Kwana in the Talata-Mafara Local Government Area of Zamfara State killing at least 20 villagers.
The primary responsibility of every democratic and responsible government is to protect lives and properties of its own citizens, unfortunately the Nigerian Government has woefully failed in protecting its own citizens. Now we are completely at the mercy of armed gangs who roam towns and villages at will, slitting throats, beheading human beings and destroying properties.
In spite of all the happenings, our spiritual, political leaders and business Elites still kept mute pretending like everything is going well in the North while we are living in total fear of being killed or kidnapped by those bandits or Boko Haram. Our collective hypocrisy coupled with high rate of illiteracy are the fundamental problems that we are facing in the North and even escalating the insecurities.
The president suppose to overhaul the entire security apparatus because it's crystal clear that they are not doing what it takes to protect the lives and properties of Nigerians. So many requests were made to the C-in-C by the people asking him to sacked the Service chiefs but he refuse to listen to the people who voted him despite the fact that they are being paid with our own money.
It's high time we all wake up from our deep slumber and figure out a lasting solution to our challenges because the North is ours and we have no any place better than the North. It's our fight, and we must fight it together and we shall overcome it. The power lies with us to bring a solution to the insecurities in our region, not the Government because the people are the government. If you choose to not to say or do anything to end this insecurities today because it didn't affect you, then you should know that the dice is still rolling and tomorrow it might be you being kidnapped or killed by those beasts.
We are appealing to Federal Government to do more to address the insecurity challenges by equipping the military with modern sophisticated weapons, increasing their welfare and firing the current service chiefs, hold those responsible accountable no matter their Status in the society,  and protect the innocent civilians.
Nura Yusuf Adam
Faculty of Law, Bayero University Kano(BUK)
Noor101266@gmail.com
07010126635