…say you're a traitor, you betrayed Christians b'cos of Buhari's money 
The embattled President of the Christian Association of Nigeria (CAN), Rev. Samson Supo Ayokunle, may have stirred more controversy in Christendom in the country following his visit to victims of Boko Haram insurgency in the North East barely one month to the Presidential Elections in CAN.
Already, there is tension and division in CAN with a coalition of over 500 Christian organisations in Nigeria rejecting what they described "blood money given to the families of the victims killed by Boko Haram members and other insurgents."
According to them, since the money may have been proceeds of what the CAN Presisent got from his regular visits to President Muhammadu Buhari and other politicians, they were rejecting it because the Presidency was not concerned over the killing and persecution of Christians in Nigeria.
The resolutions of the over 500 Christian groups was contained in a communique entitled "The CAN President: A Kingdom Personal Non-Grata! You are not welcome here!", issued in Abuja on Friday after their emergency meeting held at the national secretariat of CAN.
The communique was signed by the President, Arewa Christians and Indigenous Pastors Association (ACIPA), Rev. Luke Shehu; President, Coalition of Christians Groups for Good Governance – Nigeria and Diaspora (COCGOG), Engr. Daniel Kadzai; President, Patriotic Christian Youths of Nigeria (PCYN), Evangelist Timothy Nasso; Spokesperson, Arise Christian Network, Pastor Joseph Zephaniah and President, Christian Youths Integrity Group, Godwin Yilpina.
The communique reads: "The blood of the believers killed in the North East are crying against the visit of Samson Supo Ayokunle. Please, we advise you to do the noble, this week like Judas whom you typified in the Church of Christ in Nigeria, lay down the money earned through conspiracy against the Christian faith and resign.
"You will do well, Sir, to let us know, if the CAN National Executive Council (NEC) or College of Bishops, met over your visit to make provision for funds which has enabled you to donate rice. Or is it a bread of affliction? Our people are determined not to partake in the licking of fingers dipped in the blood of our brethren. Money gotten from conspiracy against our faith is blood money and we will never be part of it. Tell us the value that commanded your congratulatory message, and resign now!"
They wondered why the CAN President would decide to visit the North East, North Central and North West, barely one month to the Presidential Election in CAN, describing it as political, but had refused to visit the family of Leah Sharibu who had been held in Boko Haram captivity for more than one year.
Leah Sharibu was one of the 110 female students of Government Girls' Science and Technical College, Dapchi, Yobe State, who had been held in captivity since February 19, 2018 by Boko Haram terrorists on account of her Christian faith.
The groups said, "It was a week like this that Judas kissed Jesus, have you (Ayokunle) come like Judas to kiss us in your desperation to remain in office? But Judas came to himself after he realised it was wrong for him to have sold Jesus for 30 shekels of silver. For how much was the christians in Nigeria sold?
"The President of CAN will need to clarify where the money he lavishly spent during his visit to the North East is coming from. Is it part of the reward of congratulating our persecutor (Buhari), the man under whose watch as the President, Christians are maimed, killed, livelihoods destroyed and are sacked from their homes? Today, the church has witnessed the highest number of Christians living in Internally Displaced Persons (IDPs) camps under the supervision of Rev. Samson Supo Ayokunle.
"There is a man who will forever be remembered by Christians for his treachery: He is Rev. Samson Supo Ayokunle, the President of CAN, the  Judas Iscariot of our time. No wonder he chose to embark on tour across Northern Nigeria ahead of Easter.
"The CAN President has betrayed not only the Nigeria Christians but also believers all over the world who are praying for the persecuted Christians and deeply touched by heinous killings of Christians in Nigeria.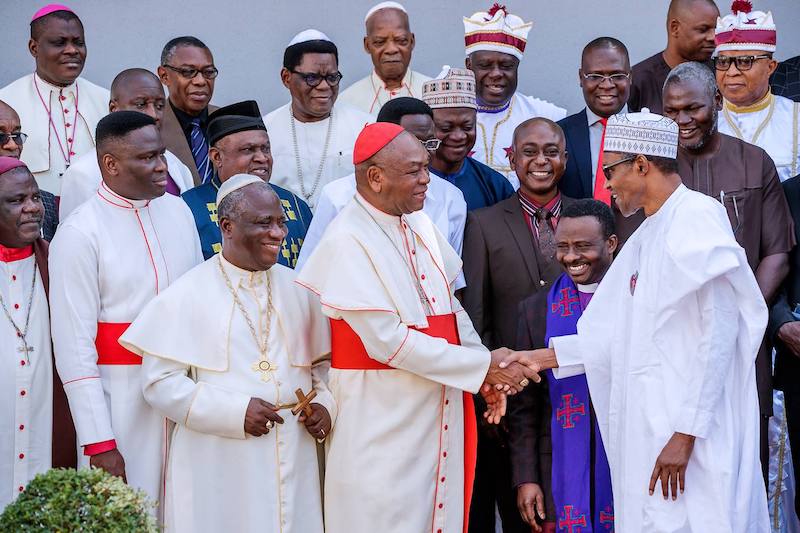 "We are shocked! It was bad enough that the CAN President has battered our sacred institutions. CAN under his leadership is characterised by stinking corruption and terrible immorality amongst the officials. But the sad reality is that he has aligned himself with our tormentors just for money and relevance.
"It is almost unthinkable that the CAN President can embark on a campaign visit to the North East, one month to the expiration of his troublesome tenure in office. Where was he when Christians are being abducted on daily basis, maimed and brutally murdered in the North East: Adamawa, Borno, Yobe and North Central: Benue, Plateau, Taraba, Nasarawa and also Kaduna and Zamfara in the North West?
"While Christian organisations and leaders like ECWA, ACIPA, CNNC and others visited the parents of the abducted Dapchi school girl, Leah Sharibu to pray with and encourage them, the CAN President chose to look the side and was busy negotiating visits to Aso Rock.
"Why is he coming few days to National Elections of CAN, when he has failed woefully and refused to constitute the Electoral College one month to the election?
"It is imperative to mention the failure of Ayokunle, in uniting Nigerian Christians at the most desperate time of their needs. Also, his total disregard and disrespect for the denominational heads as spiritual leaders and Nigeria Christian Elders Forum (NCEF) is the most greatest disservice and dishonour to the body of Christ and ecclesiastical hierarchy in Nigeria.
"He is not welcome, because he has brought us down and caused so much  embarrassment to the body of Christ over his corrupt behaviour. He is an ethnic bigot who has turned CAN into Yoruba and Baptist affairs. Whoever is in doubt should find out the people on his entourage each time he travels or go bootlicking in Aso villa. He must not contemplate contesting the election because he has failed his church, Baptist and the Church in Nigeria."