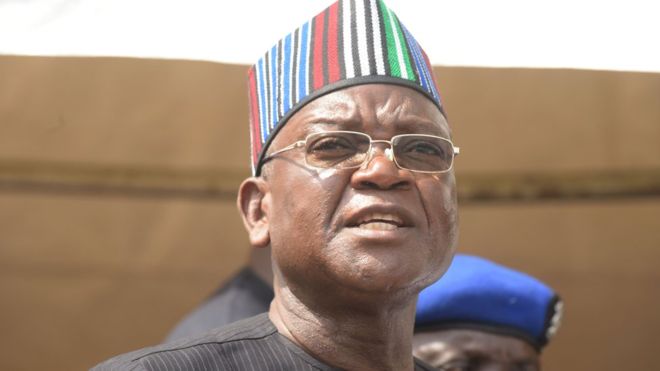 Advertisement
Loading ...
From Msughshima Andrew, Makurdi
Benue state Governor Samuel Ortom has sworn in nine new commissioners to serve in the State Executive Council.
The new Commissioners include Hycinth Nyakuma as Commissioner for Agriculture and Natural Resources, Dr Eru Emmanuel, Health and Human Service, Kachina Memga for Industries Trade and investment and Comrade Joseph Shimaor, Information and Orientation.
Others include Hon. Andrew Iorver as Commissioner for Rural Development and Co-operative, Shiaondo Agah for Water Resources and Environment, Isigbe Ajene Ladi, Women Affairs and Social Development, Hon. Emmanuel Manger for Works, Transport and Energy and Salamatu Idi, Youth and Sports Development.
Meanwhile, commissioners for Housing and Urban Development and that of Arts and Culture would be inaugurated soon.
Ortom said their appointments became necessary to fill the gaps that were created when he dropped some Commissioners some few months ago.
According to him, it was also a deliberate measure to inject new blood in the the state Exco so as to quicken the pace of service delivery and sustain the ideals his administration has set in the service of the Benue people.
He commended the Speaker and members of the State House Assembly for diligently screening and approving their nominations.
"For you the appointees, you should note that you are coming into these exalted positions at a time challenges are numerous and expectations are high.
"You must therefore, strive to deploy your experience to bear on our collective determination to respond to these challenges and expectations," he said.
He congratulated them and urged them to see their appointment as an opportunity to contribute to the development of the state.
The Governor who appealed to the new commissioners to settle down quickly by acquainting themselves with the state policy document, "Our Collective Vision for a New Benue," warned that his administration will not condone any act of corruption.
He stated that no one should dare to convert public funds into private pockets for personal use saying "We shall not hesitate to use the big stick against such conduct.
"Although some of you have emerged through recommendations from various stakeholders, your total loyalty must be to the Governor and his Administration. Any appointee found to be disloyal, lacking capacity and performing below expectation will be relieved of the appointment.
"Your loyalty is to me, your governor and not anyone else. The era of godfatherism is gone. Our responsibility is to the Benue people. So you all must put in all you have to serve the people of the state", he added.