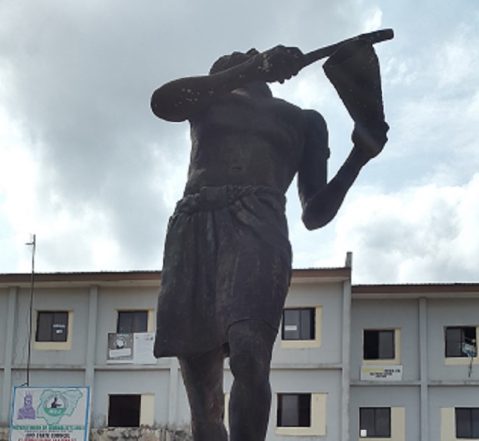 By: Sebastine Ebhuomhan, Benin City, Edo State
With about a year to the end of Comrade Adams Oshiomhole's administration as the Governor of Edo State, a bitter struggle ensued among his media spokespersons for the soul of Media Unit. During the struggle, Oshiomhole's Senior Special Assistant on Media Affairs, Mr John Mayaki, walked into Edo NUJ Press Centre one particular day to announce to journalists and friends that he has resigned from his appointment.
During the explanations that followed, Mayaki, who was dressed in blue jeans trousers and jeans long sleeve shirt on black shoes, accused some journalists whose names feature prominently as ring leaders of Edo NUJ nine suspended for converting N5m gift of habitually sending text messages to his principal, Mr Governor, urging his sack. Made aware of the wicked act, Mayaki said he had then decided to "answer their wicked prayer" by turning in his resignation since his principal didn't want to do their bid. The governor rejected the resignation.
More than a year later, precisely early 2017, news broke out that Mr Mayaki, who had been a close friend of the journalists, and who was later reappointed as Interim Chief Press Secretary by Oshiomhole's successor, Mr Godwin Obaseki, had allegedly embezzled N13.5m, meant to service the ego and greed of the same journalists.
Loading ...
A trace of the unverified and unsubstantiated news showed that the same set of journalists that allegedly sent text messages to Mayaki's former principal were also behind the hatchet news, allegedly fuelled by an embattled and embittered former aide and self-styled activist, Curtis Eghosa Ugbo, who wrote a petition without foundation and evidence to the EFCC on the allegation. The report that was concocted to snatch Mayaki's office from him had no evidence. Unsurprisingly, its writers were reported to have begged for forgiveness when the victim threatened to sue for defamation of character.
Such 'pull him down' syndrome has become synonymous to the work of the Fourth Estate in Edo State. It has not only made the public to accuse some members of the suspended nine of making themselves and their media agents of 'dirty jobs' but actually reaping court cases for them owing to publication of half-truths and falsehoods. The shame and disgrace made observers to call for self-regulation or cleansing leading to the present weeding by Edo NUJ Council, hailed and supported by every right thinking member.
Since the penultimate report on Edo NUJ 9 two weeks ago, a lot of twists and turns have occurred. According to members of the public, the twists, turns and loopholes have simply raised the bar of some contentious issues.
On 25th September, members of the Correspondents Chapel of Edo NUJ met under the staircase of its secretariat to ratify Edo NUJ suspension of the nine members after being locked out by its suspended executives. 
A communiqué issued after the emergency congress marked: Ref. No. NUJ/CC/MC/01/9/17 resolved: "That the suspension order by the NUJ State Congress on the Secretary of the union, Mr Alemma-Ozioruva Aliu (of The Guardian), who is a member of the chapel; the chapel chairman, Simon Ebegbulem (of Vanguard); vice chairman, Cajetan Mmuta (of New Telegraph); secretary, Patrick Ochoga (of Leadership) and financial secretary, Ehis Ugbaugba (of News Agency of Nigeria) is hereby upheld" and added, "That also upheld is the state council's suspension order on some chapel members including Tony Osauzo (of Sun); Adibe Emenyonu (of Thisday); Friday Otabor Osagie (of The Nation) and Adekumbi Ero (of Tell Magazine)" beside establishing a five-member caretaker committee to temporarily oversee its affairs.
Copied to Edo State Governor, Speaker of Edo Assembly, the Oba of Benin, Edo State Chief Judge, Edo State Commissioner of Police, Edo State Director of DSS and Edo State Director of NSCDC, resolutions in the communiqué included the suspension of the nine members with an order to return all union monies and properties in their possession before 27th September, before urging authorities and general public to take note of the alleged "misappropriation" by the suspended members while related commercial banks were to immediately freeze the chapel's accounts till further notice.
But in a bizarre twist on 26th September, Comrade Oshiomhole's Media Assistant, Victor Oshioke, stormed Edo NUJ Press Centre with a note that was addressed to nobody, copied only to NUJ National President in Abuja with neither title nor headline nor letterhead, admitting that the suspended nine journalists were truly paid the sum of N5m. 
It stated, "In the twilight of Comrade Adams Oshiomhole final tenure as governor of Edo State, the media unit of the governor's office, guided by internal assessment criteria, identified certain correspondents who were exceptionally committed, fair and objective in their reportage of government house activities. The media unit of the governor's office therefore proposed to the governor, that the selected correspondents should be compensated for their exceptional professional activities during his tenure."
"Acting on the proposal from the media unit, the governor approved the sum of N5m as special grant to be shared equally among the selected correspondents. This special grant extended to the selected correspondents was given to them in their personal capacities, to enable them procure essential professional accessories like laptops, digital dictating appliances, internet modems etc."
The letter that apparently nailed the suspended members for unethical practice, supported opposition claim of being payment for destructive jobs and contradicted claims made before and after Oshiomhole's reported initial denial from Edo north, declared, "All the monies approved for the NUJ as a body, for whatever purpose, during the tenure of Comrade Oshiomhole as governor of Edo State were usually signed for and collected by the leadership of the NUJ and never through individual correspondents."
Whatever sympathy the suspended members had before the note came to NUJ, evaporated with similar claim by Oshiomhole's former Commissioner for Information and Orientation, Prince Kassim Afegbua, that the money was paid to the "big nine" in Edo State. 
Riddled with contradictions, the letter's writers forgot, first and foremost, that the "grant" was not shared equally amongst its beneficiaries and that a payment made in personal capacities negates joint application as 'Friends of Oshiomhole' under which the beneficiaries told NUJ they applied to be paid. If it is true as claimed that all monies approved in the past for NUJ was signed by the leadership of NUJ, then why keep Edo NUJ chairman, Roland Osakue, in the dark about this payment that was allegedly made with an NUJ-written voucher?
Then, how did Edo State government arrive at selecting dying newspapers which neither sell daily copies nor pay reporters salaries as its 'big nine'? How did the government get its big nine without The Punch and Daily Trust, for example?
Furthermore, Edo State government gave the same journalists and a few others brand new laptops before now at the end of the first term of Oshiomhole's administration. So, why give cash now when you gave tools before? Again, who are the enemies of Oshiomhole in the media if only nine reporters are his friends out of hundreds of journalists in Edo State?
For a man citizens identified long before now as a future leader of Nigeria and who many had elevated to statesmanship essentially for his courage, intelligence and patriotism, such shallow and flip-flop defence by his spokesmen neither befit Comrade Adams Oshiomhole nor revere him as an All Progressives Congress (APC)-elected astute, shrewd, successful and populist governor with everybody's support for eight years, which Afegbua and Oshioke believably made him in office.
Moreover, it is self-indicting if a government of continuity preaches transparency, accountability and proper management of scarce resources; stops 'free meals' to political chieftains and hangers-on at Government House and gifts working tools to about 40 journalists during economic buoyancy and, thereafter, pay huge, suspicious cash gift of N5m to only nine (9) journalists for purchase of the same tools in recessive economy.
Expectedly, the main opposition political party in Edo State, the People's Democratic Party (PDP), reacted to the shameful development on 27th September. Titled: Governor Obaseki, Stop Further Illegal Payments, and signed by the State Publicity Secretary, Chris Osa Nehikhare, the statement criticised the immediate past and present governments for paying what it called illegal approvals.
PDP stated, "With events unfolding, our attention has been drawn to the gifting of 10 million naira Edo State tax payers money to a group of journalists purportedly referred to as "Friends of Oshiomhole." We are informed that Adams Oshiomhole, approved the handsome sum of ten million naira to be "dashed" to a few members of NUJ before he left office."
"NUJ is a body we hold in very high esteem. It reports on government activities as well as reactions to the actions and inactions of government. It's supposed to give a balanced reportage of events in our society. But with the revelation of "bribery" of a few, it is clear reportage may not have been balanced, fair and truthful."
"To our utter surprise, and maybe in continuation of the unholy alliance that existed, Governor Obaseki, who has been pleading lack of funds to pay pensioners, fix roads, equip hospitals and generally run government, made this payment that has now thrown NUJ Edo State chapter into serious crisis." PDP concluded, "We condemn in very serious terms the attitude of the Godwin Obaseki-led government in playing the ostrich that has buried its head in the sand in the midst of these revelations."
On Thursday, 28th September, Edo NUJ held another emergency congress to review the suspension of the nine members. Edo NUJ chairman, Roland Osakue and the communiqué drafting committee secretary, Fred Emokpae signed resolutions of the meeting. The congress voted, however, to impeach the state union secretary, Alemma-Ozioruva Aliu, before ratifying indefinite suspension of the others after the nine members failed to refund the N5m by the previous day's deadline. The punishment was reached even after Governor Obaseki's Chief of Staff, Taiwo Akerele, personally came the previous day to plead for the suspended journalists.
It resolved: "That the contractual agreement between NUJ and Mr Simon Ebegbulem as regards the management of the Union Guest House be reviewed forthwith."
Indeed, it is being rumoured in the absence of any clarification that a certain amount of the N5m was used to renovate the leased guest house between 14th September, when the state government allegedly made payment and month end.
On 29th September, Correspondents Chapel held another emergency congress, where members unanimously upheld the impeachment of Edo NUJ secretary, Alemma-Ozioruva Aliu of The Guardian, a former secretary of the chapel and indefinite suspension of other eight members as well as the dissolution of the Simon Ebegbulem-chaired suspended chapel executives.
A communiqué from the meeting marked: Ref. No. NUJ/CC/MC/02/09/17 and copied to authorities stated: "That the congress seriously frowned at the presence of suspected thugs near the secretariat of the Correspondents Chapel, which forced members to relocate to a secure place at the state NUJ secretariat where the congress was eventually held" and "That as law-abiding citizens, members of the congress urged security agencies, especially the Edo State Police Command, to help members of the chapel gain full and unhindered access to the chapel secretariat."
On Tuesday, 3rd October, the Deputy Governor's Office through his Chief Press Secretary, Musa Ebhomiana, a former Vice President of NUJ and ex-editor of Sun newspapers, summoned the contending groups to a roundtable. Mr Ebhomiana, who was reported to have stated at the meeting that the government decided to pay the suspended nine because they were the journalists that went out of their ways to support the government, had tried unsuccessfully to force NUJ leaders to reverse the suspension.
On the 4th of October, the groups were invited to another meeting convened by the Commissioner for Wealth Creation, Employment and Cooperatives, Emmanuel Usoh Esq, attended by fellow Commissioner for Information and Communication, Paul Ohonbamu Esq, where the senior government officials failed in an orchestrated bid to reverse the suspension and impeachment, a move that portrayed the administration as desperate.
While the second state government meeting was on-going, a letter came from the NUJ National Headquarters in Abuja to Edo NUJ Council, signed by the National Secretary, Shuaibu Usman Leman, marked NUJ/NS/SC/64/VOL VIII; titled, Re: Alleged Suspension by Edo NUJ Congress without Due Process, it referred the matter to the state council's Ethics and Disciplinary Committee, based on a petition from the suspended members alleging "unfair treatment and lack of due process in the way and manner they were summarily suspended over an allegation of diverting the sum of N5million." National NUJ gave the committee two weeks to "investigate thoroughly and submit a recommendation for consideration of NEC, through the Congress of Edo State Council."
The committee of three members—employees of government owned- organizations—began work next day, 5th October, with a petition jointly signed by six chapel leaders, documenting alleged past abuses and unethical, corrupt and criminal conducts of the suspended nine. The petition also demanded refund with apology. While the suspended members had initially celebrated the referral of their case to committee with twisted and false reports on social media, tagging people that include this reporter, they quickly retreated, tactically, into casting aspersion on the committee members, with a motive to put the committee's expected recommendations in disrepute.
In one of his social media comments, the impeached Secretary, Alemma-Ozioruva Aliu, who appointed the committee members when he was in office alleged; "Now some members of this committee actively participated in our crucifixion by convicting us without trial. Am I now sure of justice?" Others threatened to shun the committee.
Merely using it to hoodwink his readers, Aliu would later line up on Monday with six other members of the suspended nine to appear before the committee that sits at Press Centre. It is now hoped that the remaining two members, one of which is presently abroad and whose involvement was just being credited her share and the group's evasive ring leader would appear any time this week to allow the committee conclude its work.
Notably, some concerned journalists have urged the general public to take note of how the suspended members and government officials are abusing and threatening writers and media organizations reporting the sleaze after derogatorily describing them as: "PDP reporters" and, particularly, how the state government has also taken charge of distributing the suspended nine journalists' abuses and reactions through Edo In Safe hands, an NGO that was formed to push the campaigns of the present Deputy Governor, Right Hon. Philip Shaibu and Secretary to the Government of Edo State, Mr Osarodion Ogie, but which has now become an organization positioned, according to opposition sources, for doing the government's dirty jobs.
Even as he is branded a 'PDP reporter', it is on record that this writer produced a critical review and analysis of PDP manifesto for the 2016 Edo governorship election. Titled: The Simple Agenda: Osagie Ize-Iyamu's Manifesto of Sophism, the 14-page handbook was a major campaign document for President Muhammadu Buhari, Mr Godwin Obaseki and the APC at the Samuel Ogbemudia Stadium mega-rally for which this writer was neither paid nor acknowledged by the government and the party till today. How can you now brand a journalist that produced 10,000 copies of a very useful intellectual work as 'PDP reporter'?
On Friday, 6th October, Edo NUJ Chairman, Roland Osakue got a letter from his employer, Edo State government-owned Observer newspapers, redeploying him from editorial to production section. While accusing fingers pointed at Mr Ohonbamu for allegedly acting on 'order from above' to effect the sudden redeployment because Osakue refused to reverse the suspension of the nine journalists as the government demanded, the redeployment that took effect on 9thOctober portrays Edo government in bad light as meddling in mere union issues that relates to corruption allegations when kidnappers, assassins, robbers and floods have almost over run Edo State, leaving an increasing list of kidnapped, killed, assassinated, robbed, raped and displaced victims for the government to think about.
Furthermore, it portrays the government as unserious, undemocratic, intolerant to criticisms, paying lip service to accountability and transparency and developing violent predisposition to healthy, factual debates.
FOOTNOTE:
Usifo Sebastine Ebhuomhan is a distinguished Soyinka Laureate. A journalist, writer, author, communicator and advocate, he is the winner of Red Ribbon Award; ENHANSE/Internews Journalism Development Programme Award and other awards and honours. He lives in Benin City, Edo State and can be reached on: 234-8037204620 or usie007@yahoo.com.