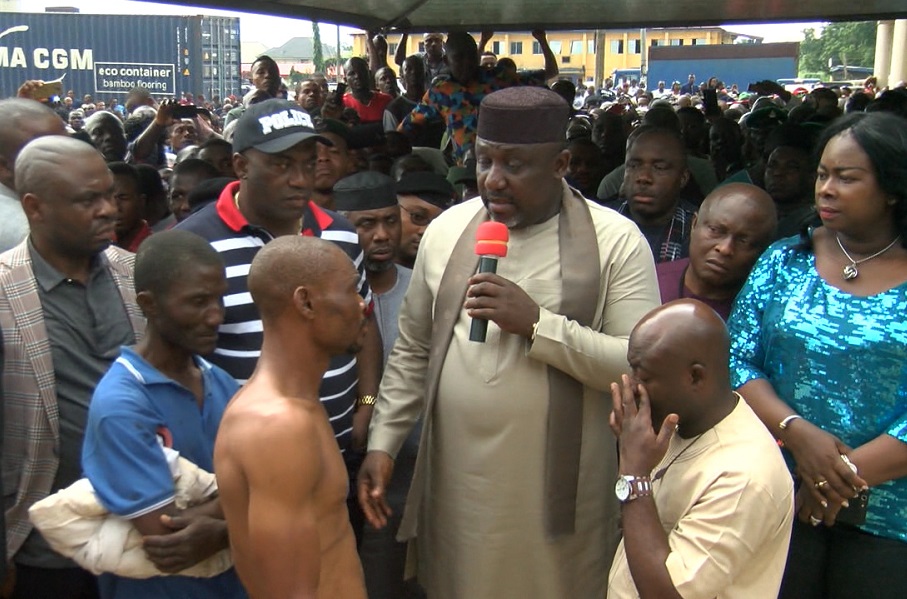 -Warns Against The Use Of Non-Professionals As Contractors & Substandard Materials For Buildings
Loading ...
Governor Rochas Okorocha has warned against the use of non-professionals and substandard materials in the construction of buildings by builders, stating that the non-engagement of engineers and other related professionals and the use of inferior materials remain the major causes of Building Collapse.
Governor Okorocha spoke on Sunday August 13, 2017 when he visited the site of a collapsed upstair building at Fire Service Area of Owerri, adding that his government would look into the cause of the building regretting that before now few other houses had also collapsed.
He advised those who want to build to engage the services of professionals and ensure the use of quality materials, and equally advised that people should stop building on dredges, gutters and even sucker-ways.
His words, "I was shocked to hear of this building collapse around this area of the city, precisely along stadium and Egbu road. In this disaster, six people were rescued while four persons were confirmed dead. I learnt that Owerri Capital Development Authority has initially sealed this structure against further work but the landlord stubbornly carried on with the construction, adding an additional floor to existing storey building".
He added, "The next building I understand is owned by the same landlord suffers the same fate. So, I have ordered that the two buildings go down without delay to safeguard against further occurrence and also to serve as a deferent to overzealous landlords and contractors who are involved in this type of mess".
He said "Government henceforth will setup building departments separate from OCDA for standards and regulation. Qualified Engineers are henceforth to sample, test and supervise every structure and their construction in the city and suburbs. We as a government can no longer fold our hands and watch landlords and unqualified engineers waste or endanger the lives of our people. All buildings must be inspected and given certification".
According him, "Owerri, being the fastest growing city in Nigeria is a good development but that is no reason for our people to build anyhow or anywhere for safety reasons. One of the survivors lost a child and I commend the commissioner of Police and the Red Cross for their early intervention. Government will strive to see avenues to find the survivors a means of livelihood while we pray that God grants the dead victims a sweet repose".