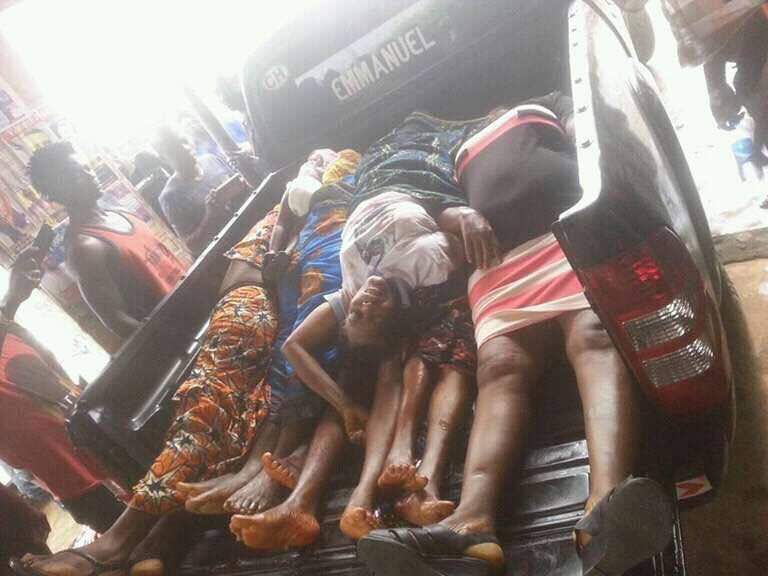 Loading ...
We the Igbo Ekunie Initiative, IEI, comprising individuals in Nigeria and the Diaspora; condemn in the strongest possible terms the senseless, gruesome and violent murder of innocent worshippers at Saint Philips Catholic church, Amakwa, Ozubulu, Ekwusigo LGA, in Anambra state on Sunday the 6th of August 2017 when some armed men opened fire during the Sunday service at the church thereby killing some women, men and children and also inflicting grievous injuries on many of theworshipers in the church. At the last count more than 12 persons lost their lives and countless others were maimed with life threatening injuries while some are still battling for their lives at various hospitals in the state.
We mourn the death of our brothers and sisters and convey our most heartfelt sympathy to the families concerned and pray that God should give them the fortitude to bear the immense losses occasioned by the shooting tragedy.
We submit that every Nigerian is entitled to freedom of worship without molestation as enshrined under Article 38 of the Nigerian constitution and nobody deserves to have his or her life abruptly cut short in such a violent manner and there is no justification for the cowardly and senseless attack on defenseless and law abiding citizens. The church is a solemn place of worship and should be seen and treated as a peaceful place to seek refuge.
We find it very appalling and deplorable that such an attack was able to be launched unchallenged and undetected in Anambra state which arguably is the state with the greatest number of security check points in Nigeria.
We condemn the hasty and premature manner over which the governor of Anambra state Chief Willie Obiano and the Anambra state Commissioner of Police Alhaji Garba Umar, without any probe or detailed facts, tried to rationalize the brutal attack as a follow up of a drug feud from far away South Africa. Their ill-fated and ill-advised conclusion raised more questions than answers.
We reject in its totality all the rumours which are currently being peddled as the reason for the senseless attack and hereby call for a comprehensive investigation over the shooting incident with the aim of finding the immediate and remote causes of the attack, the motive for the killing and a complete disclosure of the names of the planners and perpetrators of the attack coupled with the proactive and credible steps to bring the persons to book.  Concrete steps should also be taken to ensure that such a violent crime should not be carried out again in Anambra state in particular and Nigeria in general.
We conclude by noting that the state government and the police are under public scrutiny as the world is eagerly waiting for the outcome of the investigations and accompanying punishment. Finally, we call for a speedy and groundbreaking investigation to unravel the mystery behind the senseless killing.
Signed
Maazi Tochukwu Ezeoke
President Igbo Ekunie Initiative
Email: president@igboekunie.org
+234 708 004 2206
Lawrence Nwobu
Secretary Igbo Ekunie Initiative
Email: secretary@igboekunie.org
+353874151329