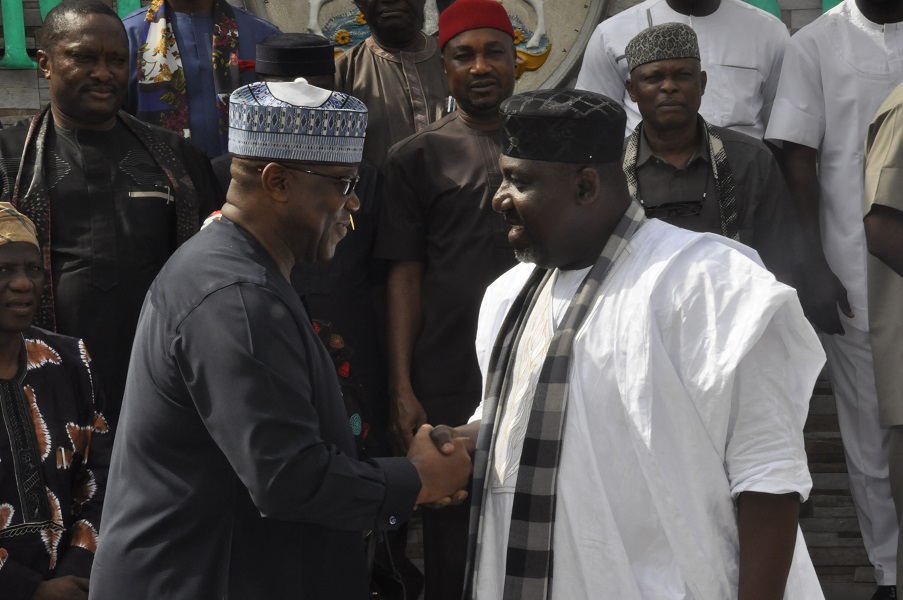 Governor Rochas Okorocha has called on proprietors and managers of the Radio and Television Stations in the country operating under the aegis of Broadcasting Organization of Nigeria (BON) who are meeting in Owerri for their 67th Annual Conference to help repackage Nigeria for consumption by the rest of the world because that is what is needed now and not restructuring. He also asked them to come up with programmes that could allow the less privileged in the society who cannot afford the high cost of electronic media to also be heard.
Governor Okorocha who made the call while declaring open the 67th Annual Conference of BON at the Imo Trade and Investment Centre Owerri on Monday, July 17, 2017 said Nigeria needs to be repackaged to attract investors regretting too that only the privileged ones could afford to have access to the services of Radio and Television Stations in the country, while most Nigerians do not have such opportunity.
The BON members led by its Chairman, Chief John Momoh had earlier paid Courtesy Call on Governor Okorocha at the Government House Owerri.

 
Loading ...
Governor Okorocha said, "Our nation requires repackaging. It is unfortunate that a great nation like ours has not been properly packaged for consumption by the international communities. Yet, there are more evils in other nations than we have in Nigeria but the reports going out about our country is such that no one will want to come into Nigerian unless for those who want to take risk. No nation can grow with this arrangement. I want to charge you today, as you meet, think Nigeria and see how you can repackage it. We are not the worst of them all".
He noted "every geo-political zone has its own interpretation of restructuring. To the South-East, restructuring means creation of an additional State. For the South-South, restructuring means resource Control. For the South-West, it means devolution of power and the North may see it differently, but whatever is the Case, we are better of, as a United Nigeria".
He told them "The ball is in your court to see how you can project Nigeria and repackage it for public and international consumption. Let me say to all of us here that there is nothing wrong with Nigeria and Nigerians. Nigeria is a great nation and will ever remain a great nation. What we have passed through as a nation, no other country would pass through it without experiencing total collapse. The spiritualists will believe that God has relocated his headquarters to Nigeria and that is why we get away with anything that we do".
He added "I call on all Nigerians that this is a period to dramatize and demonstrate patriotism which is anchored in the spirit of sacrifice. We must accept the fact that this nation belongs to us and we do not have any other nation on the face of the earth outside Nigeria. So, its incumbent on us to fix Nigeria and make it better not only for us but for generations yet unborn".
His words "You have a role to play. The news we have about our country outside Nigeria is not a good one and that has in many ways discouraged our investors. This is the time to speak less of the ugly situation we go through, this is the time to speak more about the potentials in Nigeria. People keep destroying this country by what they say. Therefore today my plea would be to the national body that you get a space in your programme titled Repackaging Nigeria for Better".
According to him "This is a time for us to come together and shun the institutions of ethnicity, tribalism, religion etc, which have characterized the affairs of our nation. I wonder and my heart bleeds that at this 21st Century, we are still choosing leaders based on ethnicity and zone. We must begin to choose people into offices based on their capacity and capability. What matters is not the ethnic group you come from or the religion you practice, what matters to us is the ability to put food on the table of the common man".
He also remarked "The wisdom is hidden in the poor on the street. I pray that you create a space in your radio and televisions where people can voice out themselves without having to pay for it".
In his address, BON Chairman, Chief John Momoh said, they were in the State for the 67th general Assembly and 17th annual general meeting of the organization to brainstorm on how to change the cause of history by facing the challenges confronting them and looking at how to surmount them to continue to serve as the watch dog of the society and how they can keep the political office holders in check as media men and women adding that it is their responsibility to bring the feelings of the people to the government and at the same time let the people know of their responsibilities towards the govt.
He commended the governor for what he termed significant changes in the state since he took over power Stating that it is something worthy of emulation and that also necessitated their choice of Imo for the conference.