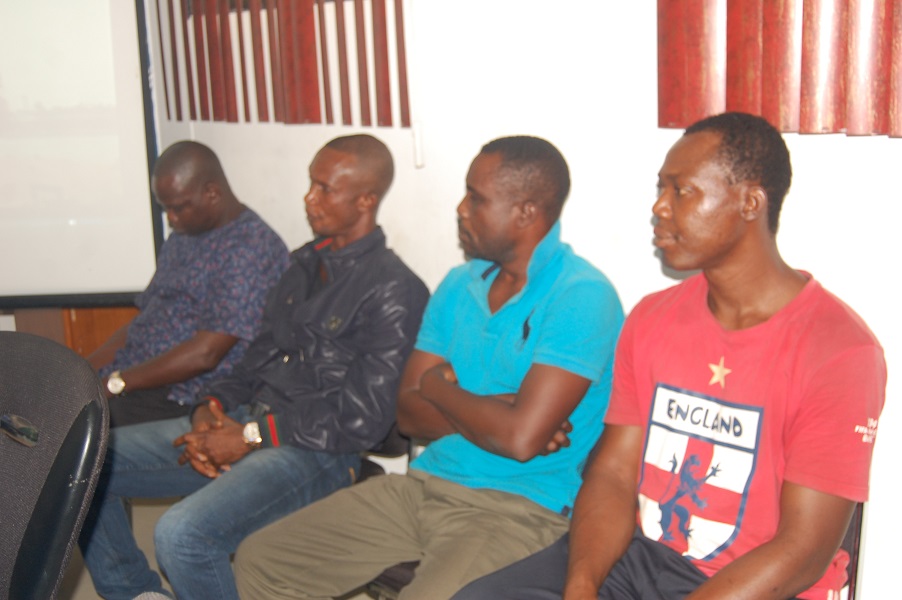 Press Briefing
Parade Of Mt Jazzi Vessel And Crew Members Arrested For Illegal Dealing On Suspected Illegally Refined Petroleum Product AGO (DIES EL) By Force Public Relations Officer, CSP Jimoh Moshood On 12th February, 2017
Gentlemen of the Press, you are welcome to today's press briefing aimed at showcasing some of the achievements recorded by the Nigeria Police Force in crime prevention, control, and detection across the country.
Before the details, permit me to on behalf of the Inspector-General of Police appreciate the members of the public, most especially Public Spirited individuals for their timely and useful information to the Force that led to these success stories.
The constant vandalization of Pipelines, destruction of oil and gas facilities and illegal oil bunkering in the country is of great concern to the Inspector-General of Police, IGP Ibrahim K. Idris, NPM, mni, . This criminal act is worrisome because of the consequences of economic hardship, damage to public infrastructures, and loss of Government huge investments in the oil sector.
In order to halt this trend of wanton destruction of lives and property in a critical sector of the economy, the IGP has reorganized and empowered IGP'S Task Force on Illegal Petroleum Bunkering to decisively tackle these criminals and their collaborators.
SUSPECTS:                            
Olajide Kabir 'M' (Nakem Deport Manager)
Ogbolu Louis 'M' (Captain)
iii.         Izuazu Anayo  'M' (Chief Engineer)
Solomon Agbanoma (Able Seaman)
EXHIBITS
MT  JAZZI VESSEL
800, 000 litres of illegally refined AGO (Diesel) off loaded at Nakem Deport
iii.                 DRP Certificate of Laboratory Analysis confirming that the illegally refined  (AGO) is off specification
On the 6th February, 2017 at about  0217hrs, after a sustained surveillance and monitoring of MT JAZZI VESSEL and crew members sailing from the creeks of Port Harcourt in Rivers state through the waterway to Lagos state with eight hundred thousand (800, 000) litres of illegally refined AGO (Diesel), the IGP Task Force on Illegal Petroleum Bunkering unexpectedly swooped on the vessel and its crew members at a location in kirikiri  Area of Lagos State, arrested the vessel and the three (3) crew members and the Manager of the Nakem deport where the illegally refined AGO (Diesel) was discharged. The eight hundred thousand (800,000) litres of AGO (Diesel) already discharged by the vessel was impounded. All the suspects are already in Police custody and have volunteered confessional statements indicating the various criminal roles they played in the commission of this very serious criminal and economic crime.
Meanwhile, investigation is being intensified to arrest their collaborators and sponsors. They will be charged to court on completion of investigation for dealing in suspected illegally refined petroleum products AGO (Diesel) under the petroleum and miscellaneous offences acts.
Conclusively, I wish to assure all Nigerians of the commitment of the Nigeria Police Force in ensuring that all Nigerians and our communities are safe and secure, and our determination of making sure that there is social production, economic growth and development remains unwavering and unequivocal.
Thank you all for your attention and God bless.
CSP JIMOH O. MOSHOOD
Force Public Relations Officers
Force Headquarters