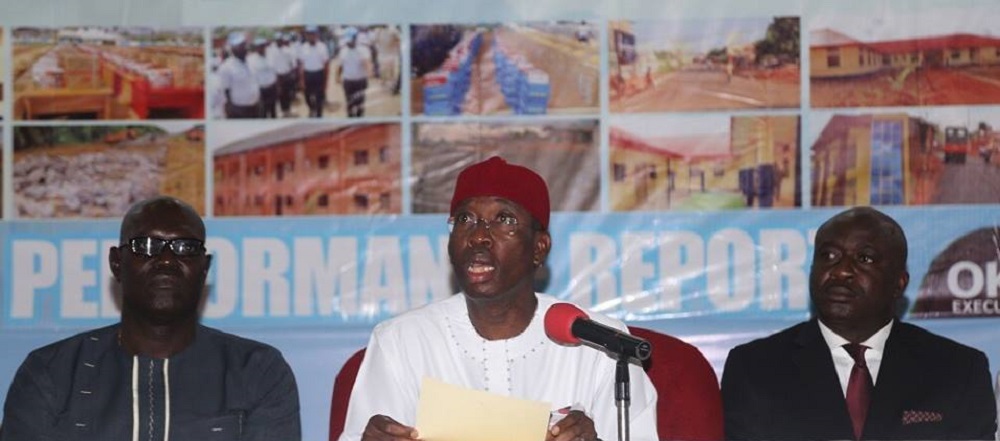 … Beret Him Over Increase Of 2017 Budget
The N265, 668, 156, 174 and N270.9 billion budgets presented to the Delta State House of Assembly (DTHA) by the Delta State governor, Senator (Dr) Ifeanyi Arthur Okowa for 2016 and 2017 respectively have come under criticism by Ambassador Oke Idawene, chairman, Social Democratic Party (SDP) Delta State chapter.
The SDP Chairman who said the 2016 budget is greatly under-funded, the 2017 budget on the other hand has just been presented to the House by the governor.
Addressing newsmen in his office in Asaba, Idawene said the 2016 budget is currently been under funded, stressing that Deltans are groaning in abject poverty as there is nothing on the ground to show that a budget for 2016 fiscal year is currently operational.
He accused Okowa that the various sectors the budget was met for were just ink on paper, "as far as we are concern, all that the governor has done is just paper work. There is nothing to show".
Meanwhile, the SDP chairman has bereted Okowa for the increase in the 2017 budget at a time when the country is going through economic woes even as he bombarded him for over dependence on federal allocation.
On the other receipt the governor said the budget would be funded, Idawene challenged Okowa to publish the debt profile of the state under him, "facts at my disposal shows that Okowa has borrowed about N160 billion in one year".
While pointing out that the 2016 budget has 23 per cent performance, he said, "In the last 18 months, there is nothing on ground to show what Okowa's government has done in the state and for Deltans. The governor has only resorted to road surfacing".
He revealed that the roads that are ongoing in the state are being done by the Niger Delta Development Commission (NDDC) and not the state government as being rumoured by government officials.
He said the 60 per cent recurrent expenditure is only a way for the governor and his cronies to steal and waste tax payer's monies as there is no prudence in the management of resources in the state.
On the Skills Training and Entrepreneurship Programme (STEP) and Youth Agricultural Entrepreneurs Programme (YAGEP), he said, "these are deceptive slogans. Where did the government empower youths in Isoko? The people they claim they are empowering are those who already have jobs and are the Peoples Democratic Party (PDP) faithful and card carrying members but not prosperity for all Deltans. What I see is "Abject Poverty for some Deltans", he said.
He described the 2016 and 2017 budgets as "political patronage" targeted at syphoning money, "what the state needs, is total invigoration", revealing that the governor had chosen to remain adamant even after writing him on the need to run a transparent government.
He called on Delta North Senatorial District which comprises of the Aniomas to present another candidate for 2019 governorship election.