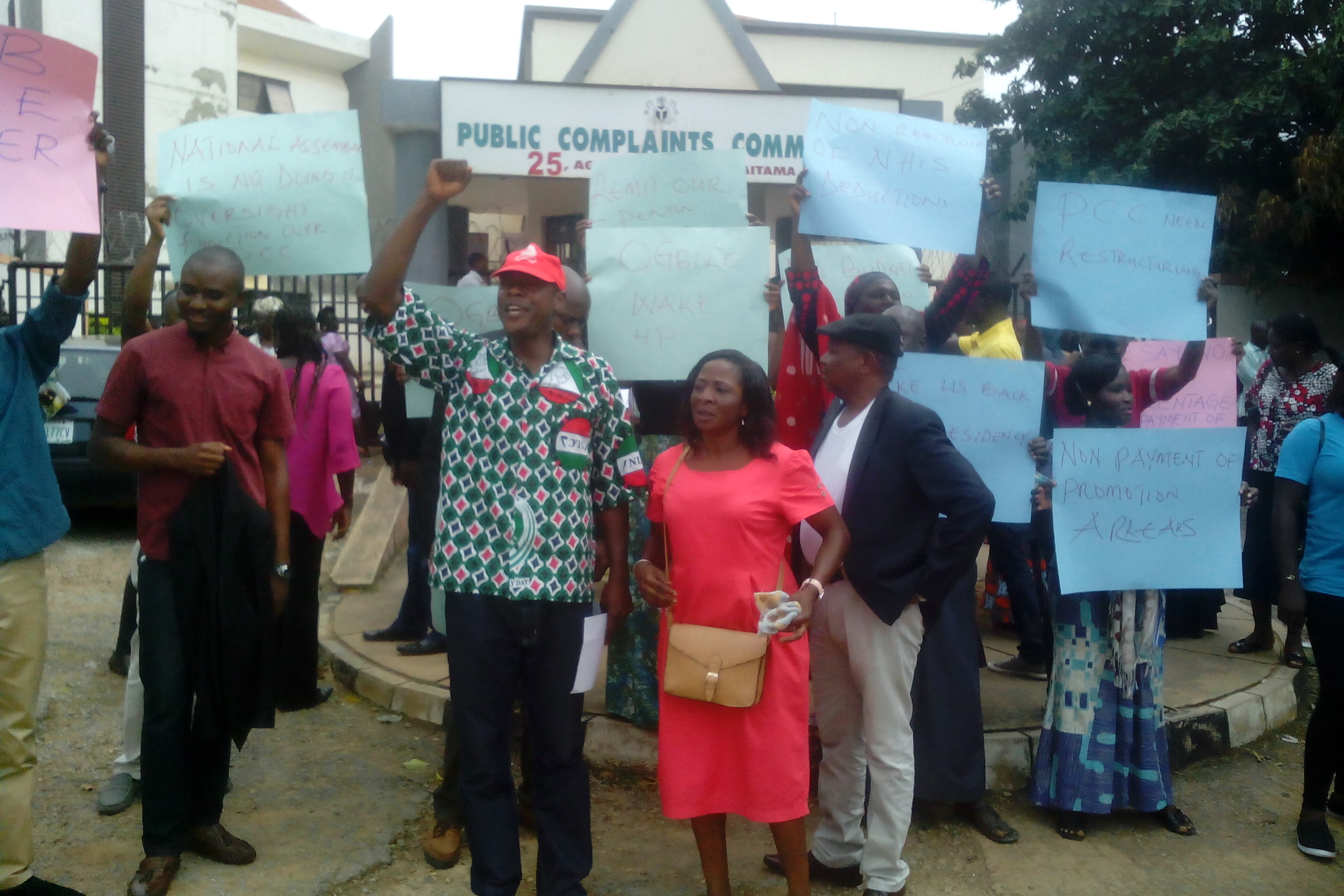 Staff of the Public Complaints Commission (PCC) on Tuesday embarked on a massive protest against the continued 50 percent slash in their salaries, saying unless the situation is reversed they would not return to work.
The protesters however, shut down the main entrance of the PCC headquarters in the Maitama District of Abuja, saying since January 2016, their salaries have been paid on percentages.
Some of the placard read: "Take us back to presidency, We protest against half salary, PCC needs restructuring, Please help us out our children are out of school among others
In an address jointly signed by the Chairman of the Joint Union of civil servants in the commission, Comrade Ogunyando Oladipo Joshua and his vice, Dorcas Tabitha John, the protesting staff said that "the grim situation began with payment of workers' salaries on percentages.
"When the management of the commission was confronted to explain the unsolicited fragmented salaries, it was made known that the Ministry of Budget and National Planning, the Ministry of Finance and the National Assembly against every known rationale and logic insensitively handed the Commission N2 billion only as its 2016 budgetary allocation, signifying a far-reaching departure from the N4 billion approved for the Commission in the 2015 fiscal year."
The union said as a result, the commission's offices nationwide are operating at zero level as the budgetary allocation is unable to cover personnel cost alone talk more of overhead and capital expenditure.
"The mandate of the Commission which is investigation of administrative injustice has been in comatose since the beginning of the year 2016", the union lamented, adding that the breakdown of the Public Complaints Commission is a breakdown in administration and civilization.
They called on the Ministries of Finance including that of Budget and Planning, the National Assembly with the management of the Commission to resolve what they called the "obvious social injustice and fiscal misadventure" which they traced to the inefficiency of the stakeholders just as they urged the federal government to declare a state of emergency on the situation of the commission while adding that the need for restructuring within the Commission was long over due.
The protesters resolved to continue to protest until relevant authorities attend to their plight just as they restated their commitment to resist any anti-worker policy or slavery.