Being text of a speech delivered by Dr. Dakuku Adol Peterside,  Governorship candidate, All Progressives Congress, APC, Rivers State at the 'TOGETHER IN PRAISE/DEDICATION OF MANDATE' on 

Sunday, December 21, 2014

 at Obi Wali International Conference Centre, Port Harcourt 
With your gracious permission, Your Excellency, distinguished ladies and gentlemen, we are delighted to commence this speech with this eternal Truth penned down several centuries ago by the shepherd – King David "This is the day which the LORD hath made; we will rejoice and be glad in it"( Psalm 118:24). Indeed, we are glad and rejoice because it has pleased God to allow us see this day.
It has also pleased him to allow us the privilege of inviting you respected men and women, priests of God and daughters of Zion, politicians and our people to join TOGETHER IN PRAISE and to DEDICATE our MANDATE. In dedicating the MANDATE, I am openly admitting that we acknowledge that power belongs to GOD.
We have chosen to begin from here because by divine unction and direction we have come to understand that time tested truth that while "Some trust in chariots, and some in horses:" we are most assured when we" remember the name of the LORD our God". We, therefore, as key to success, in our desire to offer excellent service to Rivers State, have invited you to, "magnify the LORD with me, and let us exalt his name together. The other key reason we are here is to formally handover the battle to save our dear Rivers State and take her to the next level to GOD in agreement with HIS word in Exodus 

14:14

 " The Lord will fight for you; and you shall hold your peace."  
When on October 26, 2007 Our Governor took over leadership in our beloved State, we all agreed that power belongs to God. And so, we set our heart that if that faithful God would graciously give us an opportunity to serve Rivers people in any capacity, we would do so with all our heart and soul and strength and that at each point, we would raise an altar of Praise and Thanksgiving to His Holy Name. We are therefore, here today, to stand true to that vow.
When by the grace of God and the decision of our great party the All Progressive Congress the mantle to take the baton of leadership fell on me, I,  Dakuku Adol Peterside, your son, who grew up among you, watched over by the elders, decided that I would humbly invite my fathers, mothers, brothers and sisters, friends and everyone in our state, to come join me praise the King of kings and establish Him as always as Lord and God over Rivers State.
We have always been a people of History, a people which Destiny has made both proud and grateful. Our progenitors praised God. While on water fishing, or, by the river banks picking periwinkle, or in their farms tilling the soil, our fathers and mothers always praised God.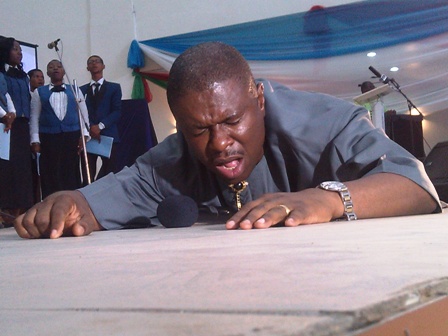 Little wonder God gave us men like Ikoli Harcourt Whyte, that prodigious composer of Christian native airs and songs used today in our churches to lift up souls. Harcourt Whyte was that Rivers son who defied health challenges and while quarantined at the Leprosy Colony at Uzuakoli, lifted his soul in praise to God. His compositions rich in vernacular flair and oratorical skills have been performed across the globe. Today, his courage and strength of purpose serve as inspiration to us and millions of people. When a people praise God, their enemies are put to flight.
Today, we have Precious Omuku, one of our own, and others who use their rich voices in praise to our God. We, like them, are here to join our voices in similar effort of praise. God deserves and demands our praises and thanksgiving.
This is not a place for long speeches, nor a place for politicking. That time will come but please permit me to repeat what I told members of our party after by God's grace and their votes I was elected the party's flag bearer. I told them then that "
My desire to be Governor of our dear State is a product of deep commitment to serve and a passion to expand economic opportunities for all our people. My aspiration is not about the pomp, pecks and privileges of office, but out of a desire to make Rivers State greater. "
Today in the presence of my God and my King and before you my fathers, mothers and brethren, I repeat this pledge.
Having worked closely with our leader, our brother, our governor and our friend, I have seen his passion for excellence and a new and better Rivers State. I have been challenged by this passion and believe that a greater Rivers State is possible if we all join hands.
Together I believe we can provide leadership that will accelerate the actualisation of a greater Rivers dream of improved middle class, first class safe environment, equal and more socio-economic opportunities and create a greater sense of community, a Rivers State thatwill be the pride of Africa.
Our party, the All Progressives Congress (APC), is a party of ideas. One that believes in the unity of people to achieve the set goals of socio-economic prosperity, functional infrastructure; and to build an educated and healthy people.  I will pursue the manifesto of our great party with all my youthful vigour, talent, your support and the guidance of our elders and the Almighty.
On my honour, I pledge this day, before God and His priests assembled here, that when I am elected and sworn into office as Governor of Rivers State in 2015, I will serve God and our people. We will not sell our dear Rivers State to the Devil. Not for anything!
Your Excellency, distinguished ladies and gentlemen, may I, on behalf of my wife and our wonderful children, say how honoured we are you came to this Service.
We are on the right path, because God is leading. We are on the right because God can't be wrong, and I promise you nothing less than sustained excellence as exemplified by our Governor, Rt. Hon. Chibuike Amaechi.
May the peace of God rest upon you!
Thank you for your time.
Dr. Dakuku Adol Peterside
APC Governorship candidate
Rivers State
Sunday, December 21, 2014