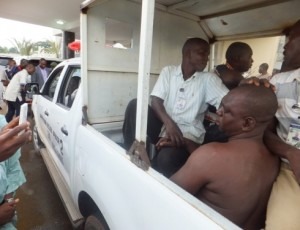 Member representing Ohaozara, Ivo and Onicha
(OHANIVO) Federal constituency at the National Assembly, Hon
Linus Abba Okorie, Ex-Coordinator of Okposi Development Centre, Mr.
Mark Onu and one Jerry Ude-Aja are being quizzed at the Force
Headquarters of the Nigerian Police Force, (NPF), Federal Capital
Territory (FCT), Abuja, over their alleged complicity in the alleged
assassination plot against an Abuja based industrialist, Dr. Barr Eze
Anoke.
The trio had allegedly threatened to assassinate Dr. Anoke if he dares
declare his intention to contest the Ohaozara, Ivo and
Onicha Federal Constituency election come 2015 general election.
It was learnt that the incumbent National Assembly member, Hon. Okorie was invited by the police at Abuja, while Onu and Ude-Aja were
arrested at Okposi.
National Issue learnt that the confessional statements of the
accused persons led to the further arrest of another suspect called
a k a Togo.
They have all been released on bail, while the police
Is still  investigating the matter.
The 10 paragraphed petition written by one Barr Chinedu Okoli of Anoke,
Anoke & Co (Suis Juris Chambers) and addressed to the Deputy Inspector
General of Police (DIG), Force Criminal Investigation Department,
Force CID, Garki, Abuja, stressed that the assasination plot was targetted at the Abuja based industrialist plot.
Barr. Okoli begged the DIG that if the incident of 15th June 2014 was
not properly investigated and the suspects arrested and prosecuted, it
may embolden the suspects  to actualise their threat.
He maintained that "we make strong demand for an all out investigation
into this allegation because the threat is real, the culprits ready
and armed with dangerous weapons to actualise their threats to our
clients. We are almost certain that these assassins if not urgently
checked may unleash personal acts of terror against our clients which
may not only lead to his untimely death but will certainly cause a
total breakdown of law and order within Okposi community".
Meanwhile the National Assembly member, Hon. Linus Okorie stated that: "However, speaking generally, I have threatened no one including the Dr Eze Anoke, whoever that may be"