Senator Ifeanyichukwu Godwin Araraume is aspiring to govern Imo State for the first time in 2015 for the third attempt on the platform of the Peoples Democratic Party, PDP. He had the greatest opportunity to lead the state when he emerged the party's gubernatorial candidate in 2007, but was denied the opportunity by his own party, the PDP, which declared then that it never had any governorship candidate in the state. Instead, the PDP adopted a candidate of another party (PPA), Chief Ikedi Ohakim. That decision seems to have been haunting the party since then as it is yet to regain power. But, in this interview with Damian Duruiheoma in Owerri, Araraume said he is not coming out to redress the injustice done to him by the party but because of the conviction of the people and major stakeholders in the state that he remains the only one that can offer the good governance they need.
Exerpts:
When you were addressing members of Destiny Organisation, you were not disposed to zoning of governorship position to any particular senatorial zone in the state. This is despite the fact that many people especially those from Owerri Zone have insisted that the guber position must be zoned to them. May we have your reason for this?
Well, you know I speak for my party, the Peoples Democratic Party, the party that I belong to since 1999. My speech was very clear. I said we never had any zoning in PDP. That is a platform under which I went to the Senate from 1999 to 2007. That time in 1999 when our then governor, Chief Achike Udenwa contested the governorship primaries with people from Owerri zone. Humphrey Anumudu, Eze Ajoku, Bannax, Chief Iwuagwu are all from Owerri. From Orlu, we had Greg Mbadiwe, Rochas Okorocha and of course Achike Udenwa. It was not zoned to Orlu at that time. In fact, it was only Okigwe that didn't present anybody because our late brother Echeruo prevailed on all of us to allow Orlu. Yet Owerri didn't allow them and there was contest. Achike Udenwa emerged from that contest. If it was zoned to Orlu, it could have been an all Orlu affair. It could have been a contest among Achike Rochas and Greg. The party at that time could have chosen from anyone of the three. Therefore, there was no zoning.
In 2003, we didn't have any zoning. I'm sure you are aware that that was when Achike Udenwa was still the governor. We had a primary at the Grasshopper International Handball Stadium in Owerri. In that contest, despite the fact that Achike was the governor of  the state who expressed his interest to come back for asecond term, we still had people who contested the primaries with him. From Orlu, we had Thankgod Ezeani, Betty Nnnadi all from Ideato. Then we had Ugochi Nnanna-Okoro, a current commissioner under Rochas Okorocha government, who contested from Owerri zone. It was also Okigwe Zone that didn't feature any contestant. My younger brother, Emeka Nwajiuba, wanted to contest, but when he saw that our people in Okigwe were not ready to oppose Achike Udenwa, he left PDP for ANPP.
In 2007 when I participated, in that contest, we had Kema Chikwe, Jerry Chukwueke, Emma Ojinere, Kelechi Nwagwu. These four and more contested from Owerri. Then, we had Tony Ezenna(Orange Drugs), Festus Odimegwu, Hope Uzodinma who is now a senator all from Orlu. From Okigwe, we had then deputy governor, Ebere Udeagu, Engr. Charles Ugwu, Iyke Ibe plus my good self. So, it was not meant for Okigwe. If it was to be a race for Okigwe only, it would have been four of us from Okigwe at that time. The party would have chosen from anyone of the four at that time. But you saw Kema from Owerri who is now the National Woman Leader of PDP contested and if any of them had won, that person would have been candidate for PDP. The fact that I won was why I became the candidate. I did not become candidate of PDP because it was zoned to Okigwe. We didn't have any zoning at that time.
In deed, everybody that is aspiring to be governorship candidate of PDP was all in the National Assembly. Bethel Amadi and Emeka Ihedioha were in the House of Representatives and the other person, Emma Ojinere also contested at that time. It was not left for Okigwe Zone. What then it means is that if it is zoned to Orlu, all those who will contest for that position must come from Orlu. The PDP in Imo will be at liberty to choose a candidate from those from that particular senatorial district. Zoning does not mean when everybody is involved in a contest and somebody emerges. You don't zone after contest. You zone before; and we have never had any such zoning in Imo State. I said it yesterday, am saying today and I will say it 
tomorrow
. If Imo State is called to the Presidential Villa Abuja, the records are there. I will say what I'm telling you now. If we are called to go to Enugu or the United States to discuss this matter, I will still say the same thing.
All these people who are shouting zoning—Chief Iwuanyanwu was in the party at that time. He was the board of trustees member. He is now. In fact, he was one of those leading my campaign in 2007 and he knew and still knows we never had anything like zoning in Imo State.
Even if we say we want to zone now, a party in opposition does not do zoning because you are not sure, you don't have the instrumentality of government to enforce what you want. Therefore you cannot zone. All you do is to look for your best to win election. Even if you say you want to zone, you for a period, for a tenure of eight years. Then Okigwe has done four years. They have to do another four years.
But, mark you that Ikedi Ohakim was not elected, if he was elected, under the platform of PDP. Therefore, he couldn't be said to be the governor from PDP. He joined PDP two years into his tenure. He was elected on the platform of PDP. So, PDP in Imo State cannot say they have elected Okigwe son as governor. That is the point we are making. He was elected under the platform of PPA. Imo State has never had elected governor of PDP from Okigwe zone. If Ohakim was re-elected in 20011, it would have been the first time PDP would have produced Okigwe son as governor. Or if I was elected, that would have been the first time PDP was producing an Okigwe man as governor. PDP has never produced an Okigwe man as governor. This is the point we are making. Ohakim was not elected under PDP. He was elected under PPA. There was no arrangement. He was not PDP. Therefore, he was not part of it. In any case, there was no zoning.
So, any person telling you that Ohakim has served the tenure of Okigwe Zone, he was not elected. You were here. Am I not right? Speak so that you can re cord yourself.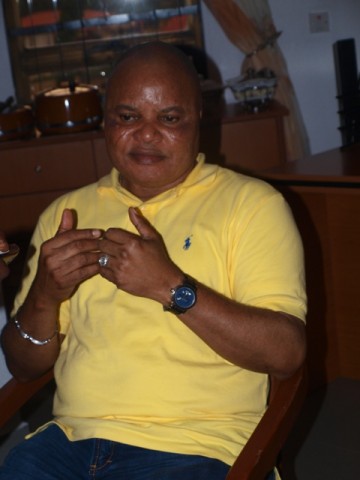 We've noticed that most of those people used to destroy your image have returned back and now are wining and dining with you. Could you say how the reconciliation came? Or have they realized their mistakes?
If somebody who has offended you comes to you for forgiveness, you must forgive the person. That is what I have done. Those of them have come back and said what they said in the past was propaganda in order to achieve some political mileage. Some said in my house, I have life crocodiles. You have been in my house. Those are art works and I appreciate art works a lot. You saw that they were mere fabrications. I'm a knight of the church. I've never had any issues with anybody. Nobody has ever taken me to any police station to say you have a hand in the death of anybody or in the killing of anybody. In 2007 when came here and said PDP didn't have any candidate, of course I have to challenge him and challenge the party up to the Supreme Court—the highest court of the land—and said if they have anything against me, they should come and present it. Up till the time, they didn't come up with anything. Our governor, Achike Udenwa supported me in 2011.
Since that time that injustice, that falsehood was meted out not just to me, but the people of Imo State, Imo has not seen good governance. Imo is still in search of good governance. These leaders are working with me now all to ensure that Imo gets good governance. You know what is happening in Imo today. For me, I've forgiven everyone of them. For me, you know what happened that time was done in order to achieve some political mileage. This is where we are now. I've forgiven everybody. That is me. We have to move forward. The most important thing is that you in the press disseminate the correct information through your various media. I believe you are asking this question for the sake of it because I know you know that all these things were done at the time to stop me.
So, if they say they have come to work, I have no doubt in my mind that they mean well. I also think all of them have all suffered in this state. Therefore, they will not wish Imo to continue to be like this. For you as a journalist, I tell you from 2007 till now, you have about seven years. In these seven years, there is no Imo son or daughter that does not know that what happened that time was falsehood. Therefore, these people will not find new clients anymore. You are a journalist now. I'm sure if somebody brings that kind of thing for you to publish, you will say you know the truth and tell the person to look for something else to tell.
Let me also tell you. This last seven years, it has afforded Imo people the opportunity to know almost all sides of me—the social side, the family side, the business side and all sides of me now. When Imo people come to Abuja, they come to some of my businesses. In fact, what it is called is Imo place where every Imo man who comes to Abuja comes to. That (Exclusive Stores) is one of the outstanding places which makes them say "we are proud our son's outfit". Before 2007, we didn't have that in Abuja. We had it in other places, but not in Abuja. I'm just saying these things for the sake of saying it because I know these things were not correct, they are still not correct today and they will still not be correct 
tomorrow
.
We learnt that you are coming out again this time for the governorship because of your strong belief that the injustice done to you in 2007 by the PDP is about being corrected in 2015. Is that true?
You see, you don't come out just because you want injustice corrected. You come because you feel you are qualified to come out. You come out because you feel you have something to offer. You come out because you want to correct certain things that are going wrong. You also come out after consultations. I have consulted with Imo people and a good section and overwhelming percentage of the leadership of Imo. They are all saying "with what you have, we need somebody like you. We know you have something to offer. We know you can make the change that we need. We know you are prepared for this service. We know that we did something wrong in the past. We know that you are even more mature now to deal with the challenges that we have. We know that you have the exposure. We want you to come and help". So, if not, I'm not interested. There is no person who has served as governor today that I cannot compare to anywhere in Nigeria. Whether you served in Lagos Sate as governor or whether you served in any of the rich oil producing states, at least there is none that can say Senator Ifeanyichukwu Araraume can be pushed aside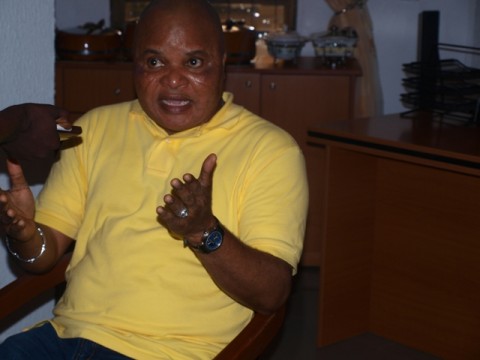 In fact, if not politics, before you could count two people in terms of business and achievement, you must count me. Some of these people that have entered some books, whether it is Forbes, The Economist or whether it is some other books as very rich people today, at a time that I entered politics, some of them were not at the level that I was. Therefore, it is not question of eh, I don't know. But the long and short of it we are here because the people feel we have things to offer.
I've looked at it spiritually and physically because you need to be in good health to deal with the challenges that we have in Imo State. I have looked at it again that you need have the capacity and above all, people must always have confidence in you. They must have trust in you that can handle the affairs of the state. I believe I have most of these qualities and I'm prepared to offer services. Imo people are ready and they are prepared to make this change to remove bad governance from our landscape. You need to see what is happening here. This is not something that we are used to. Our people are not used to putting round about even on straight roads. We are not used to it. Our people are not used to making cement and blocks. Go to neighbouring states, you see what development of infrastructure is. Our people are used to very organized system. Our people are law abiding citizens. We respect rule of law, a system that works and due process. All the roads that are they are doing, you can't go to Ministry of Works and find the documents. There is no bill of quantity. There is no approved drawing. There is no regularized contract if it was done on architectural approval. There is no due process. That is the point and we cannot continue like that and we cannot bequeath to our children a system that is chaotic. That is point we are making. Imo State is the heartland of Eastern Nigeria. We should do better than this. Therefore this government we must sweep out. This government must get out of the lives of the Imo people. So, I'm out to offer service because our people are yearning for good governance and because I am prepared to do this battle, which is why am out.
Governor Okorocha has been accused of not creating jobs, but recently, he launched 25000 new jobs under his Youth Must Work Programme. What's your take on that?
You see, all these things are engagement because of election. We saw it before. These are not true engagements. You ask yourself, what is the job description? There must be job description—what you need to do. I'm building two big industries here. Look at it, the foundation has already started. If you go out there you see equipment that are covered. These industries when completed, will give no less than 500 Imo sons and daughters job. On Port Harcourt Road, I'm building a branch of Exclusive Stores. Under my employment all over the country, I have more than 5,000 people who are working for me. Every month, they make their living because they are working. As they work here you train them, enhancing their capacity. Now you ask yourself, this job the 25,000 youths are doing, on what capacity are they doing it?
What I think we should do now is to engage our people in such a way that they will be useful to themselves. If you carry them to go and do security work,, what training are you giving them? Is there any skill that they are acquiring? I thought the first to do is build skills acquisition centres where some of our unemployed persons can go and acquire some skills. If they acquire these skills, you can now engage those of them who are carpenters, photographers, etc. let them acquire some skills so that if they are no employed here, they could be engaged to be self-employed.
But when you engage them and put them in a uniform as glorified thugs, is that training for your people? I believe that if he had directed his energy into building skills acquisition centres in each of the zones and trained these people and prepared them for the challenges ahead, I think is better than what is happening now.