…in fact there will be no Nigeria 

By Ebere Suzy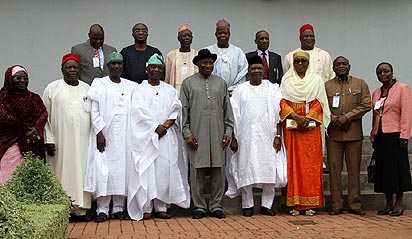 The Igbo apex ruling body, Ohanaeze Ndigbo warned yesterday in Onitsha, Anambra State, that any of the committee in the National Conference that goes against the South East zone having extra states to balance the equation is rubbish, useless.
 
Sounding the note of warning, the chairman of Ohanaeze Ndigbo, Elder Chris Eluemuno stated that committee report is not binding on the conference.
 
His words, "any committee that is against the South East having more states to balance with other zones is joking. Infact there will be seven states for each zone, there will be no Nigeria without balancing the equation. If the conference agrees that there must be a balance no committee can stop it".
 
"For your information committee report is not binding on the conference. Committees are just under the entire house, no committee report is final. There must be balance".
 
"Any committee that works against the South East when it comes to the general house we throw it away. Committees have no right to final decision. It is the work of the whole house".
 
Elder Eluemuno however expressed satisfaction that the job of the various committees are going on well adding that they are working towards a better Nigeria.
 
On the second Niger Bridge he said that work is going on as expected pointing out that environmental impact assessment certificate was surpose to have been issued by the Environmental Ministry before the commencement of work on the project but because of the nature of the project a temporary certificate was issued earlier to ensure work goes on.
 
According to him work on the project would be completed as stipulated pointing out that the construction firm, Julius Berger, is there at the site working on the project.