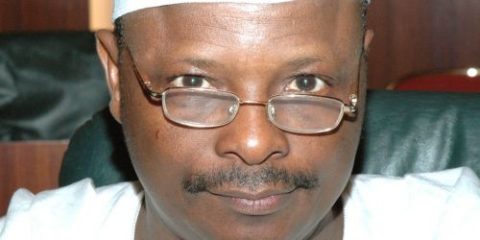 Kano State governor Engineer Dr. Rabiu Musa Kwankwaso alleged that President Goodluck Jonathan gave the 16 governors who voted for Plateau State governor Jonah Jang at last year's Nigeria Governors' Forum election N2 billion each.
According to him, while the 16 pro-Jang governors were financially gratified to do the presidency's bidding, the other 19 governors who voted for Rivers State governor Rotimi Amaechi were left with nothing at all.
Engineer Dr. Rabiu Musa Kwankwaso stated this at a meeting between him and a team from the secretariat of the NGF on peer review mechanism led by the forum's director-general, Mr Ashishana B. Okauru, at Government House, Kano.
The governor said, "Each of the 16 governors that voted Governor Jang has benefited from N2 billion from our own money given to them free of charge. All of us from Amaechi side were given nothing. That is not being fair, that is not even correct and it is illegal."
Engineer Dr. Rabiu Musa Kwankwaso also accused the federal government of deliberately causing disunity among the 36 governors of the federation just to jeopardise the collective interest of Nigerians, adding that it is for this reason that the federal government is mischievously recognising Jang who scored 16 votes against Rivers State governor Rotimi Amaechi who polled 19 votes in last year's election of the NGF.
Engineer Dr. Rabiu Musa Kwankwaso observed that because federal government had so much to benefit from the rancour that causes disunity among the governors, it is using hidden antics to destabilise the Governors' Forum.
"We are having difficulties in coming together as one forum because the federal government is not respecting democratic tenets. For rapid progress to ensue, governors in the country must work as brothers," he noted.
The director-general of the NGF, Okauru, who had earlier noted that it was the desire of the forum to see all the 36 governors as one under one umbrella, said a lot of ground has already been lost in polio eradication because of the lingering insecurity in the country, the teeming youth unemployment and the Excess Crude Account.
Lamenting that comradeship among the governors had also waned, Okauru said that State Peer Review Mechanism (SPRM) meeting with the state executive council would pave a way for the stakeholders' workshop, which formally commenced with the implementation of SPRM process in the state.
He commended Engineer Dr. Rabiu Musa Kwankwaso for what he described as the landmark achievements recorded, including the creation of 24 women and youth development institutions, sponsoring of over 2,000 indigenes, among others, adding that the Sun Newspaper Man of the Year Award for 2013 given to the governor was well deserved.
Engineer Dr. Rabiu Musa Kwankwaso also urged the NGF secretariat to produce a best practice template in all sectors of the economy for the governors.
According to the governor, such development will ensure quick harvesting of best practices from a particular state by others.
The governor, who assured that he would continue to improve on his development strides, added that such template would help fast-track development in the country, if shared among governors.
He said, "I need to learn one or two unique practices from other states which I could replicate in Kano State.
If you give us a template on why and how a state is succeeding, for instance in the environment, it will be easier for us to copy.
"I would give such template to my commissioners to study for possible replication. If I have a literature or a template on what a state is doing in a particular sector, I would not need to travel to such state to learn.''
He, however, advised that such templates should be made compact for easy comprehension.
According to the governor, the reason people still make mistakes during invention is because there is no fixed literature on invention.
He said that once there was a fixed literature on invention or any other process, mistakes would be minimal, if not completely eliminated. There is a lot of best practices in some states that could be replicated if documented and presented to other states, he said.
But the presidency has kept mum over the matter as efforts to get in touch with the  Special Adviser to the President on the Media and Publicity, Dr. Reuben Abati,  to react to the allegation proved abortive as phone calls made to him could not go through. Also text messages sent to him were not replied to at press time .