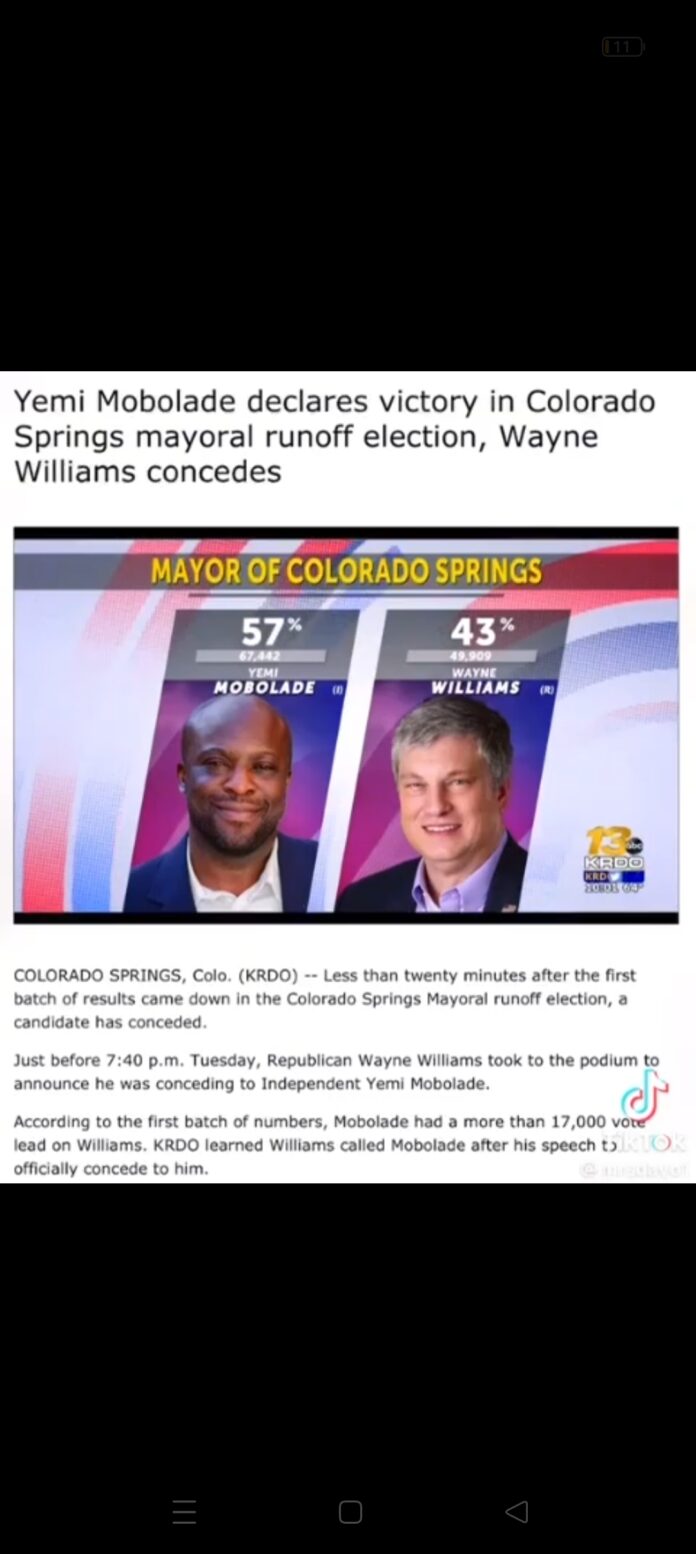 By Izunna Okafor
History was made on Tuesday, as Nigerian-born American businessman, Yemi Mobolade, emerged the new Mayor of the Colorado Springs in Colorado State, United States of America (USA).
Mobolade, who had no prior political experience, became the first elected Black Mayor of Colorado Springs after he defeated Wayne Williams on Tuesday night in the city's runoff contest. Whily Williams is a Republican, Mobolade is unaffiliated.
Mobolade's victory has been described as a political earthquake in Colorado Springs, which has been long known as a conservative stronghold.
Mobolade received 57 percent of the vote against Williams' 43 percent as of 7:15 pm on Tuesday. Williams conceded at about 7:30 pm. When the second batch of results was released shortly before 9 pm, the percentages hadn't shifted.
Mobolade will be the City's 42nd Mayor, succeeding Mayor John Suthers, a former federal prosecutor and Colorado Attorney General who was term-limited.
Speaking on his victory, Mobolade said his victory was victory for all, and also revealed his vision to make Colorado Springs an inclusive, culturally rich, economically prosperous, safe, and vibrant city.
He said, "This is our win. We are Colorado Springs. It's a new day in our beloved city. Do you believe that? Colorado Springs will become an inclusive, culturally rich, economically prosperous, safe, and vibrant city."
A married father of three who relocated to Colorado Springs in 2010, Mobolade soon rose to the position of leadership in the local business community.
He served as the city's small business development administrator while co-founding two well-known eateries, The Wild Goose Meeting House and Good Neighbors Meeting House, in Colorado's second largest city.