— Arraing Him in Court
Frank Omoja
The Zone 2 Police Command of the Nigeria Police Force, Lagos State have arrested one Mr. Lawrence Umeadi who was a general manager of ALMAJDAL LTD but connived with one Barrister Chinedu Victor to make himself a director in the company.
Loading ...
Mr Umeadi, 51, from Anambra State was on 14th of October, 2021 arraign before a Magistrate court 17, Igbosere, Tinubu, Lagos Island on several charges bothering on forgery, intent to commit felony, threat to life through recorded telephone conversations, sale of company's equipment and so many others.
According to Mr. Anthony Okpala, the complainant who is a Director of the company informed that Mr Lawrence Umeadi was still on probation with Almajdal limited as he was yet to be given employment letter as a staff.
" Lawrence has done a lot of damage to the company. He was busy enriching himself through sale of company's equipment thereby causing the company to be heavily indebted to suppliers."
Accordingly, Mr Okpala Anthony queried him and requested him to leave ALMAJDAL limited project site at Nsugbe-Nteje road in Anambra state.
Furthermore, Mr. Okpala purports that Lawrence Umeadi and Victor Chinedu Esq. connived to sell Company's property without any board resolution and converting same to their personal use and the proceeds paid into Grey-law partners zenith bank account: Detail GRAYLAW ARC LEGAL, NO: 1016914954, ZENITH.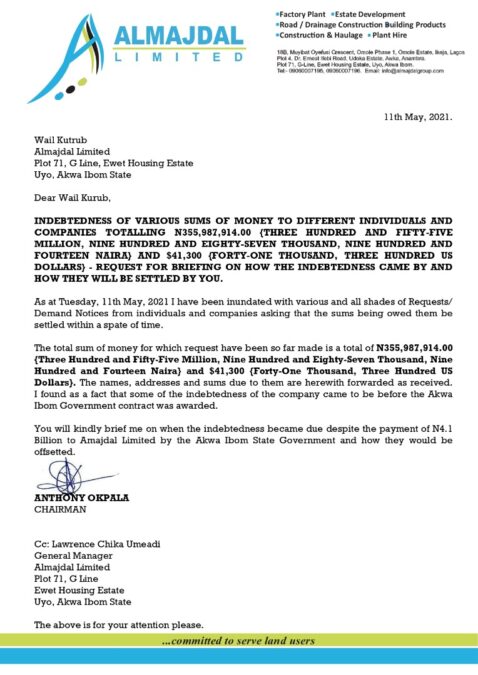 When contacted Barrister Victor Chinedu said he was the company's legal adviser which Okpala said was false.
" When I noticed that he has changed the company's letter head and used his personal phone number on it, I invited Lawrence to see me, he said that I shouldn't try such and he noticed that I have reported the matter to the police and therefore sent me his resignation letter", Okpala said.
According to an affidavit dated 24th August, 2021 filed before Magistrate Court 17, Tinubu, Lagos State, Lawrence Umeadi said he was purportedly informed by Barrister Victor Chinedu that he had been made a Director in the company without any document given to him to that effect.
The affidavit further stated that he (Lawrence Umeadi) did not connive with any body to sell property belonging to ALMAJDAL LTD.
The case was adjourned to October 21, 2021 for trial.