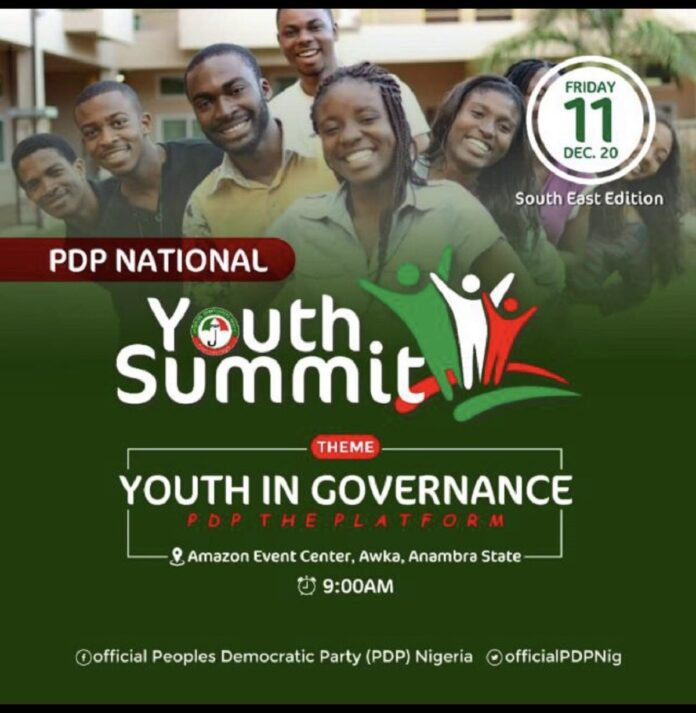 Communiqué at the End of the PDP National Youth Summit, South East
Edition, held at the Amazon Multipurpose Event Center, Awka, Anambra
state.
We the youths of the South East geo-political zone, after extensive and
very robust engagements and deliberations availed us by the PDP National
Youth Forum held here in Akwa, Anambra state, state as follows:
1. Commend the National Working Committee of the PDP, under the able
leadership of Prince Uche Secondus, for convoking this all-important
National Youth Summit, which has reawakened discussions and strategies
for greater involvement of the youths in governance, political
leadership, and party administration in our country.
2. Recognize the unprecedented involvement of the youths at very top
levels of governance and political leadership by successive PDP
administrations, in addition to the roles played by the PDP in youth
development and leadership mentoring since 1999.
3. Lament that the gains achieved by the PDP in youth involvement in
governance and political leadership have all been eroded by the APC
administration leading to utter relegation of the youths and
consequential negative effect on youth development and governance.
4. Note that the PDP action plan on youth in governance and leadership
is enshrined in the PDP manifesto, which makes it the best platform for
youth participation in governance and political leadership.
5. Unanimously resolves to consolidate discussions on the platform of
the PDP for greater youth participation particularly as the nation
prepares for the 2023 general election as well as the 2021 governorship
election in Anambra state.
6. Resolve to forcefully support and work with the PDP in the
Presidential, governorship, federal, and state legislative elections in
2023.
7. Resolve to support and work for the PDP in the 2021 governorship
election in Anambra state.
8. Call for greater participation of the Southeast youths in all
processes leading particularly to the nomination of a PDP Presidential
candidate in the 2023 election.
9. Urge the PDP to commence a massive online registration for millions
of youths that are eager to carry the PDP cards as registered members of
the party ahead of 2023 elections.
10. Further urge the PDP to consider the southeast in the conversations
for nomination of candidate for the 2023 Presidential election.
11. Commend the Prince Uche Secondus-led NWC for its effort in convoking
the summit and request a continuous youth conversation ahead of 2023
general elections and 2021 Anambra governorship election.
12. Commend the PDP National Youth Leader, Comrade S. K. E. Udeh-Okoye,
for his ideological driven leadership of the PDP Youth Directorate that
has brought about this current continuous discussion and assessment of
youth participation in politics and governance. This is a first of its
kind in political party youth administration in Nigeria, and is highly
commendable.
13. Call on the party to make nomination forms free for all young
persons, 21 to 31 years, vying for an elective position on the platform
of the PDP.