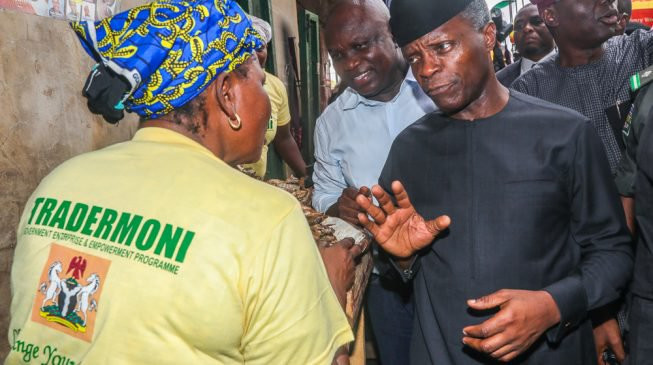 Loading ...
Few recent blunders made by President Buhari-led APC Government have convinced me that Nigeria, though blessed with abundant natural resources is cursed with bad and irresponsible leadership.  Leadership that is directionless and rudderless. From most of its economic policies to other socio-economic polices, the President Buhari APC-led government does not seem to understand the moral dimension of leadership nor does it seem to understand the very needs of the people.  The tradermoni is another voodoo empowerment strategy of this government. The government has become more notorious with "What we will do" than "What we have done better".  Blame game has become its lot.
For every sane thinking Nigerian, the nation needs policies that promote self-exploration and self-advancement.  Policies that stir human capacity development and optimization of human resources and potentials.  It goes beyond hasty mediocre-policies that are rooted in a deception that tend towards political benefit.  For heaven sake, the tradermoni is one of such policies that do not empower the people but make a mockery of what true leadership is.  What does Ten Thousand Naira (N10,000) worth in a country where inflation is at its highest peak?  I bet Vice President, Prof. Yemi Osibanjo spends more than N10,000 daily feeding the pets in his residence, let alone giving N10,000 to the already impoverished Nigerians as empowerment programme in three years.
Timing is another thing.  For a government that did not consider it expedient to avail its poor citizenries any form of relief or intervention to begin to do so few months to the general election reveals the deception that lies at the heart of a man that anchors the programme.  A man who professes compassion, godliness, and moral politics.  It should be a dent on the Vice-President's morality and a stab on his conscience.  It is an act without any form of compassion.  It was a political jamboree to hoodwink and deceive the greater hapless Nigerians who have continued to be victims of voodoo and lack-luster leadership which has characterized this administration.
This leadership abnormality is more pronounced under the current President Muhammadu Buhari's government.  Forget about the verbosity and denials that have characterized this administration.  Forget about the "What We Will Do" mentality of those who drive this rudderless vessel of leadership, the truth is that the reality on the ground is more overwhelming and readily convinces any sane thinking Nigeria that Nigeria is currently being run by people who do not understand creative leadership.  It has become a government that politicizes everything, including the economy.  For a nation to experience growth and development, the economy must be left un-politicized and in the hands of those who understand its dynamics.  It should never be left in the hands of "faithful allies and mediocre minds" who do not understand a jack about how vibrant economies are built and sustained.
Late General Sani Abacha is still seen in some quarters as the most patriotic President Nigeria has ever had.  Forget all about the name callings and the bad things Nigerians are made to hold about General Abacha.  He played his politics, but he never forgot to leave the economy in the hands of patriotic, learned and versatile economic managers.  In fact, he used the best hands to man the economy and that was why despite several sanctions hauled Nigeria by the International Community, inflation was at its low rate and prices of essential commodities remained stable for a long time.
But what do we see today?  We only have a government run by people who myopically relish the belief that they are perfect and do not need to be tutored.  People who believe that they are saints. People who brandish self-integrity without understanding the import of the word "Integrity".  Everything has been redefined under President Muhammadu Buhari.  The word integrity and anti-corruption mean different things from what we hitherto know.  While the anti-corruption fight is targeted at opposition and those with dissenting voices, their so-called integrity has caused Nigeria more damage than we envisaged.  Tradermoni is a fraud in its truest meaning!
Tradermoni was simply a deceptive measure to curry the teary votes of the uninformed, hapless and impoverished Nigerians.  Time will prove this.  Worse still, the programme was done in total illegality, hiding under their perceived integrity to disburse fund that was not appropriated for.  It is the smartest way of stealing in the name of integrity.  The Vice President, Prof Yemi Osibanjo has become the conduit through which every political deception flow under the current APC-led government.
Shedrack Iheoma writes from Abuja and could be reached via lightsheddie26@gmail.com