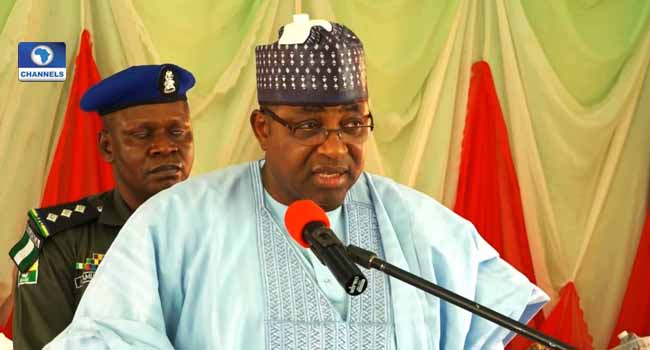 Bauchi: Governors Take Advantage Of Delay In Justice To Rig Elections – Sanin Malam
Loading ...
From Austine Tsenzughul, Bauchi
A Former Bauchi State Chairman of the All Nigeria Peoples Party ANPP Alhaji Sani Shehu Sanin Malam has alleged that Governors take advantage of delay in seeking for justice by the aggrieved aspirant in court to rig election.
Sani Shehu stated this when he interacted with reporters in Bauchi in reaction to the conduct of the All Progressive Congress APC Primaries that produced Governorship candidate, National and State Assembly candidate.
He said "the manipulations of aggrieved aspirants started from the Party. If the election is internal like ward, State and National Congress, the Party governors will rig the elections to suit their own interest and the party will form appeals committees to determine the conduct of the elections. The members of the committees will be left at the hand of the governors that rig the election and in the State of General elections even if aggrieved aspirant went to court it will take two to three to four years or sometimes after the tenure of the governor before the court can determine the conduct of the elections which is technically denying the aggrieved aspirants the justice they supposed to enjoy that will help them to get Justice, since Justice delayed is Justice denied"
He said even the last APC party congresses and Primary elections were like that in Bauchi State. No elections were held only the governor's nominee were declared winners of the election. The action caused disharmony and forced the aggrieved members to go to court others were left in dilemma. They don't know what to do after spending millions of Naira to purchase expression of interest and nominations forms.
Sani said the electorates and Politicians, APC stake holders and supporters deserve to be treated justly and fairly. He appealed to the authorities concerned to look in to the issue with a view to find suitable way for aggrieved politicians and electorates to get justice to enable them elect credible leaders of their choice at all levels.
The Ex-Chairman who was the former Special adviser of special duties to Governor Mohammed Abdullahi Abubakar said "APC will pay for all the damages done to its people by the State Governor, because the party may lose 2019 general elections in the state considering the caliber of people nominated as party flag bearers in all positions, they are unpopular candidates"
Sani cautioned against APC becoming a one man party affair "we observed that the Party is now becoming one man party affair, even late Awolowo, Late Aminu Kano, Late Waziri Ibrahim formed one man Party but they didn't succeed to form a central government they only win elections in some parts of the country.
He advised APC supporters, loyalists and electorates to continue to be law abiding and cast their votes wisely by electing credible leaders that has the interest of the state and the country at large.