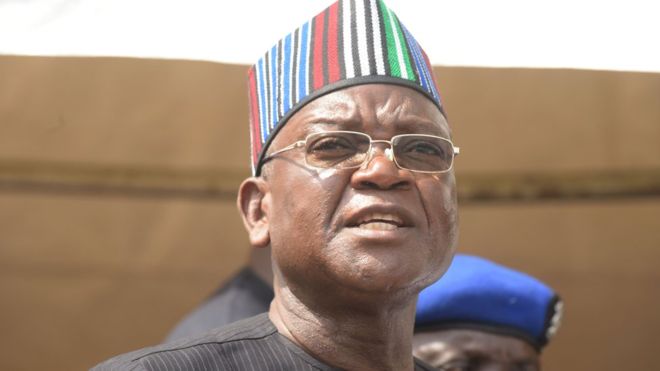 Suspension: Ortom Swears In New Chairman Of Ogbadibo As APC Kicks
From Msughshima Andrew, Makurdi
Benue State Governor Samuel Ortom has sworn in Mr Joseph Okpe as the new chairman of Ogbadibo Local Government. He is to oversee the affairs of the LG for a period of three months.
His swearing in followed the suspension of the former chairman and his deputy as confirmed by the state House of Assembly.
Recall that Benue State House of Assembly, on Wednesday,  approved for the suspension of chairman of Ogbadibo local government, Mr James Akoka and his deputy alongside his Gwer East and Vandeikya counterparts , for three months, for gross misconduct, financial misappropriation and other offences contrary to local government law.
Meanwhile, the APC in the state has condemned the suspension describing it as an illegality.
In a statement signed by Acting state publicity secretary,James Ornguga, the APC urge Governor Samuel Ortom to save the local government system in the state the trouble of his second term adding that "by this singular act of desperation, Governor Samuel Ortom has openly displayed his lack of tolerance for due process and constitutionalism as basic ingredients in the practice of democracy world over".
But Governor Ortom explained that in the suspension of Ogbadibo Chairman, the assembly were guided by the law and constitution of the federal republic of Nigeria.
"Due process and all necessary procedures have been followed. For Vandeikya and Gwer Easy, their deputy chairmen will take over.
He described Joseph Okpe as the youngest chairman in the state saying his choice is an indication that his people have the confidence in his ability deliver.
He advised him to take his job seriously and to use this opportunity to bring democracy dividends closer to his people advising him to strive to serve his people with fear of god.
He also urged him to be prudent in management of resources of his LG saying the era of sharing government money with elders and cronies of government is over.
"The era of Godfatherism is over. You can see I no longer have a godfather.
We serve only God and whatever I do to add value to anyone's life should not make me a godfather.
"Salaries should be given priority while implementation of Anti Open Grazing law should be monitored to the letter. Peace building must be of cardinal importance at all times. Avoid being an absentee leader but live among your people," he said urging members of the public to support them to succeed in office
The new chairman, Joseph Okpe promised to perform his duty and prayed God to help him. He also pledge not to disappoint the youth.